International-Reggae breakthrough artist Koffee – to headline for the 43rd St. Maarten Heineken Regatta
Organizers of the St. Maarten Heineken Regatta are proud to announce Koffee, Grammy Award Winning, International Reggae-Star, will be performing live in St. Maarten on March 5th 2023, for the upcoming 43rd edition of the St. Maarten Heineken Regatta at the Regatta Village, Port de Plaisance.
The largest sailing event in the Caribbean has hosted thousands of sailors and partygoers year after year, an experience unmatched and historically known for its legendary parties. This year the staple event and the island of St. Maarten/St. Martin invites everyone to participate in this extraordinary line-up and event structure to complement its first-class sailing races, known as "Serious Fun!".
Koffee (of Kingston, Jamaica), is one of the most exciting, forward-thinking, globally focused young talent to emerge in 2018.
Her 2019 EP Rapture won the Grammy Award for Best Reggae Album at the 62nd Annual Grammy Awards, making Koffee the youngest person and only woman to be awarded in the Best Reggae Album category. Koffee's international breakthrough, "Toast," is a joyous expression of gratitude that resonated with audiences of various ages and backgrounds. To date, "Toast" has earned more than 122 million streams on Spotify.
Koffee's participation in the 43rd St. Maarten Heineken Regatta, is an integral part of the essence of the event today, aligning with increasing women participation in sailing, as well as leadership within the event organizational structure. The St. Maarten Heineken Regatta continues to evolve the structure to appeal to a wide range of audiences and demographics, focused on emerging talent.
The 2023 edition of the St. Maarten Heineken Regatta will take place in the waters surrounding the island of St. Maarten. Onshore festivities will be hosted in the Regatta Village, which is located at Princess Port de Plaisance Resort & Casino. Event-goers will have the benefit of an open-air venue, plenty of free parking and a village set up with a variety of technical suppliers, sponsors, food vendors as well as the official regatta merchandise.
The venue officially opens its doors on Wednesday the 1st of March and will be open daily from 3pm onwards. Free concerts are hosted at Thursday – Saturday with performances from a selection of St. Maarten's very own highly talented local bands including, Chanti, Kenyo Baly, What the Funk & Malaika Maxwell.
Last year organizers introduced the Green Zones, a successful development to the event structure, and this year confirmed official Green Zone venues such as Soggy Dollar Bar, Moonbar, ELEV8 with Rainforest Adventures, and will also host international DJs & Artists such as Freddy Moreira, Walshy Fire of Major Lazer, and more. For more artist information, timing/schedules & ticket details for all entertainment at the Regatta Village & Green Zones, check out St. Maarten Heineken official social media pages & website.
The St. Maarten Heineken Regatta has hosted globally recognized, exceptional artists such as UB-40, Black Eyed-Peas, Flo-Rida, Shaggy, and Kool & the Gang, just to name a few. Koffee will continue that legacy, while making an appearance for the first-time on the island of St. Maarten/St. Martin.
"We want to use our platform at the Regatta to support talent, youth, and women, and Koffee is the perfect artist to headline the event. Her music connects with all generations, and her performance will be a great way to finish a week of Serious Fun!" said Regatta Director Michele Korteweg.
The St. Maarten Heineken Regatta welcomes sailors of all ages, and has created a special "Next Generation Challenge" to offer junior sailors in the Caribbean the opportunity to compete in keelboat racing.
Run as an event within the main regatta, youth teams from the Caribbean are invited to compete against each other in identical Sun Fast 20s to be crowned the overall winner of the Next Generation Trophy. Teams include entries from Antigua, St Barths, as well as Dutch and French entries representing both sides of St. Maarten/Martin.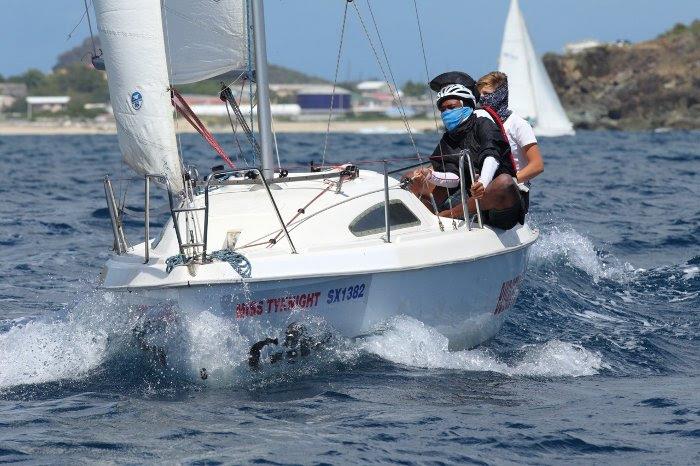 Jordan Pieterse leads a team of SMYC junior sailors racing in the 2022 St. Maarten Heineken Regatta on the Sun Fast 20s that will be used for the Next Generation Challenge – photo © Tim Wright / www.photoaction.com
Saskia Revelman, SMYC Sailing School & Event Manager said, "Our goal for this regatta-in-a-regatta is to offer friendly competition between islands, inspire more sailing talent in the Caribbean and get the next generation involved in the Regatta. Last Regatta, a group from our junior sailing team competed on one of the Sun Fast 20s, Miss Tyknight, and was helmed by a young woman named Jordan Pieterse. We hope this Next Generation Challenge will provide more race opportunities for more sailors like Jordan across the Caribbean." Organizations interested in sending a youth team to represent their island can contact Saskia@smyc.com to register.
Whether racing or enjoying the show from ashore, the St. Maarten Heineken Regatta welcomes all to join the Serious Fun! March 2-5, 2023. Register your team or learn more about the event on www.heinekenregatta.com
St. Maarten Heineken Regatta
Celebrating 43 years, this Regatta just keeps getting better, four days of world-class racing with some of the world's most seasoned sailors, hailing from over 35 countries. This is genuinely a Regatta for everyone, including professional teams sailing Maxis, Monohulls, and Performance Multihulls to holiday-makers on chartered Bareboats to live-aboard families cruising the Caribbean. Crystal clear waters and cooling northeast trade winds give the pristine conditions for spectacular racing just off the coast of St. Maarten. This event is your bucket list must-do! Come and enjoy life in the Caribbean; come for some Serious Fun from March 2-5, 2023!
For complete information on the St. Maarten Heineken Regatta, including results, photos, videos, party and band information, and much, much more, visit: www.heinekenregatta.com.