Russia speeds up vaccination drive; In Israel and beyond in Mideast, vaccines bring political power; With heavy hearts, Italians mark year of outbreak, pay tribute to dead
Russia's rollout of its coronavirus vaccine is beginning to pick up speed in some of its more remote regions, but experts say the campaign is still moving slowly.
That's why elderly residents of Ikhala, a snow-covered village near the border with Finland, from where Daria Litvinova reports, were relieved to hear they were finally going to get their shots.
The region was hit hard by the virus in December. Experts blame the slow rollout on limited supplies of the vaccine, logistical difficulties in distribution and continued hesitance among some Russians.
The country doesn't regularly release data on its vaccination rates, but the number who have gotten at least the first shot appears to be between 2 million and 3.2 million
Israel Vaccines: Moving on from oil and arms? Vaccines are emerging as the newest currency of choice in the Middle East. The reopening of Israel's economy, an Israeli government prisoner swap with Syria and the arrival of vaccines in Gaza all illustrate how those with access to vaccines have political power in the turbulent region. Israeli Prime Minister Benjamin Netanyahu has been at the forefront of this trend, using his vaccination campaign to win over voters and punish those who refuse to get inoculated, Josef Federman reports from Jerusalem.
The disparities between Israel's successful vaccination push with its own population and the Palestinians have drawn criticism from U.N. officials and rights groups. They contend that Israel, as the occupying power, is responsible for vaccinating the Palestinians, while Israel has argued that under interim peace agreements it is not responsible. Israel's vaccination campaign has included its own Arab population.
Britain Vaccinations: The government has said it's aiming to give every adult in the country a first dose of vaccine by July 31, as it prepared to set out a "cautious" plan to ease the U.K.'s lockdown. In addition, the goal is for everyone over 50 or with an underlying health condition to get a shot by April 15, rather than the previous target of May 1. More than 17.2 million people in Britain have been given the first of two doses of vaccine. Britain has had more than 120,000 coronavirus deaths, the highest toll in Europe. Jill Lawless reports from London.
Italy One Year Later: "It was like a war film. We were completely alone," the mayor of  Vo, a wine-making town in the Veneto region, recalls. It was where the first known fatality from a locally transmitted case of the virus in the West occurred on Feb. 21, 2020, setting off alarm bells far and wide. In the days and weeks that followed, densely populated Lombardy would become the epicenter of Italy's outbreak and, by the end of March, countries the world over would be under lockdowns to slow the spread of the virus that has now taken 2.4 million lives.
But Vo, from where Colleen Barry reports, as one of the first towns in the West to be isolated, has a unique story, providing some of the first scientific insights into the deadly virus. A year on, Italy has so far seen more than 95,000 known virus dead, the second-highest toll in Europe after Britain.
On Saturday, Pope Francis and Italy's president marked a newly established annual day to honor doctors, nurses and other health care workers, exactly one year after the nation's first known native case of COVID-19 emerged in Codogno in Lombardy.
With wreath-laying ceremonies, tree plantings and church services, Italians also marked one year since their country experienced its first known virus death on Sunday. Towns in Italy's north were the first to be hard-hit by the pandemic and put under lockdown, and residents paid tribute to the dead.
Iraq's New Surge: Doctors are confounded by widespread shirking of precautions even as cases surge dramatically in Iraq. The country is now under a new, government-imposed curfew. A month ago, new infections in Iraq were as low as 600 a day but have now surged, reaching nearly 4,000 and approaching the peak from last September. Many defy hospital rules requiring masks, putting their faith, they say, in God instead. And for weeks, markets, malls and stores have been packed with people. A sociologist says that after years of facing war, violence and instability, COVID-19 "may not stack up as a major problem" in the minds of many Iraqis. Abdulrahman Zeyad reports from Baghdad.
Asia-Pacific Vaccines: Australia has started its COVID-19 inoculation program days after its neighbor New Zealand, with both governments deciding their pandemic experiences did not require the fast tracking of vaccine rollouts that occurred in many parts of the world. Other countries in the Asia-Pacific region that have dealt relatively well with the pandemic either only recently started vaccinating or are about to, including Thailand, Taiwan, Vietnam, Cambodia and Singapore.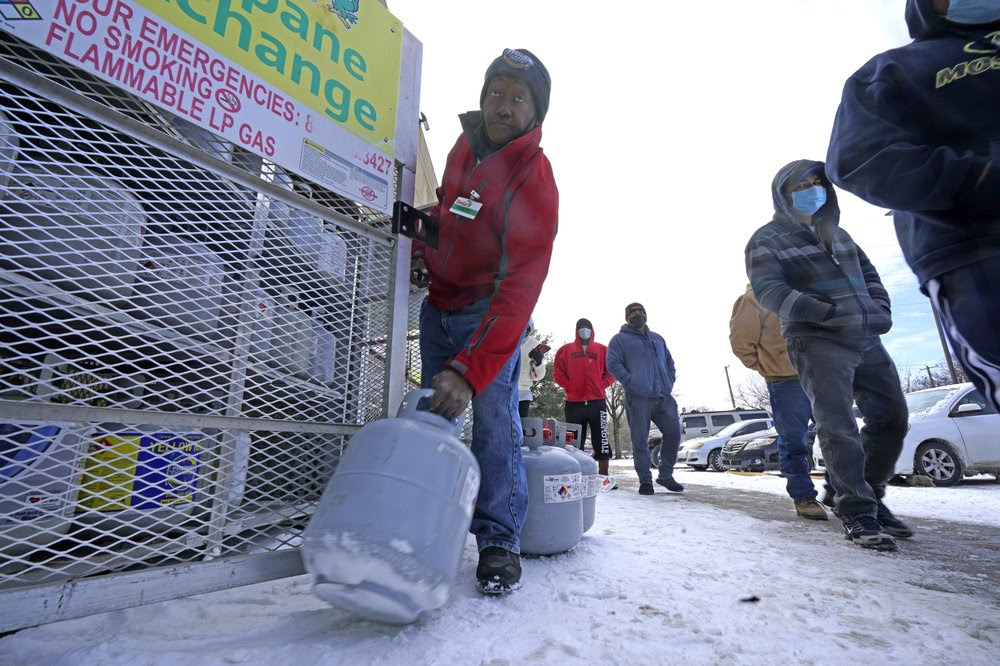 Power failure: How a winter storm pushed Texas into an acute crisis; Hospitals in US South confront water shortages in aftermath
Two days before the winter storm began, Houston's chief elected official warned her constituents to prepare as they would for a major hurricane.
Many took heed: Texans who could stocked up on food and water, while nonprofits and government agencies set out to help those who couldn't.
But few foresaw the fiasco that was to come and they could not be prepared, Nomaan Merchant reports from Houston.
As temperatures plunged and snow and ice whipped the state, much of Texas' power grid collapsed, followed by its water systems.
Tens of millions huddled in frigid homes that slowly grew colder, or fled for safety.
Images of desperate Texans circulated worldwide. To some, they evoked a less wealthy or self-regarding place. To others, they laid bare problems that have long festered.
More than 35 people in Texas have been confirmed dead. That number is expected to rise as roads cleared and relatives and first responders could check on missing loved ones.
How could this happen in a state that is the nation's biggest energy producer and home to several of the world's biggest energy companies?
The disaster can be traced to mistakes by Texas' leadership and faults created by decades of opposition to more regulations and preparation.
Basically, the state is an island in the U.S. electrical system. There is one large grid covering the Eastern half of the country, another for the West, with Texas wedged between them.
Hospitals in U.S. South: They are grappling with water shortages as the region carries on with recovery efforts in the wake of the devastating winter storm. At the height of the storm, hospitals were left scrambling to care for patients amid record cold, snow and ice. The storm was especially damaging in parts of the country more accustomed to going through winter with light jackets and short sleeves. The icy blast ruptured water mains, knocked out power to millions of utility customers and contributed to at least 76 deaths. Juan Lozano, Jonathan Matisse and Adrian Sainz report.
EXPLAINER: Why some Texans are getting sky-high energy bills. The surge in pricing is hitting people who have chosen to pay wholesale prices for their power, which is typically cheaper than paying fixed rates during good weather, but can spike when there's high demand for electricity. Many of those who have reported receiving huge bills are customers of electricity provider Griddy, which only operates in Texas.
Joe Biden is a month into his presidency and one pattern is clear. He doesn't want to talk about the man he's called "the former guy," Donald Trump.
But much of what Biden is doing is about breaking from Trump's legacy on matters of policy, symbolism and style, report Jonathan Lemire and Calvin Woodward.
That began on his first day, when Biden appeared at the Resolute Desk in the Oval Office wearing a mask.
The Democrat framed his first month as a time to start to "heal the soul" of the nation and restore the White House as a symbol of stability and credibility.
Biden has set out to demonstrate that the days of a seat-of-the-pants presidency are over.
He wants to show that the inflationary cycle of outrage can be contained. That things can get done by the book. That the new guy can erase the legacy of the "former guy."
From the Earth's climate and the Iran nuclear deal to what's not on his desk (Trump's button to summon a Diet Coke), Biden has been purging Trumpism however he can in an opening stretch that is wholly unlike the turmoil and trouble of his predecessor's first month.
Protesters gathered in Myanmar's biggest city despite the ruling junta's thinly veiled threat to use lethal force if people answered a call for a general strike opposing the military takeover. Hundreds had gathered at a major intersection in Yangon after a group advocating civil disobedience called for people to unite for a "Spring Revolution." Roads were blocked in front of landmarks like the Myanmar Central Bank and U.S. Embassy, and trucks overnight blared warnings against public gatherings. A junta statement carried on state TV said the protesters were carrying people "to a confrontation path where they will suffer the loss of life."
U.S. federal aviation regulators ordered United Airlines to step up inspections of all Boeing 777s equipped with the type of engine that suffered a catastrophic failure over Denver Saturday. Pieces of the casing of the engine rained down on suburban neighborhoods. United says it is temporarily removing those aircraft from service. Boeing has recommended aircraft with the engines be grounded pending a decision on inspections. The announcements came after United Airlines Flight 328 had to make an emergency landing at Denver International Airport after its right engine blew apart just after takeoff.
The head of the United Nations' nuclear watchdog says that Iran will begin offering its inspectors "less access" but will still allow the agency to monitor its atomic program. Rafael Grossi made the comments on arrival in Vienna late last night. He was careful to say that there still would be the same number of inspectors, but there would be "things we lose." He did not offer many specifics, but Iranian Foreign Minister Mohammad Javad Zarif said that would include blocking the International Atomic Energy Agency from accessing footage on its cameras at nuclear sites.
New Zealand lowered its flags and made special note of those who couldn't travel as it marked the 10th anniversary of the Christchurch earthquake that killed 185 people. Hundreds of people attended an outdoor service in Christchurch, which continues to rebuild from the magnitude 6.3 quake that destroyed much of the downtown. A separate service was also held in the northern Japanese city of Toyama, home to 12 students who died in the quake. Speaking at the Christchurch ceremony, New Zealand Prime Minister Jacinda Ardern said it was important to remember that 87 of the victims were foreigners and many of their families couldn't be there because of coronavirus travel restrictions.