Millions in US endure record cold without power; at least 20 dead.

Japan begins belated vaccination drive amid Olympic worries.

Biden reframes pandemic goal on reopening of elementary schools.

Pandemic politicking: Israel's election sprint echoes 2020 in US.  
TAMER FAKAHANY
DEPUTY DIRECTOR – GLOBAL NEWS COORDINATION, LONDON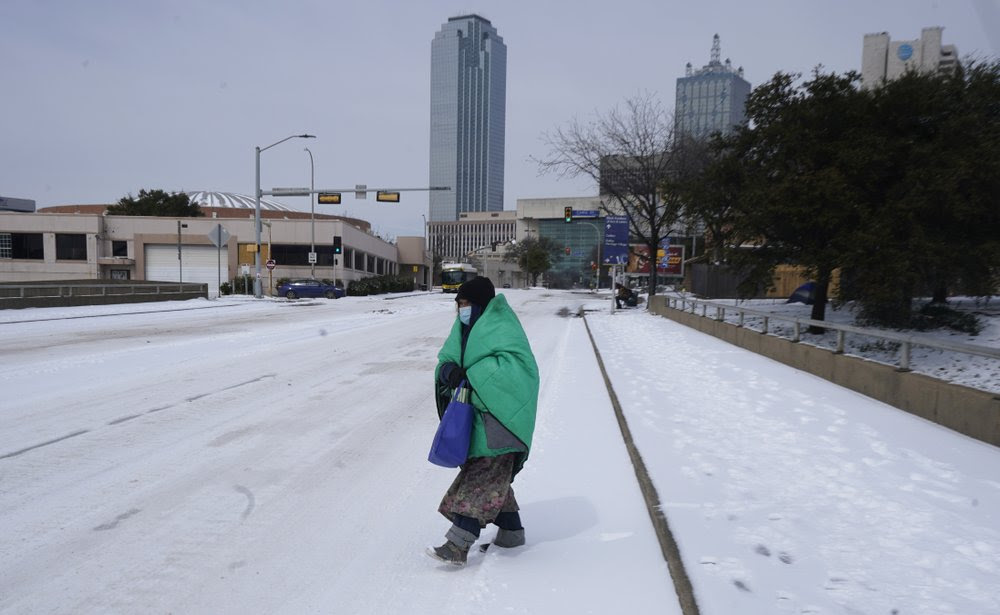 Millions endure record, bitter cold without power, at least 20 dead;  'A complete bungle': Texas' energy pride goes out with freezing temperatures
A bitter U.S. winter storm that has left millions without power in record-breaking cold has claimed more lives, including three people dead after a tornado hit a seaside town in North Carolina and four family members who perished in a Houston-area house fire while using a fireplace to stay warm.
At least 20 deaths across the country were reported.
The storm, which overwhelmed power grids and immobilized the Southern Plains, carried heavy snow and freezing rain into New England and the Deep South and left behind painfully low temperatures. Wind-chill warnings extended from Canada into Mexico. Bryan Anderson reports.
The worst U.S. power outages were in Texas, affecting more than 2 million homes and businesses. More than 250,000 people also lost power across Appalachia, and another 200,000 were without electricity following an ice storm in northwest Oregon.
Four million people lost power in Mexico.
The tornado that hit North Carolina's Brunswick County had winds estimated at 160 mph, the weather service said. Three people died and 10 were injured when it tore through a golf course community and another rural area, destroying dozens of homes.
VIDEO: Aerial video shows tornado damage in North Carolina.
The paralyzing winter storm also wreaked havoc with COVID-19 vaccination efforts around the country, forcing the cancellation of appointments and delaying vaccine deliveries just as the federal government rolled out new mass vaccination sites to reach hard-hit communities, Eugene Garcia and Jocelyn Noveck report.
Power Failures: Anger over Texas' power grid failing in the face of a record winter freeze mounted as millions there remained shivering with no assurances that their electricity and heat  — out for 36 hours or longer in many homes — would return soon or stay on once it finally does. One Austin resident summed up the prevailing feeling: "We're all angry because there is no reason to leave entire neighborhoods freezing to death. This is a complete bungle," she said. Paul J. Weber reports from Austin.
VIDEO: Millions of Texans without power after storm.
Power Failure Misinformation:Conservative commentators shared a false narrative that wind turbines and solar energy were primarily to blame for power outages across Texas as the power grid buckled. A variety of misleading claims spread on social media, with the Green New Deal and wind turbines getting much of the attention. But the Texas state power agency said gas, coal and nuclear plants actually caused nearly twice as many outages as wind and solar power, Ali Swenson and Arijeta Lajka report.
EXPLAINER: Topsy-turvy weather comes from polar vortex. It seems like the world's weather has turned upside-down. There have been record subzero temperatures in Texas and Oklahoma, and Greenland is warmer than normal. Snow fell in Greece and Turkey. Meteorologists blame the all-too-familiar polar vortex. The cold air that's normally penned up in the high Arctic got slammed by an atmospheric wave in late December. It broke apart in early January and moved out of its normal area. The result has been crazy winter weather, Seth Borenstein reports.
POOL PHOTO VIA AP/BEHROUZ MEHRI
Japan belatedly begins COVID-19 vaccination drive amid Olympic worries; Volunteer paramedics patrol Venezuela's Caracas amid virus
Months after other major world economies, Japan has belatedly begun giving its first coronavirus vaccines to front-line health workers today.
Many are wondering if the campaign will reach enough people in time to save a Summer Olympics already delayed a year by the worst pandemic in a century, Mari Yamaguchi reports from Tokyo.
Japan has largely dodged the kind of pandemic suffering that has battered other wealthy countries, but the fate of the Olympics, and the billions of dollars at stake, makes Japan's vaccine campaign crucial.
The effort faces worries about shortages of the imported coronavirus vaccines and a reluctance among many Japanese to take them. Workers treating COVID-19 patients were the first to get jabs. Experts say Japan's late rollout makes "herd immunity" impossible before the Olympics begins in July.
EXPLAINER: Japan begins vaccination drive, but why so late?
Venezuela Volunteer Paramedics: "We Venezuelans have to solve our own country's problems. We have to use the skills we're each good at."  That's the coda expressed by a  volunteer paramedic whose group has stepped into the void to offer lifesaving help on the tough streets of Caracas, from where Scott Smith reports. Venezuela has been wracked by a deepening economic crisis for years that has gutted emergency ambulance services.
Calling themselves Angels of the Road, the volunteers rely on donated medical supplies and funding from international organizations. Despite receiving no pay, roughly 40 paramedics are ready at a moment's notice to jump onto motorcycles, fire up their single ambulance and race into the streets.
Each day brings three to four calls, and at least one is a request to take a patient with trouble breathing to a hospital, putting the volunteers themselves at risk.
More from Around the World: 
Mexico has topped 2 million confirmed coronavirus cases and 175,000 deaths, though officials conceded that the country's extremely low rate of testing means the real figures are much higher.
Slovakia has become the country with most virus deaths by size of population in the world with 1.78 deaths per 100,000 people. Portugal had topped the grim global table for more than three weeks, A Slovak epidemiologist says the highly contagious variant first found in Britain has significantly contributed to the situation.
Pfizer and BioNTech say they've reached a deal to send the European Union another 200 million vaccine doses.
A shipment of vaccines produced in China has arrived in Hungary. That makes the country the first in the European Union to receive a Chinese vaccine. The shipment, by China's state-owned company Sinopharm, is enough to treat 275,000 people. Hungary has also granted emergency approval to Russia's Sputnik V vaccine.
A lockdown in the New Zealand city of Auckland will end at midnight, the government announced after concluding a virus outbreak had been contained.
Australia's second largest city, Melbourne, will relax its third lockdown and allow spectators to return to the Australian Open tennis tournament after a five-day absence.
The United Nations children's agency has launched an initiative to get airlines to give priority to delivering vaccines, medicine and other critical supplies to respond to the global pandemic. UNICEF said that more than 15 airlines have signed agreements to support the priority delivery of coronavirus-related cargo.
Biden declares reopening elementary schools a top goal; Latinos in US face daunting barriers to getting vaccine shot; Native Americans embrace vaccines, virus containment measures
President Joe Biden has promised that a majority of U.S. elementary schools will be open five days a week by the end of his first 100 days in office.
Biden was restating a pandemic goal after his administration came under fire when aides said schools would be considered open if they held in-person learning just one day a week, Aamer Madhani and Alexandra Jaffe report.
Biden spoke during a CNN town hall last night in Milwaukee, Wisconsin. He has faced increasing questions about how he would reopen schools, with school districts operating under a patchwork of different virtual and in-person learning arrangements nationwide.
Biden's trip comes as infection rates and deaths are falling after the nation endured the two deadliest months so far of the pandemic. The White House is also reporting an increase in the administration of vaccines throughout the country after a slow start.
But Biden has stressed that the U.S. still has a long road ahead as thousands of Americans die each day. The virus has killed more than 485,000, and newly emerging variants are complicating the response effort.
Latinos Vaccinations: Latinos face daunting barriers to getting vaccine shots in the U.S., creating a risk for public health as the coronavirus mutates and spreads. Many are struggling with a lack of knowledge about the shots, state vaccine websites that don't have Spanish instructions and fears they could be targeted for immigration enforcement. Ranging from the elderly Cuban Americans in Florida to farmworkers in California, health problems like diabetes, obesity and hypertension are prevalent. That makes Latinos one of the groups at highest risk from COVID-19 in America. Gisela Salomon, Claudia Torrens and Anita Snow have that story.
VIDEO: Latinos in US struggle with access to vaccines. 
Native Americans Vaccinations: Tribes across the U.S. are bucking a trend of minority populations who harbor doubts about the vaccines. Native Americans are embracing inoculations and are adopting virus containment measures. The Centers for Disease Control and Prevention says Native Americans and Alaskan Natives are four times more likely to be hospitalized from COVID-19. And community before self has long been a core principle in their culture. Tribal leaders and health care providers say it is about preserving a fragile heritage that has been under threat for centuries. Sarah Blake Morgan reports from Cherokee, North Carolina.
VIDEO: Native Americans embrace vaccine in North Carolina.
Tracking Mutations:Scientists would gain vastly expanded capabilities to identify potentially deadlier mutations under legislation advancing in Congress. The U.S. now maps only the genetic makeup of a minuscule fraction of positive virus samples, a situation some experts liken to flying blind. It means the true spread of problematic mutations first identified in the U.K. and South Africa remains a matter of guesswork.
Such ignorance could prove costly in the race to vaccinate Americans before virus variants become dominant. The House COVID-19 relief bill would provide $1.75 billion for mapping virus genes, Ricardo Alonso-Zaldivar reports.
Israel: Coronavirus Election
Israel's fourth bruising election campaign in two years, reflecting a bitterly divided society and political class, is on the final stretch.
The March 23 election is striking a notable resemblance to the toxic American presidential brawl in 2020, Laurie Kellman reports from Jerusalem.
Candidates are holding virtual events or limited in-person gatherings due to the pandemic. Some have signed up star U.S. advisers who faced off against each other during the contest between Donald Trump and Joe Biden.
And as in the United States, the Israeli race is a referendum on the divisive personality of Prime Minister Benjamin Netanyahu and his stewardship of a nation brutalized by COVID-19. Many Americans saw the choice as Trump — or almost anyone else. In Israel, the field is divided between those who are for or against Netanyahu.
The question of moral authority, too, is a common theme. As president, Trump stood accused of a multitude of wrongdoing, including sexual misconduct against more than a dozen women (he denies all), questions about his taxes and serial problems telling the truth.
Netanyahu last week pleaded not guilty to charges of breach of trust, fraud and accepting bribes. Both men have cast themselves as victims of a "witch hunt" and waged a war against the news media.
The end of Donald Trump's impeachment trial is only the beginning of Congress' reckoning with the riot of Jan. 6. Lawmakers will spend months working through the many unanswered questions about the attack. Democratic leaders say they will form an independent investigative commission modeled after the one that studied security failures before the 9/11 attacks. Two Senate committees have summoned top security officials to testify. And retired Army Lt. Gen. Russel Honoré is leading an ongoing review of the Capitol's security, commissioned by House Speaker Nancy Pelosi.
Demonstrators in Myanmar have gathered in their largest numbers so far to protest the military's seizure of power. A U.N. human rights expert warned that troops being brought to Yangon and elsewhere could signal the prospect for major violence. Today's turnout appears to be one of the biggest so far in Yangon. Protesters have adopted a tactic of blocking off streets from security forces by parking vehicles in groups with their hoods up and the excuse of having engine trouble. In the capital Naypyitaw, thousands including private bank employees and engineers marched down its wide boulevards, chanting for the release of ousted leader Aung San Suu Kyi and the country's president who remain under house arrest.
Libyans are marking the tenth anniversary of their 2011 uprising that led to the overthrow and killing of longtime ruler Moammar Gadhafi, with eyes on a recently appointed government that would lead the country through elections late this year. Libya has become one of the most intractable conflicts left over from the "Arab spring" a decade ago. The country has descended into devastating chaos and has become a haven for Islamic militants and armed groups that survive on looting and human trafficking. An interim government has been appointed in order to prepare the divided country for elections scheduled on December 24.
China's internet watchdog is cracking down further on online speech, issuing a requirement that bloggers and influencers have a government-approved credential before they can publish on certain topics. The rule from the Cyberspace Administration of China goes into effect next week, shrinking an already narrow space for discourse amid heavy censorship of sensitive topics and any perceived criticism of the ruling Communist Party. The revised regulation is just one of a series of actions the internet regulator has taken to tighten its grip. The agency head recently signaled the harder line, saying the agency must "let our supervision and management grow teeth."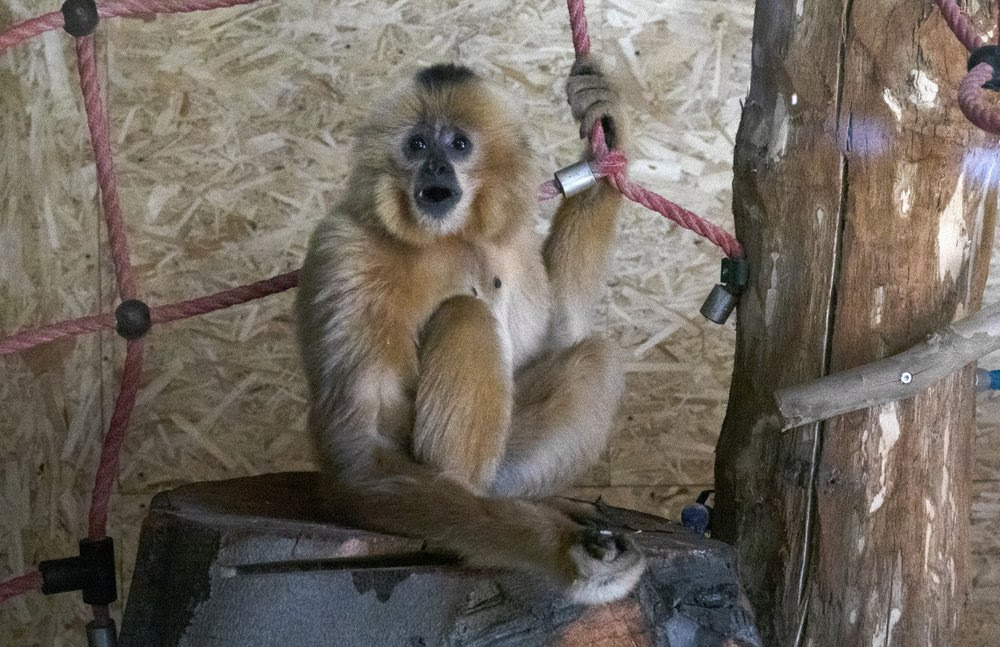 We'll leave you with this…