James Gallagher
Health and science correspondent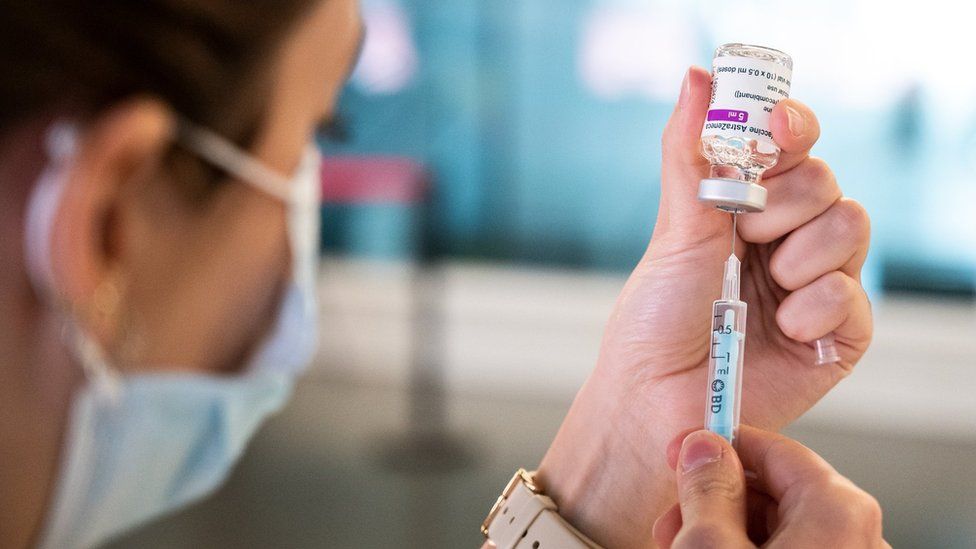 Unusual blood clots in the brain have been detected in a handful of people after they were injected with the Oxford-AstraZeneca vaccine.
These "cerebral venous sinus thromboses" or CVSTs have led some countries – including Germany, France and Canada – to restrict who can be given the jab. The World Health Organization and the European Medicines Agency say the benefits of the vaccine outweigh any risks.
Scientists and medicines safety regulators around the world are trying to figure out if the vaccine is genuinely causing these strokes, how big any risk might be and what that might mean for vaccination programmes.
Is the vaccine causing clots?
At the moment, we do not know.
The European Medicines Agency (EMA), which has been reviewing the safety data, says it is "not proven, but is possible".
The organisation has to figure out whether the reported clots are a side-effect or a coincidence that would have happened naturally. This is incredibly hard when dealing with rare events. If, on the other hand, one in every 10,000 people was having serious blood clots then the answer would be obvious.
I have spoken to respected scientists some of whom are sceptical, others increasingly convinced.
Some point to the highly unusual nature of the clots as a sign something could be going on. They are often appearing at the same time as low levels of blood platelets, which are one of the main components of a clot, and antibodies linked to other clotting disorders appearing in the blood.
Others say there is not enough proof and the reported cases could plausibly be down to Covid, which itself is linked to abnormal clotting.
How big might the risk be?
It remains entirely possible the risk is zero as vaccines are not proven to cause the brain clots.
However, the most recent UK data reported far fewer clots, just five, despite vaccinating far more people – 11 million.
The European Medicines Agency, which has assessed data from around the world, estimates there is around a one in 100,000 risk of a CVST in people under the age of 60 who have been given the AstraZeneca vaccine.
The organisation's head of safety monitoring, Dr Peter Arlett, said that was "more than we would expect to see".
However, it is uncertain what the background rate of these blood clots in the brain truly is. Estimates vary from around two cases per million people every year to nearly 16 in every million in normal times and coronavirus itself may be causing them too.
Why is there a difference between the UK and Germany?
You might expect to see the same numbers of CVSTs in different countries if they were genuinely being caused by the vaccine. Yet the UK and Germany have massively different figures.
One argument is the type of people being vaccinated is different.
The UK has, largely, been working from the oldest age groups down, while Germany was one of the countries that initially refused to use the vaccine in the over 65s because of a lack of trial data. Instead nearly 90% of Germans given AstraZeneca are thought to be under 60.
Side-effects in general tend to be more severe in younger people as they have a stronger immune response, which has been one speculated reason why the UK has had fewer cases.
However, CVSTs are inherently more common in younger women and taking the pill increases the risk. So the natural risk levels – whether people are vaccinated or not – could have a role too.
Teasing all this apart is challenging, but the EMA said it had found no specific risk factors such as age, gender or medical history.
Is the AstraZeneca vaccine safe?
Nothing in medicine in completely safe and even therapies that are highly toxic are used in the right circumstance.
Chemotherapy drugs have brutal side effects, but are hugely valuable; and even over-the-counter painkillers like paracetamol and ibuprofen have severe side-effects, they are just incredibly rare.
The real decision is always whether the benefits outweigh the risks.
This is particularly challenging in a pandemic. Normally medicine would rely on the "precautionary principle" to prove adequate safety before giving a new medicine to large numbers of people. But in a pandemic, any delays in vaccinating people will also cost lives.
Based on the Germany data alone, if you vaccinate a million people then you would expect 12 to have a blood clot and four of them to die.
But if a million 60-year-olds catch coronavirus then around 20,000 would die of Covid-19. If a million 40-year-olds catch coronavirus then around 1,000 die. It would be a few hundred people in their 30s.
The benefits of vaccination clearly increase with age and countries like Germany and Canada have allowed the AstraZeneca vaccine to be used in older age-groups. These decisions will also be driven by which alternative vaccines they have available and who still needs to be immunised.
The world is scrutinising the data intensely, but clarity will still take time.
===================================================
Brazil: More than 66K People Died of Virus During March
Some 66,570 people in Brazil died of Covid-19 in March, more than double the previous monthly record, figures show. To date, 326,000 people have died there from COVID.

The country's health service has been pushed to the brink as cases of the virus continue to climb.
President Jair Bolsonaro has faced intense criticism for his handling of the crisis and was hit by high-profile resignations this week.
But on Wednesday he again railed against lockdown measures imposed by local governors and mayors.
"We had, and we have, two enemies – the virus and unemployment! It is a reality! We are not going to solve this problem by staying at home," he said.
Wednesday also saw a further 3,800 new deaths and over 90,000 new coronavirus cases. Brazil's daily deaths currently account for about a quarter of all coronavirus fatalities in the world.
New chiefs of the army, navy and air force were announced on Wednesday to replace those who resigned on Tuesday in an apparent protest at the sudden sacking of Defence Minister Fernando Azevedo e Silva.
Mr Bolsonaro and his minister had clashed over the issue of the armed forces' loyalty, which the defence minister said should be directed to upholding the constitution rather than supporting the president personally.
The role of the armed forces in Brazilian politics has been a sensitive issue since the country's return to democracy in 1985 after 21 years of military rule.
The new defence minister, Walter Braga Netto, announced that Paulo Sergio Nogueira de Oliveira would head up the army, Almir Garnier the navy and Carlos Almeida Baptista Júnior the air force.
His announcement came on the anniversary of the 1964 coup that brought the military to power.
He said the military would "not be found wanting when the country needs it". The day before he had raised concern by saying the coup had "pacified the country" and should be celebrated.
President Bolsonaro, a former army captain, himself prompted outrage in 2019 when he organised a commemoration of the coup.
As well as losing his defence minister, Mr Bolsonaro also had to replace his foreign minister and five other cabinet ministers. Marcelo Queiroga, a cardiologist, became the fourth health minister since the pandemic began.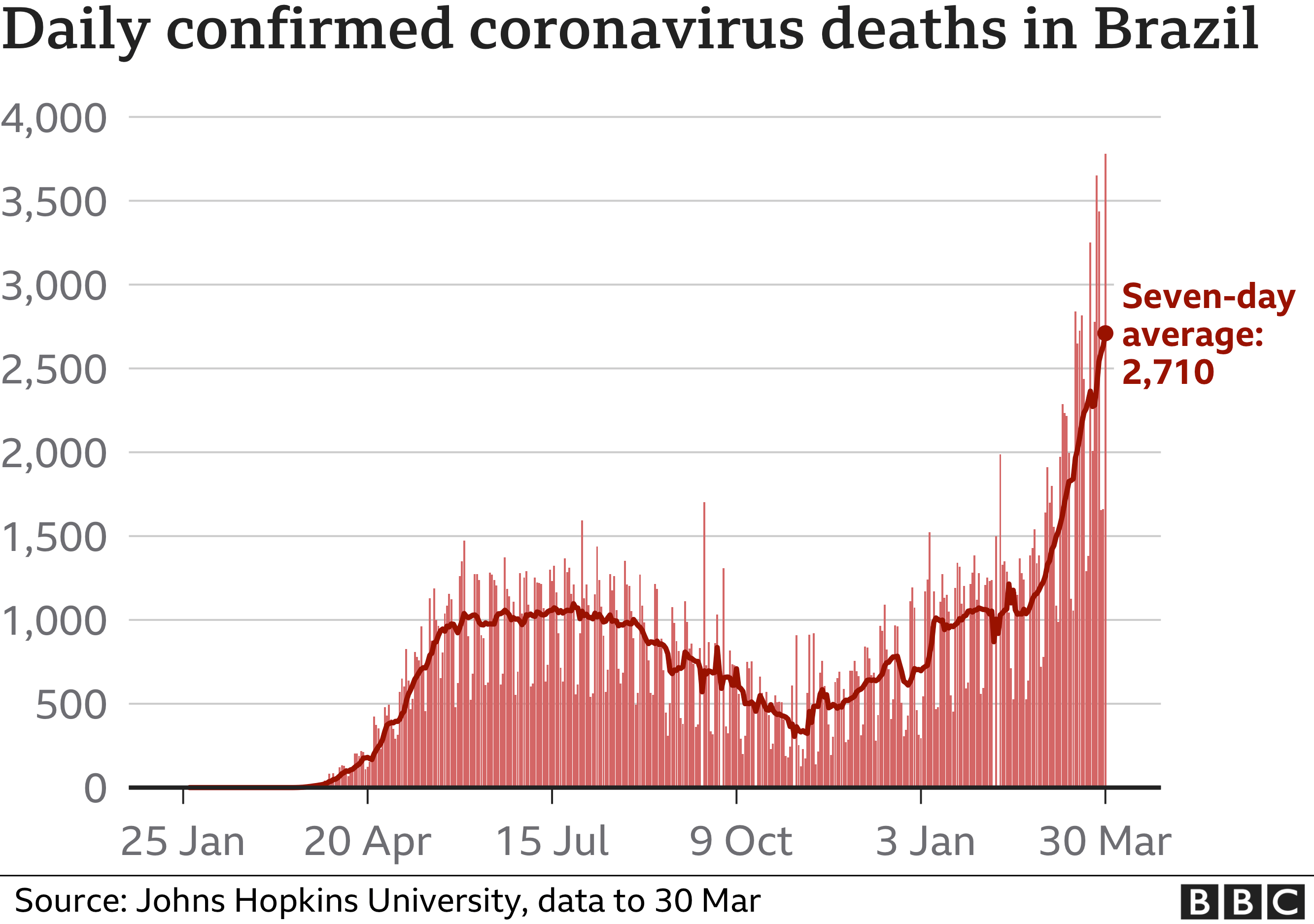 ======================================================
Lockdown in France extended to entire country
The government will considerably accelerate the vaccination process in the upcoming weeks
France extends the lockdown restrictions to include the entire country starting 3 April. This is what President Emmanuel Macron announced in an official address on Wednesday evening. The restrictions that have been valid for 19 departments will now be implemented to the whole metropolitan territory for a period of four weeks.
Pledge: every person over 18 could get a vaccine by the end of summer
One year after the start of the coronavirus pandemic in France, the President returned with another official address to the French people. This time, however, on top of another portion of restrictions, there was a positive announcement: by the end of summer, the entire French population over 18 years old could be vaccinated.
As of 16 April, this will be open to everyone above 60. From 5 May, everyone above 50 will be able to get a vaccine, while from mid-June this possibility will be given to everyone above the age of 18.
The entire address can be seen on the website of the Élysée or below (in French):
Official address of President Emmanuel Macron on 31 March 2021, announcing the extension of lockdown. Source: Élysée
Restrictions in force in France
As of Saturday, 3 April, the following restrictive measures will apply to Metropolitan France:
Curfew starting at 7 p.m
Systematic teleworking
Closure of certain businesses, deemed non-essential (establishments selling food and drugs, as well as bookstores and record dealers are considered essential)
Ban on inter-regional trips after April 5, except for compelling reasons
Travel ban during the day beyond 10 kilometres from one's home unless there is a compelling reason
In addition, to help the health system face the increased strain, the country will deploy additional personnel to hospitals: medical students, retired medical personnel, members of the army health service, volunteers from the health reserve. The number of hospital beds will also be considerably increased.
Finally, as of this month, there will be a gradual opening of schools. The return will take place for everyone on 26 April, physically for nurseries and primary schools, remotely for colleges and high schools – which will reopen on 3 May.
==================================================