Activists at the US-Mexico border say that a government mobile app required for US asylum applications is beset by technical problems, and frequently fails to recognise the faces of black and darker-skinned migrants.
The app, known as CBP One, was rolled out by Customs and Border Patrol (CBP) in January. Prospective migrants use it to book appointments to appear at a port of entry.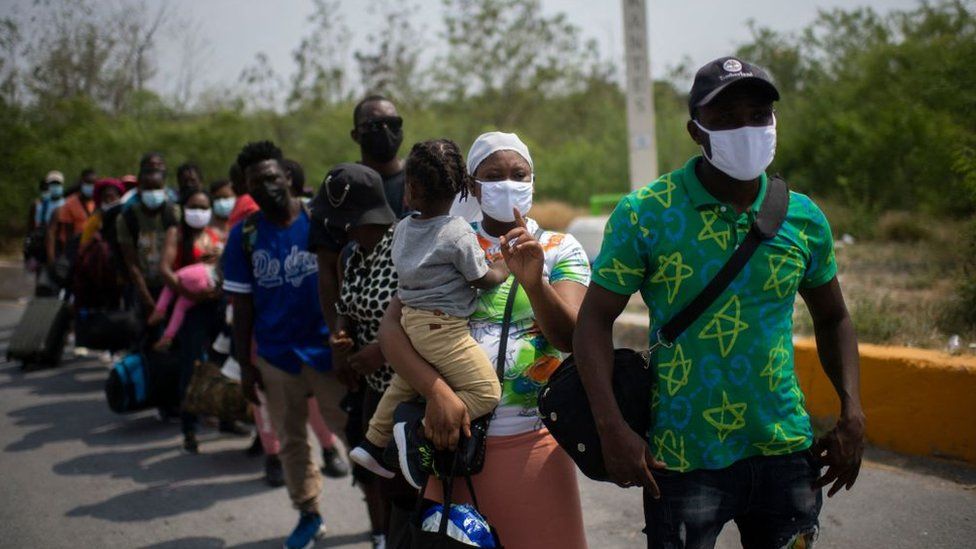 It is the only way to apply for US asylum and exemptions from Title 42 – a public health law that allows for rapid expulsion. As of 10 February, over 20,000 people had used it to schedule an appointment.
Officials have credited the app with helping to reduce the number of detentions at the border, seeking to cast the new technology as part of a larger effort to protect asylum seekers making the often dangerous journey north.
A record total of 2.76 million migrants were stopped in the 2022 fiscal year which ended in September, with the influx attributed to a rise in asylum seekers from Venezuela, Haiti, Cuba and Nicaragua.
Since then the numbers have fallen, with January's total of 128,410 down 42% from the 221,675 detentions recorded in December.
But activists say at least some of the decline in detentions can be attributed to the app's technical issues, which make it harder for migrants, especially those of African descent, to book appointments in the first place.
They warn that tech problems may ultimately mean more migrants will turn to people smugglers and potentially deadly, unregulated border crossings.
Rights groups struggle to help with 'very glitchy' app
Several migrants' rights organisations at the border told the BBC that people attempting to use the CBP One app face a myriad of challenges, ranging from an inability to get an appointment, geo-location failures and screens frozen before final confirmation.
Some black and dark-skinned migrants have also reported that the app is rejecting their photos, making the process impossible.
Guerline Jozef, the executive director of the San Diego-based Haitian Bridge Alliance – which focuses on Haitians and other migrants of African descent – said that she and other colleagues trying to help migrants navigate the app have "had a really hard time" with the photograph portion.
She said that for at least two families, one from Haiti and the other from Venezuela, she has tried for up to an hour and a half to get their pictures recognised on the app, but to no avail.
Erika Pinheiro, the executive director of "Al Otro Lado" – which provides legal and humanitarian support to migrants – said that the app is "very glitchy", particularly for migrants using it on older mobile phones or from areas where signal is spotty.
With regards to the facial recognition issue, Ms Pinheiro said that some migrants have resorted to using the lights of construction sites when uploading images to the app, as activists have found that "you have to be in a really bright light for the facial recognition to map your features."
"People with darker skin are getting a higher rate of error messages to the point where many of them have been unable to upload a photo at all," she added. "There's also factors like internet strength and phone quality. It's probably a confluence of all those factors."
Both Ms Jozef and Ms Pinheiro said that their organisations have raised the issue with CBP to no avail.
"It's, to me, a very frustrating form of gaslighting, because we're seeing it. We're not making this up, and now [what we are saying] is consistent with other service providers across the border," Ms Pinheiro said.
"They either respond that it's not true, or that it's probably an internet issue," she added. "I don't see them taking accountability for this problem. They haven't told us that they're taking any real steps to remedy it."
When asked by the BBC about issues with CBP One's imaging technology, CBP said in a statement that the app "does not utilise facial recognition technology" but considers photos an important safety feature.
"One of the security features of the CBP One mobile application is the requirement that an individual take a live photo of themselves each time they access the application," the statement added. "This security feature is designed to prevent bad actors from utilising the mobile applications."
The CBP statement did not address the question whether or not black and darker-skinned migrants are having trouble with the application.
It remains unclear why the CBP One app sometimes faces issues with facial recognition technology, and the underlying algorithms behind the app are not publicly known. But experts say they are not surprised.
One 2019 study from the National Institute of Standards and Technology – an agency of the Department of Commerce – found that facial recognition technology works best on the faces of middle-aged white men, with the highest rates of error among black women.
A separate study published by Harvard in 2020 found that facial recognition is the "least accurate" identifier and has an error rate of above 30% for women with darker skin.
Several police departments including Boston and San Francisco have banned the technology, and Amazon has indefinitely imposed a global ban on the use of its own facial recognition technology for police uses, citing bias concerns.
Nina Wang, a Georgetown University researcher who specialises in government surveillance of immigrant communities, told the BBC that many of the problems inherent with the technology stem from the "training data" similar applications use.
"[That is] often composed, primarily, of white male faces," Ms Wang said. "That is pretty key to why these algorithms have such extensive bias problems."
Ms Wang said she is not sure what the solution to the algorithmic problem would be.
"I would just say that we need to stop using them for serious decisions that have such major consequences on people's lives," she added. "What we're seeing is essentially that people with darker skins cannot apply for asylum for no other reason than the colour of their skin. That is something that seriously negatively impacts people's livelihoods."
Raul Pinto, an attorney at the American Immigration Council, said that the photograph issue and other issues being faced by CBP One users may ultimately mean that thousands of migrants are left with little recourse as they wait for an opportunity to enter the US.
"The CBP One app has left thousands of people out of the process," he said.