Brazil's ex-president, Jair Bolsonaro, has returned from his self-imposed exile in the United States.
The far-right former leader landed in the capital, Brasilia, on a commercial flight from Florida, where he spent the past three months.
Supporters draped in Brazil's flag shouted "legend", but the former leader was led out by a side exit.
It is the first time he is back in his home country since his supporters stormed Congress on 8 January.
He faces an investigation into whether he incited the rioters.
There had been much speculation about how many people would turn out to greet the former leader after his 89-day absence.
Following the rioting caused by his supporters on 8 January, police have taken precautions, such as cordoning off the main esplanade in the capital.
Security was also tight at the airport.
Brazilian news site O Globo said that when his plane touched down at 06:37 local time (09:37 GMT), there were more police officers in attendance at the airport than supporters.
His fans had hoped to catch a glimpse of the former president, but they have now started leaving the premises after Mr Bolsonaro's son Eduardo told them his father had left for the headquarters of the Liberal Party, of which he is a member.
There, he briefly addressed other Liberal Party politicians and took a swipe at the government of President Luiz Inácio Lula da Silva, saying: "Those people who are in power now, won't be able to just do what they like."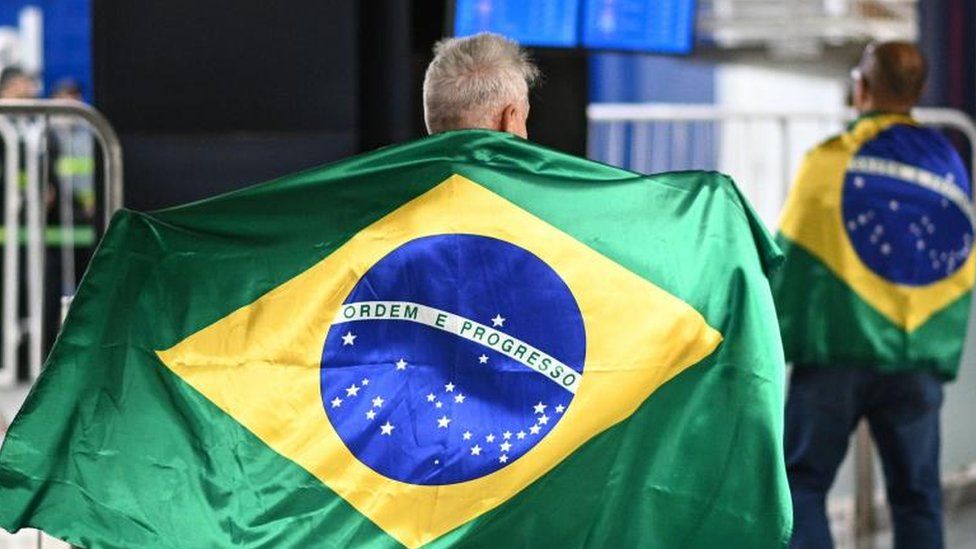 The Liberal Party leader has said that he is keen for Mr Bolsonaro to campaign on behalf of the party ahead of local elections next year, but Mr Bolsonaro told CNN before leaving Florida that he would not lead the opposition to the current president, who is known as Lula.
Analysts have pointed out that during his three-month absence, other conservative politicians have come to the forefront of Brazilian politics.
Mr Bolsonaro left Brazil on board a Brazilian air force plane on 30 December, just two days before he was due to hand over the presidential sash to his rival, Lula.
Lula narrowly beat Mr Bolsonaro in a presidential run-off on 30 October, a defeat the far-right leader never publicly recognised.
Many of his supporters also refused to acknowledge Lula's victory, camping out in front of army barracks in the hope of swaying the military to depose the newly elected president.
With Brazil's institutions, including the military, backing the democratic handover of power to Lula, Mr Bolsonaro disappeared almost completely from the public scene, rarely leaving the presidential palace and keeping uncharacteristically quiet on social media platforms.
His supporters, though, were anything but quiet, rampaging through key government buildings in Brasilia just a week after Lula took power.
More than 1,500 people were arrested.
While Mr Bolsonaro was in Florida when Brazil's Congress was stormed, investigators argue his rhetoric – repeatedly questioning the validity of the election result and saying that only God or death could remove him from office – incited the rioters.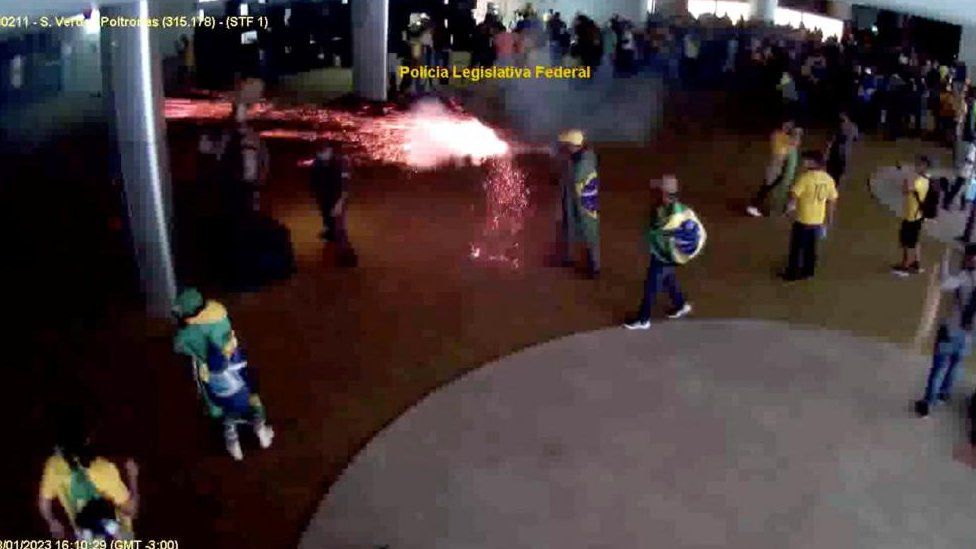 The investigation into alleged incitement is not the only legal challenge he faces. There is also a probe under way into whether he tried to illegally import and keep millions of dollars' worth of jewellery he and his wife were given by Saudi Arabia in 2019.
Mr Bolsonaro has been summoned to testify in that case in less than a week's time.