BBC-Eight Brazilian soldiers who shot dead a musician and a bystander in a hail of bullets have been convicted of murder.
Evaldo dos Santos Rosa and Luciano Macedo were killed in April 2019, in an incident in which the soldiers fired more than 250 rounds.
Prosecutors believe the troops mistook Mr Santos Rosa's car for one of the same colour driven by gang members.
The case shocked Brazil, and on Thursday a court handed down long jail terms for all eight men.
They were convicted of murder and attempted murder, for the wounds caused to Mr Santos Rosa's father-in-law in the shooting.
Mr Santos Rosa's widow, Luciana, said the sentencing "brought peace to my soul".
"I know I won't get my husband back, but it wouldn't be fair to leave here without a positive outcome," a statement on news site G1 said. "I think I'll be able to sleep today."
Mr Santos Rosa was driving his family to a performance in Rio de Janeiro's Guadalupe neighbourhood when soldiers fired some 82 rounds into his car. Nine of the rounds reportedly hit Mr Santos Rosa.
Luciano Macedo, a local rubbish collector, tried to help the family but was himself shot. He died from his wounds 11 days later.
Sérgio Gonçalves, Mr Santos Rosa's father-in-law, was injured in the attack but survived after more than a week in hospital.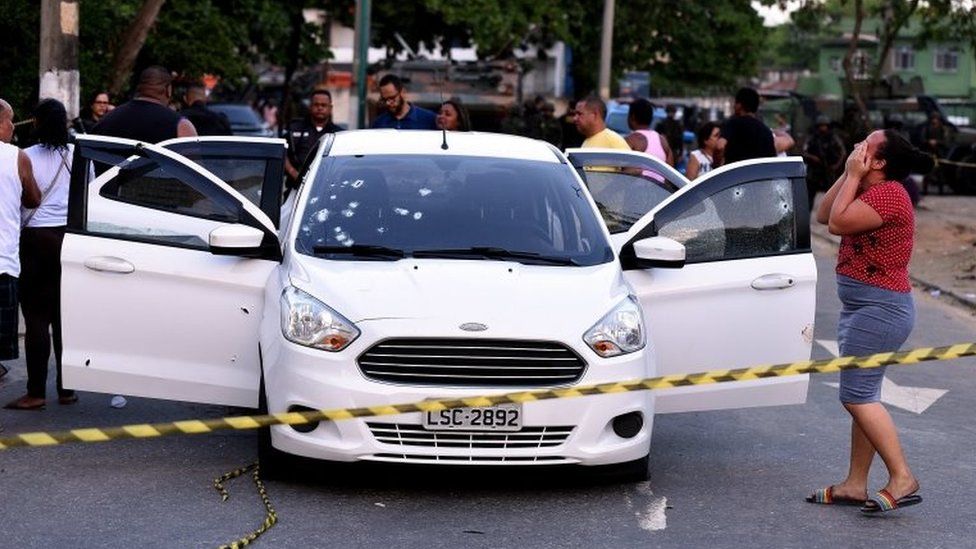 In recent years authorities have put the army in charge of security in the violence-plagued state of Rio, and in 2017 a law passed putting cases of civilian deaths caused by the military under Brazil's military court system.
President Jair Bolsonaro – the country's right wing, populist leader – dismissed the case in the weeks after the deaths as an "incident".
"The army didn't kill anyone. The army belongs to the people. We cannot accuse the people of murder," he said.
A military court however voted to convict the eight men on Thursday, more than two years after the deaths.
The lieutenant in command received a 31-and-a-half-year sentence, while the other seven each were sentenced to 28 years in jail.
Local media report however that the men will appeal to the Superior Military Court. They will not be placed in custody until that body's final decision.