Tens of thousands of people in Brazil have held pro-democracy rallies, in an angry response to the storming of Congress by ex-President Jair Bolsonaro's supporters.
In the country's largest city of São Paulo, crowds chanted that Mr Bolsonaro must go to prison.
About 1,500 people have been held over Sunday's riots in the capital Brasília.
They came a week after President Luiz Inácio Lula da Silva was sworn in after October's election that divided Brazil.
On Monday evening, the 77-year-old new leader – widely known as Lula – visited the damaged buildings of Congress, the presidential palace and Supreme Court together with the country's governors, condemning the "terrorist acts" and vowing to punish the perpetrators.
Mr Bolsonaro, 67, has not admitted defeat in the tightly-fought election, and flew to the US before the handover on 1 January. On Monday, he was admitted to hospital in Florida with abdominal pain.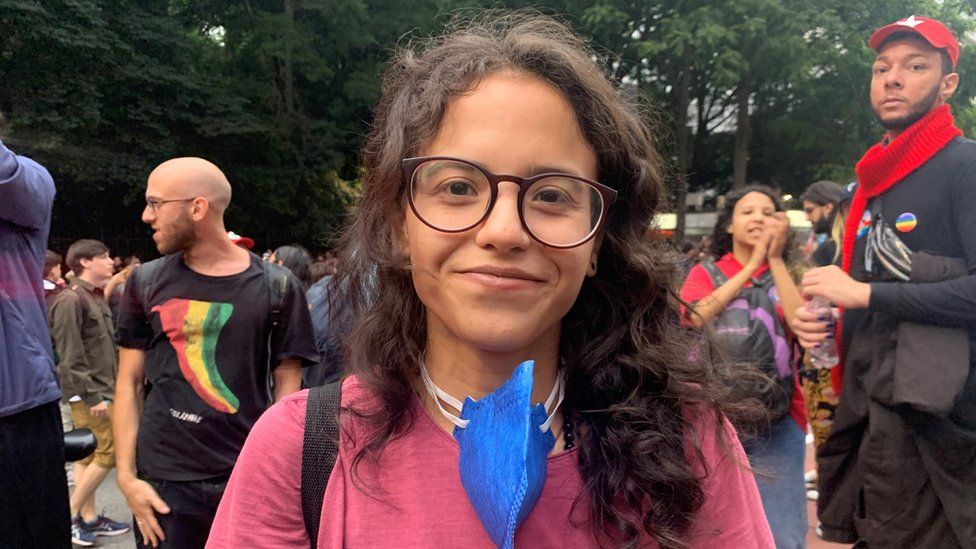 On Monday, street rallies were held in a number of cities and towns.
The turnout at São Paulo's demonstration was impressive, the BBC's Katy Watson reports from the city. A part of Paulista Avenue, Brazil's most famous street, was blocked off as crowds filled the area, singing, dancing and chanting for justice.
Many came dressed in red, the colours of Lula's Workers' Party; others waved placards saying "No amnesty for the coup mongers" and called for those responsible to be punished. There were also chants of "Prison for Bolsonaro".
"I don't agree with what happened in Brasília – it was a nightmare. I don't agree with those who believe that with democracy you can use your power to destroy democracy," Gabriel, who only gave his first name, told the BBC.
"I want to show to the world and our country that even though there are thousands of people who believe the elections weren't valid, here in Brazil, we have a gigantic number of people who believe we can trust our government, we can trust in our democracy," he said.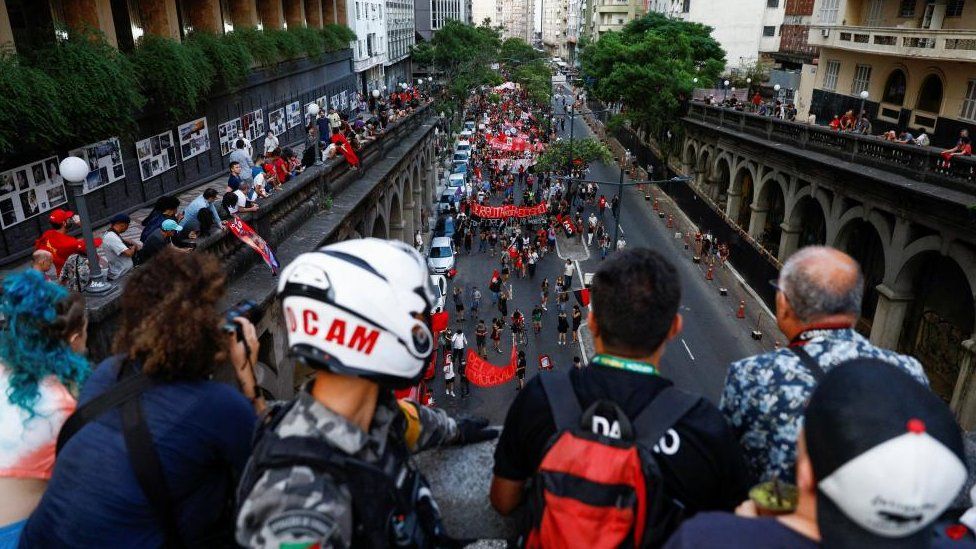 Marina Rodrigues Carmona, another demonstrator, told the BBC: "Polarisation is a big problem – everyone has their own ideas, and I don't think there's much dialogue between the two sides."
There was, however, a huge police presence. At times, the atmosphere has felt tense. People are still processing what happened in Brasilia and nerves haven't yet calmed for many, our correspondent says.
Sunday's dramatic scenes in Brasília saw thousands of protesters clad in yellow Brazil football shirts and flags overrun police and ransack the heart of the Brazilian state.
Lula was forced to declare emergency powers.
On Monday morning, heavily armed officers started dismantling a camp of Mr Bolsonaro's supporters in Brasília – one of a number that have been set up outside army barracks around the country since the tightly-fought presidential election.
Mr Bolsonaro condemned the attack and denied responsibility for encouraging the rioters in a post on Twitter some six hours after violence broke out.
Meanwhile, Brasília Governor Ibaneis Rocha has been removed from his post for 90 days by the Supreme Court.
Justice Minister Alexandre de Moraes accused him of failing to prevent the riot and of being "painfully silent" in the face of the attack.
Video shared by the Brazilian outlet O Globo showed some officers laughing and taking photos together as demonstrators occupied the congressional campus in the background.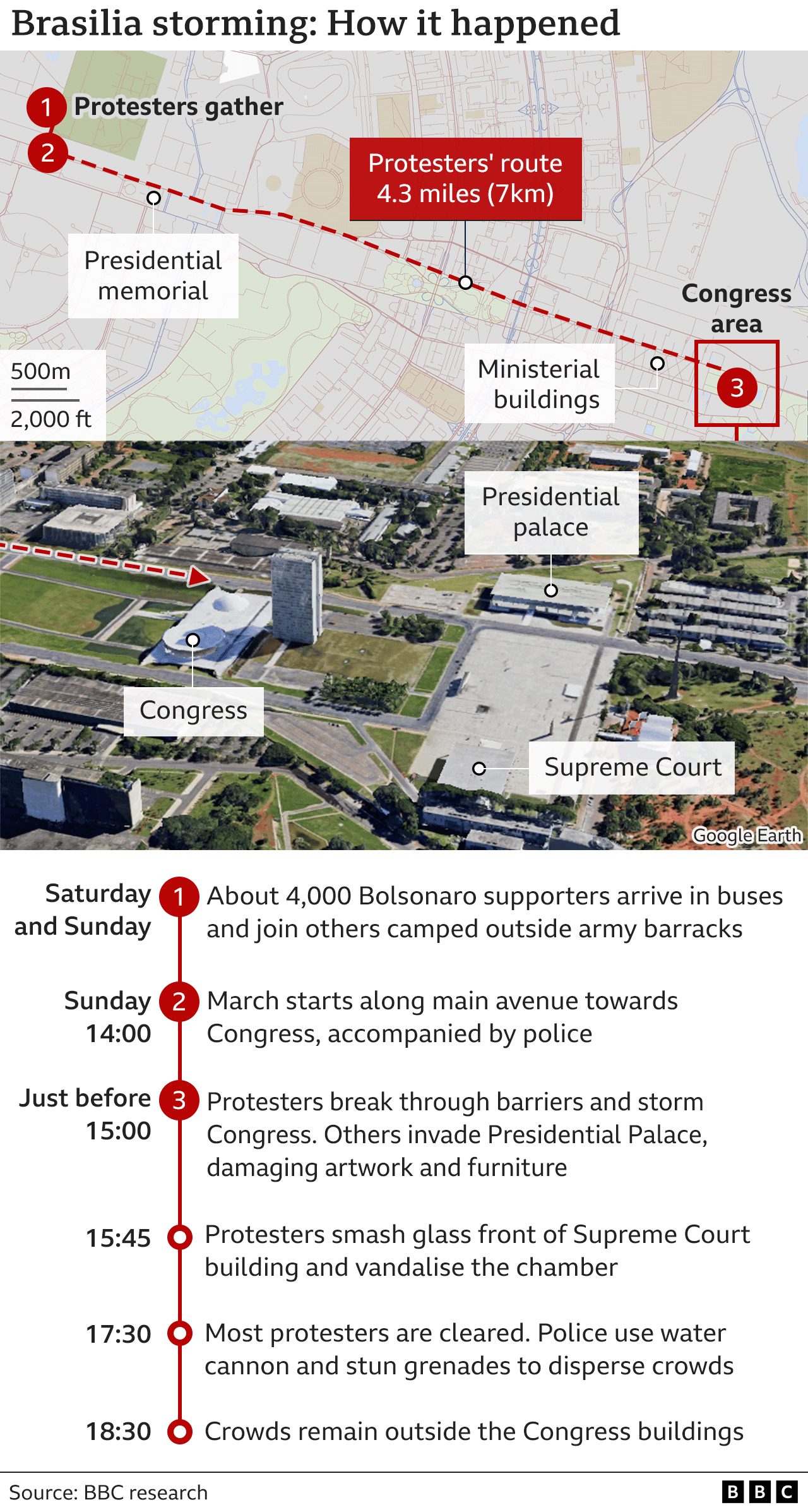 Bolsonaro supporters created camps in cities across Brazil, some of them outside the military barracks. That is because his most ardent supporters want the military to intervene and make good elections that they say were stolen.
Some protesters are not just angry that Mr Bolsonaro lost the election – they want President Lula to return to prison.
Lula spent 18 months in jail after being found guilty of corruption in 2017. His convictions were later annulled, after initially being sentenced to more than nine years.
Heads of state around the world have also denounced the violence.
Late on Monday, President Joe Biden "conveyed the unwavering support of the United States for Brazil's democracy" during a phone call with Lula, the White House said in a statement.
Comparisons have been drawn with the storming of the US Capitol on 6 January 2021 by supporters of Donald Trump, an ally of Mr Bolsonaro.