Every Sunday morning for nearly five decades, millions of Mexican families gathered around their televisions to watch Chabelo.
The squeaky-voiced, short-wearing child character was played by Mexican actor, entertainer and businessman Xavier López Rodriguez, who died on Saturday at the age of 88.
His children's game show En Familia con Chabelo (Family Time with Chabelo) aired live every Sunday for 45 years and even made the Guinness Book of Records for its unprecedented broadcast run.
This longevity inspired a massive internet fandom celebrating Chabelo's seeming immortality. Although the television programme finished in 2015, memes about the character – inserting him into Mexican historical events, placing him at the Last Supper or even suggesting he had lived through the Big Bang – continued for years.
But these irreverent jokes hid a genuine affection. Generations grew up with Chabelo's albums, films and Sunday television series. As Laura Martínez, a Mexican journalist based in New York, told the BBC, "There is not one Mexican person who doesn't know Chabelo."


López was born on 17 February 1935 to Mexican parents in Chicago, Illinois. The family moved back shortly afterwards to the central Mexican city of León, where he and his two sisters were raised. He told the magazine Caras in 2020 that he had been in Mexico "all my life and I consider myself 100% Mexican".
At the age of 18, he was drafted into the US army during the Korean War because of his dual citizenship, but the conflict ended before he could participate and he spent his short service on a military base in California. He then returned to Mexico to study medicine and worked for years as a doctor at a private clinic.
While he was studying medicine, he also started working part-time as an assistant at the headquarters of the Mexican broadcaster Televisa. He started to fill in for actors who were late for shows, and on one occasion was asked to read a joke on air about a boy named Chabelo.
"I read it and the voice came out like a child, and that's where Chabelo was born," López told Caras. He decided to turn away from medicine and went instead to study drama. "I'll never forget my father's face [when I told him]," he told the magazine.
In the 1950s, his character became one of the faces of soft drink brand Pepsi. López appeared in their adverts throughout North and South America, before launching his own radio show in Mexico, La media hora de Chabelo (The Chabelo Half Hour).
This article contains content provided by Instagram. We ask for your permission before anything is loaded, as they may be using cookies and other technologies. You may want to read Meta's Instagram cookie policy, external and privacy policy, external before accepting. To view this content choose 'accept and continue'.


But it was his television show that established him forever in Mexican culture. From its first broadcast in December 1968, En Familia con Chabelo was broadcast live every Sunday morning.
Families would appear on the show and compete in various challenges and games for prizes – climbing greased-up poles, running in hamster wheels or crossing the studio with a giant water balloon between their legs. And across Mexico, tens of millions of children would sit in front of their televisions to commune with Chabelo.
Growing up in Zacatecas in the 1980s, Roberto Carrera Maldonado used to wake up early every week to catch the show. "It was the highlight of Sunday morning," he said. "We had only one TV at home – my sister and I watched on low volume so we didn't wake up our parents.
"Parents used [the show] to keep children quiet while they were trying to get more of a snooze," he said. "I was really jealous of the children able to go [on the show]. I always wondered how to get on there."
Ms Martínez was in the audience for one of his shows in the late 1970s. She remembers her grandmother waking her up at 06:00 to queue outside the studio in Mexico City for a live broadcast.
"I will never forgive her for that," she said. "I remember I was really disappointed because you expected it was the same thing you would watch on TV – Chabelo really close to you, and he had clowns, and he had hostesses, really cute girls with mini skirts. But everything [in the studio] was so far away, it was dark [and the show] was very, very long."
At the end of the programme, there was a special segment called La Catafixia. Chabelo would give contestants the choice to risk what they had won throughout the show for prizes hidden behind three numbered doors.
The audience would see the options – ranging from cheap gifts such as sweets and toys to white and electronic goods, furniture, or even a car – but the players would have to pick blind. Many brands which sponsored the prizes eventually became famous because of the show, including furniture company Muebles Troncoso.
This element of chance, risking what you had won during the programme for what could turn out to be a worse prize, has since become a phrase in Mexican Spanish – meaning a lottery or a risky gamble. "It's used by many Mexicans to signify this – like, 'I'm not going to catafixia my dreams for something'. People use it," Ms Martínez said. "I don't even know if it's a real word!"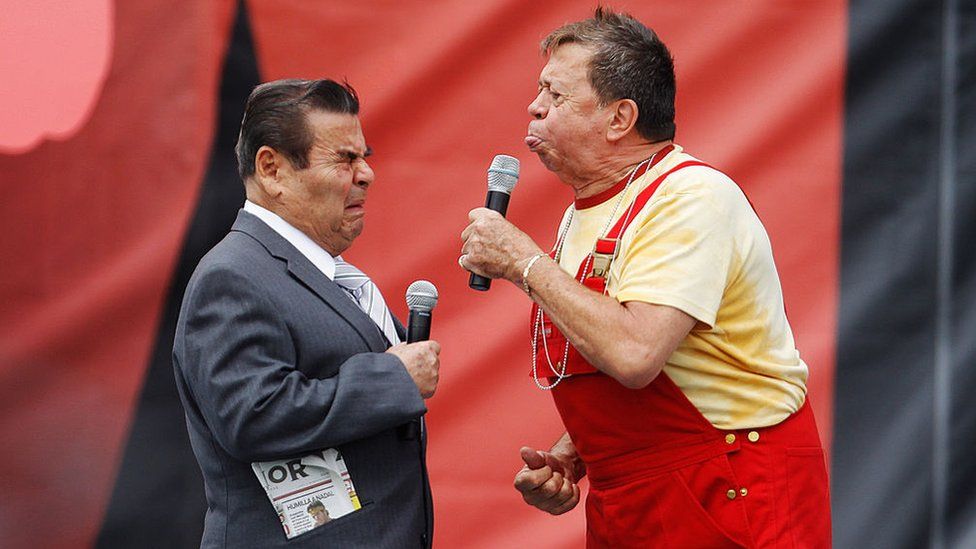 As the show took off, so too did López's film career. Mr Carrera remembers him appearing in films shown on Saturday afternoons, battling "mummies, vampires, monsters of the lake".
"Chabelo did several of them, I don't know how many. But definitely I watched a lot of them," he said. "What's weird is seeing him not being Chabelo. Because as a child, I only saw Chabelo. I never saw Xavier. The guy was always in character. Later I saw a couple of interviews, and it was like, 'That's weird! He has a different voice, why?'"
From December 1968, En Familia con Chabelo ran nearly every week for 47 years – only going off air on special occasions, such as during the 2009 swine flu pandemic, Pope Benedict XVI's visit to the country in 2012, or when López fell ill.
The programme finally ended in 2015, although for years afterwards every Sunday a flurry of memes appeared about Chabelo, lamenting the end of the iconic show.
López himself – who still occasionally acted in his later years, including voicing a minor character in the Spanish-language version of the Pixar film Coco – was never offended by his online popularity.
"I am very grateful to each and every one of the people who take the trouble to make a meme about me," he told news programme Hoy. "Maybe they think they are offensive, I don't take it that way, with all my heart… I say thank you."
"His show lasted so long," Ms Martínez said. "My aunts and uncles got to see him, he used to be a figure in their childhood. And then I was born and he was a figure in my childhood.
"Many decades past, and my brother's son Gael – who must be 17, 18 – he grew up watching this dude. Same programme, same show, on Sunday, live.
"I think this is why there is this image that he's been here forever – not so much that he's old, but because his show spans so many generations."