China will send troops of ducks to Pakistan to help battle against a huge locust infestation that poses a threat to regional food security.
At least 100,000 ducks will be deployed 4,827 kilometres (nearly 3,000 miles) from the eastern province of Zhejiang to Pakistan, which shares a border with the Xinjiang province.
Lu Lizhi, a researcher at the Zhejiang Provincial Institute of Agricultural Technology, told local newspaper The Ningbo Evening News the ducks proved to be an effective method of controlling locust infestations 20 years ago
In 2000, a 700,000-strong army of ducks and chickens were sent to Xinjiang to gain control over swarms of locusts that devoured over 3.8 million hectares of crops and grassland.
At the time, researchers found the ducks were more efficient than chickens at guzzling down the devastating pests
Locust swarms threaten catastrophe for farmers in East Africa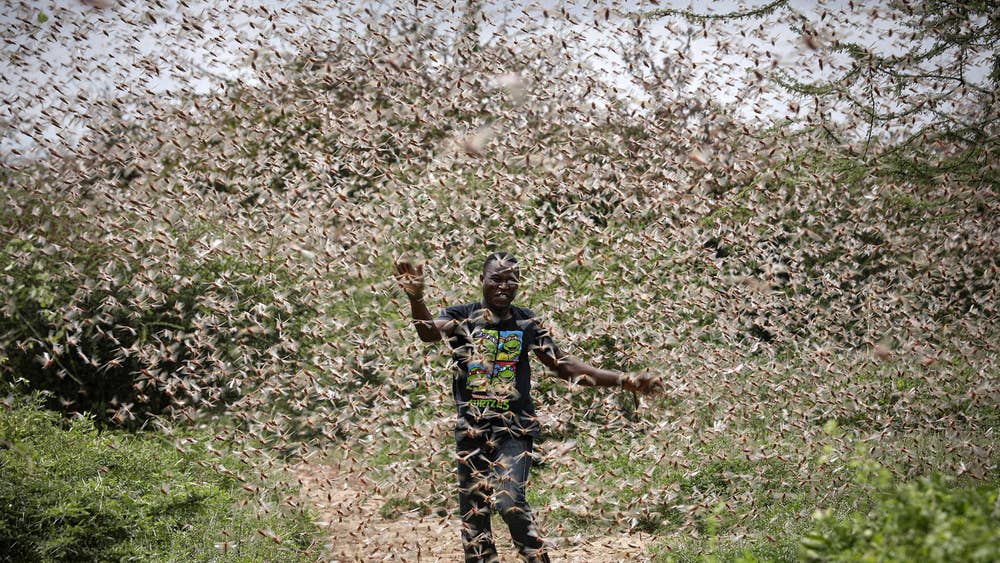 Mr Lu told the newspaper: "One duck is able to eat more than 200 locusts a day. They have three times the combat capability."
He also said ducks were more likely to stay in a group, which made them easier to manage than chickens.
Using ducks as "biological weapons" was a cheaper and more environmentally-friendly alternative to pesticides, added Mr Lu.
State television network China Global Television Network (CGTN) said in a video posted on Twitter: "400 billion locusts are approaching China from the India-Pakistan border.
"100,000 'duck troups' are gathering to prepare for the potential emergency
Information Minister Firdous Ashiq Awan said: "We are facing the worst locust infestation in more than two decades and have decided to declare a national emergency to deal with the threat."
Farmers believe country's agriculture ministries failed to take action quickly enough to manage the locust outbreak and called for resignations.
According to Pakistani news site The Express Tribune, the Farmers Bureau of Pakistan (FBP) accused federal and provincial ministers of neglect and mismanagement of the agriculture sector.
FBP President Zafar Hayyat told reporters on 6 February: "The locusts which entered into Pakistan almost a year ago have grown and are posing a big threat to the different crops under cultivation.
"The government has recently realised the importance of the situation, but we believe they have lost precious time in which they could have tackled the problem with little resources."