A desperate search for four children who have been missing since their plane crashed in the Colombian jungle on 1 May has yielded new clues.
Items belonging to the siblings, who are aged between 11 months and 13 years, have been found in two different locations in the rainforest.
Their mother and the other adults on board the plane died in the crash.
But search teams say small footprints found last week indicate that the children survived the impact.
The footprints were spotted on Thursday and specialists said most likely belonged to the children.
Earlier last week, search teams had found a child's drinking bottle, a pair of scissors and a hair tie, as well as what appeared to be a makeshift shelter made from branches and a half-eaten passion fruit.
The children belong to the Huitoto indigenous group and members of their community have expressed the hope that their knowledge of fruits and jungle survival skills will have given them a better chance of surviving the ordeal.
But despite more than 100 soldiers combing the jungle, no further traces were found until the early hours of Wednesday.
The latest items were spotted by an indigenous woman some 500m (1,640ft) from the crash site.
She found a dirty nappy, a green towel and shoes, which judging by their size are thought to belong to the second youngest of the missing siblings, who is four years old. The nappy is believed to have been worn by the 11-month-old baby.
At a separate location, the search team found another nappy, a mobile phone case and a pink cap which matches the drinking bottle found last week.
Indigenous people have joined the search and helicopters have been broadcasting a message from the children's grandmother recorded in the Huitoto language urging them to stay put and to stop moving so as to make them easier to locate.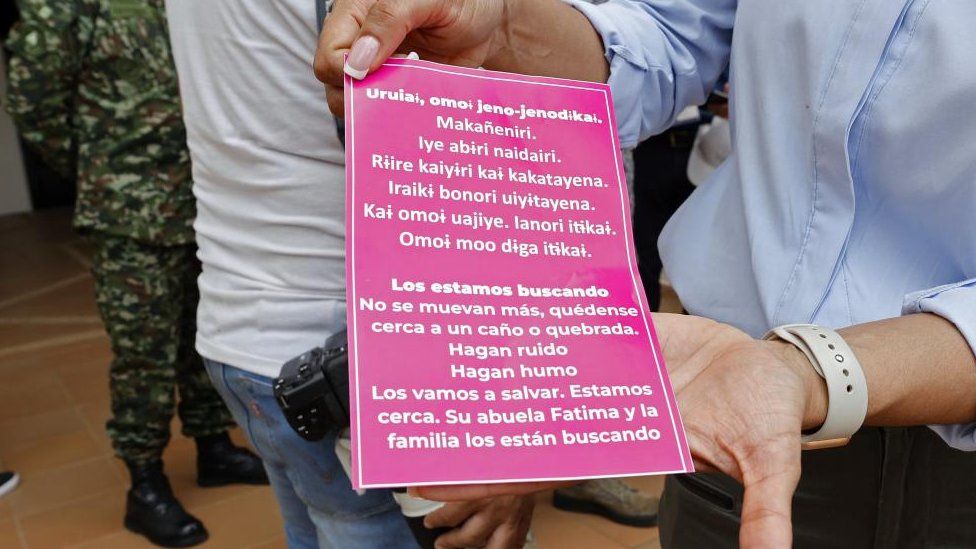 The latest traces are further indication that the four siblings survived the plane crash which killed their mother and the plane's pilot and co-pilot, the Colombian army said.
But it warned that the state of the items suggested that they had not been abandoned there recently, but "sometime between 3 and 8 May".
The army added that it was encouraged by the fact that none of the items showed traces of blood.
The army colonel in charge of the search also said that all indications were that the four children were roaming the jungle on their own.
Last week, Colombia's president came under criticism when a tweet published on his account announced that the children had been found.
He erased the tweet the next day saying that the information – which his office had been given by Colombia's child welfare agency – could not be confirmed.