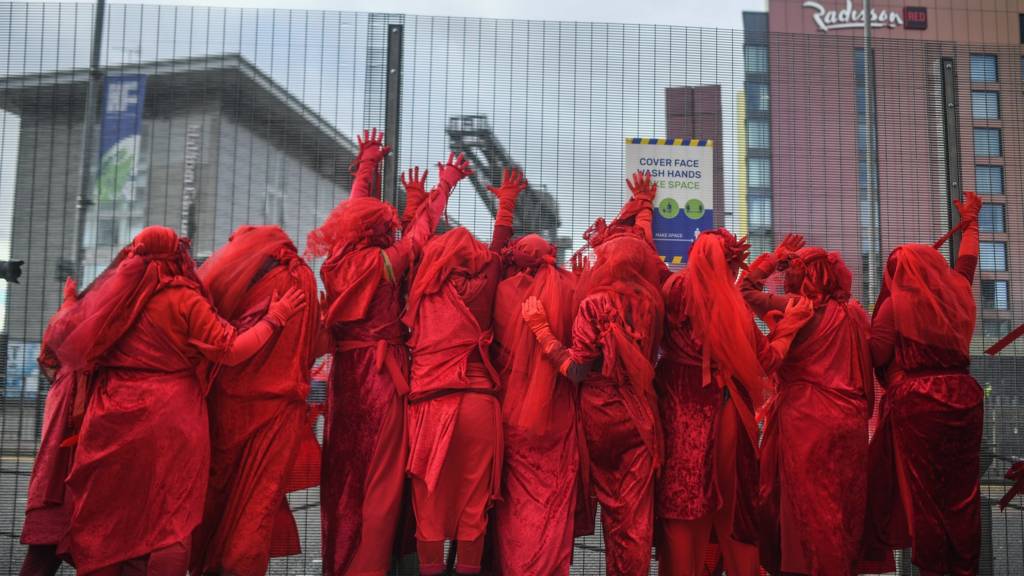 Live
Tackling climate change: how will the world pay for it?
The difference between 1.5C and 2C
You will have been hearing the term 1.5C a lot lately. That's because one of the main aims of COP26 is to get countries to agree to limit global warming to 1.5C.
Scientists tell us that keeping the rise below 1.5C – compared with pre-industrial times – will avoid the most catastrophic impacts of climate change, but we're already at least 1.1C warmer so radical action is needed.
In 2015, world leaders agreed on some targets as part of the Paris climate accord – including aiming to keep global temperatures "well below" 2C above pre-industrial times and "endeavour to limit" them even more, to 1.5C.
But we are way off track.
On current plans, the world is expected to breach the 1.5C ceiling within decades and to hit 2.7C of warming by the end of the century.
Scientists say there simply isn't time for inaction if 1.5C is to be achieved, while some believe we've already left it too late.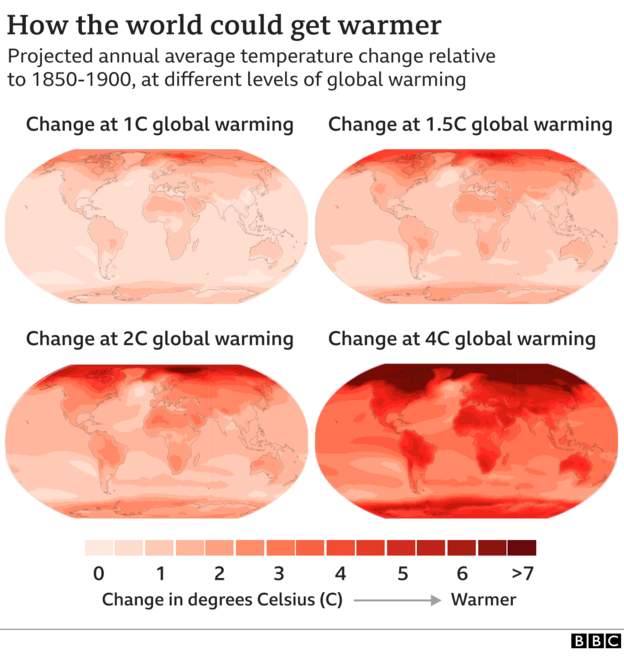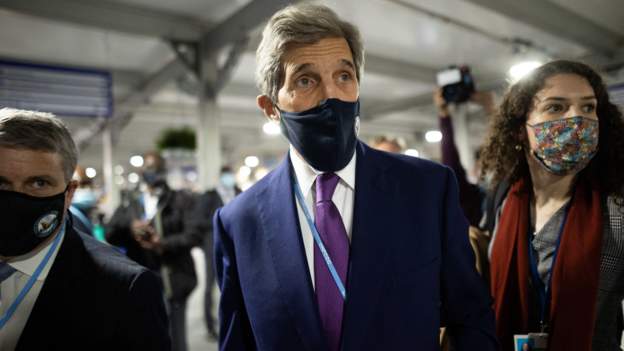 US climate envoy John Kerry says that current commitments to cut carbon emissions mean the world has a 60% chance of capping a rise in the average temperature at 1.5C.
Scientists say limiting the rise to 1.5C will avert the worst effects of climate change.
Kerry told a breakfast event that, with the latest commitments, around 65% of global GDP was now covered by implementable climate change plans.
"But that means 35% isn't. And we can't do it without that 35%," the Reuters news agency reported. "You don't get this done unless we are all in."
On Tuesday, China's climate envoy Xie Zhenhuan said that aiming to limit the temperature rise to 1.5C rather than the 2C target agreed in Paris in 2015 would be "destroying consensus". He called for countries to be pragmatic and take concrete actions.
The Paris agreement saw countries pledge to limit global warming to well below 2C, preferably to 1.5C, compared to pre-industrial levels.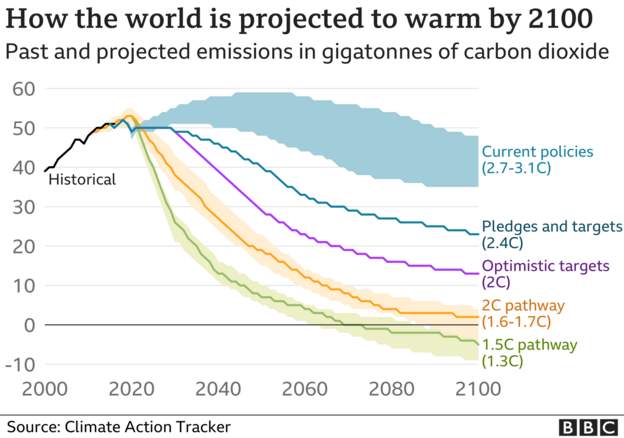 What is the $100bn a year target?
As we've been reporting, UK Chancellor Rishi Sunak has said developed governments are going to meet their six-year-old promise to send $100 billion (£73bn) a year to developing countries to tackle climate change by 2023, three years behind target.
"While we know we are not yet meeting it soon enough, we will work closely with developing countries to do more and to reach the target soon," he told the COP26 climate conference in Glasgow.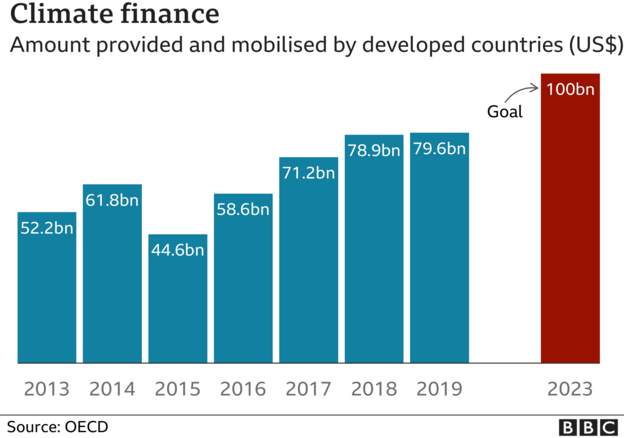 As our Reality Check colleagues note, it is quite hard to calculate what money should be included in the overall figure, because it is a complicated mix of money from governments, international lenders and private companies.
But the UN and the Organisation for Economic Co-operation and Development (OECD) estimate that by 2019 the figure had reached just over $79bn, only a small increase on the previous year, and failing to reach the $100bn a year target by 2020.
It is also important to stress that the majority of this finance comes in the form of loans – not grants – so developing countries will need to pay it back.
Tackling climate change – how will the world pay for it?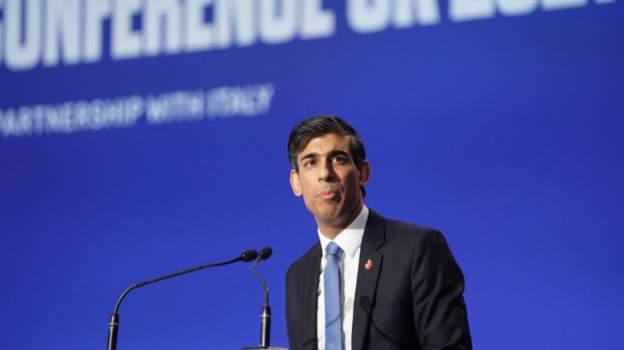 Today is all about finance at COP26 and as the host nation it was UK Chancellor Rishi Sunak who got things under way.
If you missed his speech, he said that the challenge facing finance ministers is to "direct the world's wealth to protect our planet" – deploying investment from both public and private sources.
According to Sunak, there are three main strands to the approach:
Public investment – Sunak says developing countries have been devastated by the "double tragedies of coronavirus and climate change". He says that the G20 will step up to deliver $500bn of investment to the countries that need it most over the next five years. The G20 is also renewing its pledge of $100bn a year to help developing nations – although Sunak says this is not happening as soon as it needs to.
Private investment – Sunak says COP26 has seen private institutions with assets worth $130tn create a "wall of capital for the net-zero transition around the world".
Greener financial system – Sunak goes on to say that the entire global finance system will be rewired for net zero. This will involve better climate data, sovereign green bonds and mandatory sustainability disclosures. He says the UK is playing its part and says the UK will become the first ever net-zero aligned financial centre. He says it will become mandatory for firms to set out how they plan to decarbonise and transition to net zero with and independent taskforce to monitor this.
Finance leaders are the new climate activists – COP26 president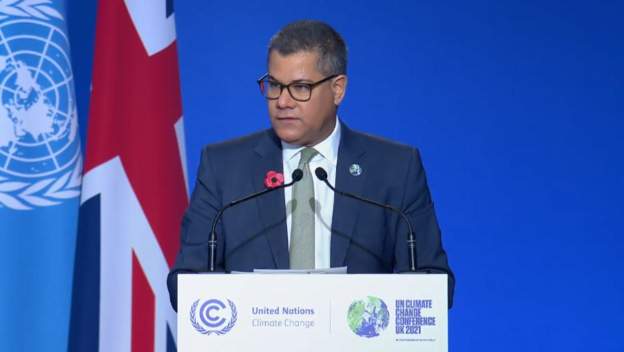 Alok Sharma, the COP26 president, takes to the podium next and delivers a short speech by remembering the action taken by climate protester Swampy in the 1990s.
He tells the gathering of global finance leaders: "You, my friends, are the new Swampies."
The urgency of the situation has been made worse by the global pandemic, he says, and he calls on richer countries to follow through with their investments in solving climate change.
He says there is "some confidence" a pledge of $100bn of public funding will be unlocked by 2023 – with $500bn between 2021 and 2025 – less than the $100bn a year that was hoped.
He says there have been "new climate finance commitments from the UK, Japan, Australia, Spain, Ireland and Luxembourg".
"I believe we're on the cusp of a new era," he says, where richer countries and companies finance key measures that will make a difference to tackling climate change.
kman, went to take a look.