Los Angeles County, CA. : More than 1,000 Die in Less than a Week
More than 1,000 people have died of Covid-19 in Los Angeles County over the past week as California grapples with surging cases and overwhelmed hospitals.
"L.A. County reached the terrible milestone of more than 11,000 deaths due to Covid-19," Los Angeles County Department of Public Health Director Dr. Barbara Ferrer said in a statement, as she urged all residents to stay home and follow public health orders.
"As a community, we must commit to stopping the spread of Covid-19 in its tracks so that we can save as many lives as possible."
The pandemic has devastated much of the US state.
On Tuesday, the state reported 368 new coronavirus deaths — pushing the number of lives lost in the state to 27,000 since the start of the pandemic. Some 2.45 million have been infected.
The surge in cases has put California at the epicenter of the US's struggle against coronavirus.
Colombia brings back lockdowns as coronavirus cases rise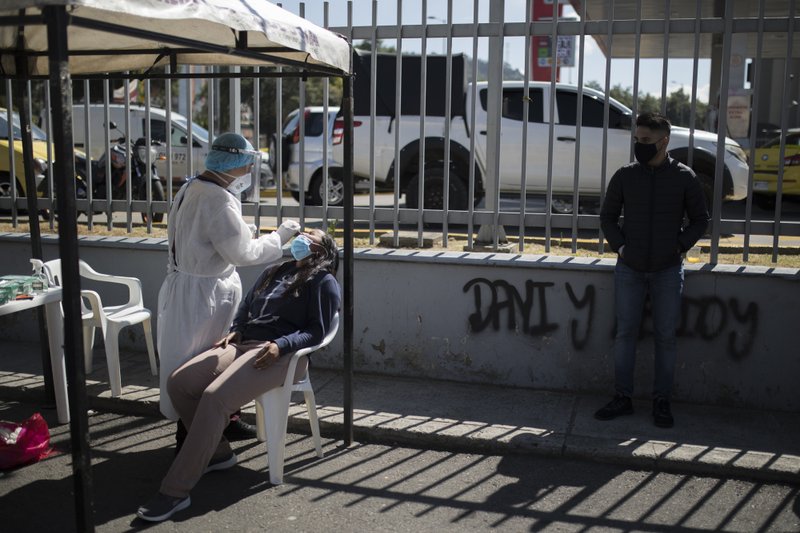 BOGOTA, Colombia (AP) — As the holiday season winds down, Colombia is experiencing a sharp rise in coronavirus infections that has prompted several cities to impose curfews and stay at home measures that had not been implemented for months.
In the capital city of Bogota, the local government locked down three districts that have a population of about 2.5 million people, ordering all businesses except for supermarkets and pharmacies in that part of the city to close.
In Medellin, Colombia's second-largest city, authorities announced a curfew that will last from 10 p.m.to 5 a.m. every day until next week. Night-time curfews have also been adopted in the city of Cali and in some towns along Colombia's Caribbean coast where thousands of tourists are still spending their holidays.
Officials said the measures are being taken to control a growing number of infections and stabilize hospitalization rates.
Colombia was reporting around 8,000 new coronavirus infections per day at the end of November, but transmission appears to have risen in December as people traveled for the holidays, met with their families, and in some cases, held mass gatherings and dance parties, despite a government ban on such activities.
Over the past week, the South American country has been reporting more than 11,000 infections per day, while in some cities ICU wards for coronavirus patients have reached 90% occupancy rates.
In Bogota, 23 hospitals – out of 60 – reported on Monday that their ICU wards were fully occupied. On Tuesday, officials said that they were locking down part of the city to prevent hospitals from overflowing.
"In the following days we will have 1.3 million people returning" from vacation, Luis Ernesto Gomez, the city's acting mayor, said on Tuesday. Mayor Claudia Lopez is currently on vacation. "That will put pressure on our hospitals and increase interactions and contagion," Gomez said.
The districts which have been placed on lockdown for two weeks include wealthy Usaquen, which is expected by officials to receive large numbers of people coming back from holidays. Officials in Bogota urged incoming travelers to self isolate for a week and work from home.
But many residents expressed their frustration with the return of lockdowns.
"I don't agree with this," said Johanna Parra, a housewife from Suba, one of the locked down districts. "Many other area areas of the city are still open, so people will continue to go out and interact."
European Medicines Agency approves Moderna coronavirus vaccine
Over in Greece churches have opened their doors – in defiance of nationwide lockdown measures – to celebrate the feast of the Epiphany.
The decision to mark the baptism of Christ, a major holiday in the Orthodox calendar, has put the powerful institution on a collision course with the centre right government following a dramatic increase in confirmed coronavirus cases.
Police patrols could be seen imploring mask-wearing worshippers to maintain social distancing rules as services got underway. Local media reported chaotic scenes in Thessaloniki, the country's northern metropolis, with faithful refusing to adhere to the public health measures as they attended the blessing of the waters.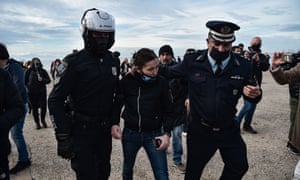 On Tuesday Greece's public health organisation, EODY, said infections had more than doubled after 928 people were diagnosed with the virus, up from 427 on Monday. Fatalities rose by 40 bringing the death toll to 5,051 since the onset of the pandemic in March.
After easing restrictions over the Christmas period the government on Saturday unexpectedly ordered a week-long nationwide lockdown, enforcing the closure of places of worship to facilitate the planned reopening of schools next week.
Previously it had said churches could conduct liturgies on Christmas Day, New Year's day and Epiphany, which officially marks the ending of the festive season.
Infuriated it had not been consulted earlier, the Holy Synod, the Church's governing body, announced it would not accept the restrictions with bishops telling congregations to attend services. 
Japan's daily coronavirus cases hit record as state of emergency looms
With the future leadership of Angela Merkel's Christian Democratic Union to be decided next week and a general election looming in the autumn, Germany's debate over the slow rollout of the vaccination drive is becoming increasingly politicised.
Influential tabloid Bild, which has in the past done little to hide its enthusiasm for the conservative hardliner Friedrich Merz, has pinned the blame for what it calls the "vaccine debacle" on centrist Merkel's push for a joint European procurement process.
"Angela Merkel should explain herself", said a Bild editorial. "She owes this especially to all the old people who now fear for their lives because they cannot be vaccinated".
Though the start of the immunisation push in Germany has been slow, the country has given a first dose of the BioNTech/Pfizer vaccine to 316,962 people, more than any other country in the EU.
The CDU's junior coalition partner, the Social Democratic party, has meanwhile also turned its guns on health minister Jens Spahn, with finance minister Olaf Scholz sending the conservative politician a catalogue of 24 questions over the handling of the procurement process.
"Mrs Merkel and Mr Spahn have sworn an official oath to shield the German people from harm", said SPD delegate Florian Post. "But both made a decision to thrust the task of procuring vaccines to the dilettantes around EU commission president von der Leyen".
The attack line comes as a surprise from the German centre-left, which campaigned in national elections in 2017 with the slogan: "Why Europe? Because we are stronger together than alone".
Critics of France's slow Covid-19 vaccination programme – by 5pm Tuesday evening 7,000 people had received the vaccine – have turned their sights on the health minister, Olivier Véran.
Véran, a doctor/neuroloigist, is under intense political pressure over France's response to the coronavirus crisis not just from opposition members of parliament, but from his own centrist LREM party.
This pressure was increased after president Emmanuel Macron criticised the slowness of the vaccine rollout.
Véran has promised the inoculation programme will be speeded up and simplified and said 500-600 vaccination centres will be opened across France by the end of the month.
At the moment, those receiving the vaccine attend a medical appointment, are given information about the vaccine and time to consider their options, then asked for written consent. This is taking time among the first patients, most of whom are in elderly care or nursing homes.
France also has a high number of vaccine sceptics: polls suggest more than half the population is unwilling to be inoculated. However, Véran has insisted France will catch up with its neighbours in the coming days.
The French PM's office has said between 25-30% of the Pfizer/BioNTech vaccine doses "might be lost" because of logistical problems.
This figure represents 50-60m doses of the 200m ordered by France. Officials say the figures are a "margin of security that we're taking to evaluate the number of people who would be vaccinated by the number of doses (of vaccine) we have," a spokesperson for the PM said.
These losses are likely to be caused by a loss of cooling – the Pfizer/BioNTech vaccine must be stored at -70 C (-96F) – as the vaccine is transported to where it is to be used, broken phials or those that are partially used.
"The vaccine is made in multidoses but cannot be kept once it is open. It could happen that certain doses are not used," the official added.