Early signs that Covid may be rising in parts of the UK
By Smitha Mundasad
Health reporter
BBCT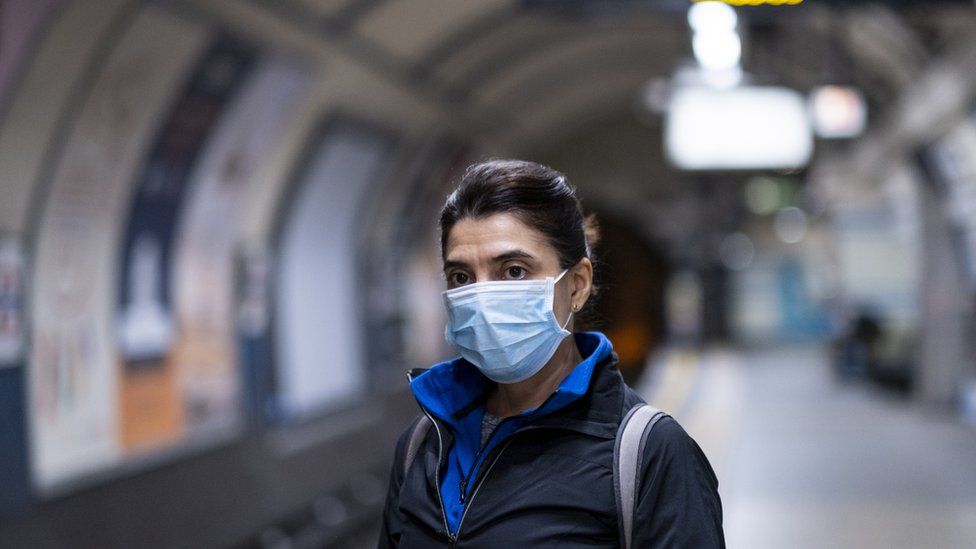 There are early signs of a possible increase in the number of people testing positive for Covid in England and Northern Ireland, officials from the Office for National Statistics say.
Their report suggests the small rise is likely to be driven by the BA.4 and BA.5 variants of Omicron.
Studies show these variants may be able to spread slightly more easily than "older" Omicron variants.
The latest estimates suggest around 990,000 people in the UK have Covid.
That is about 1.5% of the population (roughly one in 65 people) – up from about one in 70 the week before.
The latest data from the Office for National Statistics (ONS) covers the week ending 2 June.
While infections have risen in some parts of the UK, the overall trends in Wales and Scotland are uncertain.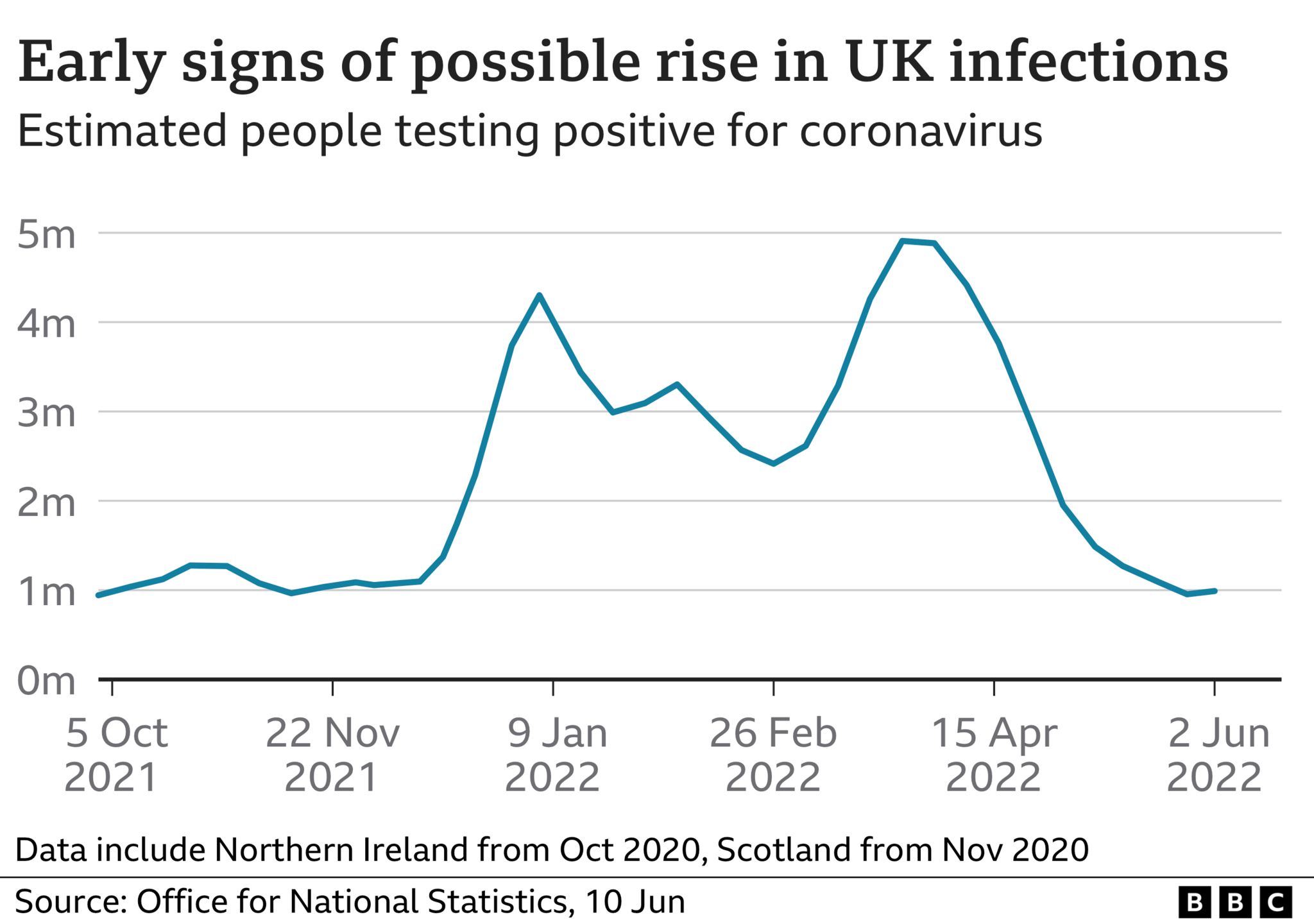 The ONS compiles the data by testing thousands of people from UK households at random – whether they have symptoms or not – to estimate how much virus is around.
They provide the most accurate picture of Covid infection since free testing for the public came to an end in England and Scotland.
Some free testing will continue in Wales and Northern Ireland until the end of June.
Sarah Crofts, from ONS, said: "Today's data shows a mixed picture for infection rates across the UK, with small increases in England and Northern Ireland, likely driven by increasing trends in Omicron BA.4 and BA.5 variants.
"Infections with Omicron BA.2 remain the most common variant of Covid-19 and continue to decrease across much of the UK."
In the week ending 2 June, ONS estimates suggest:
In England about one in 70 people had Covid
In Wales about one in 75 people had Covid
In Northern Ireland about one in 65 people had Covid
In Scotland about one in 40 people had Covid
=================================
Coronavirus: In UK More than 100 TfL staff died from Covid-19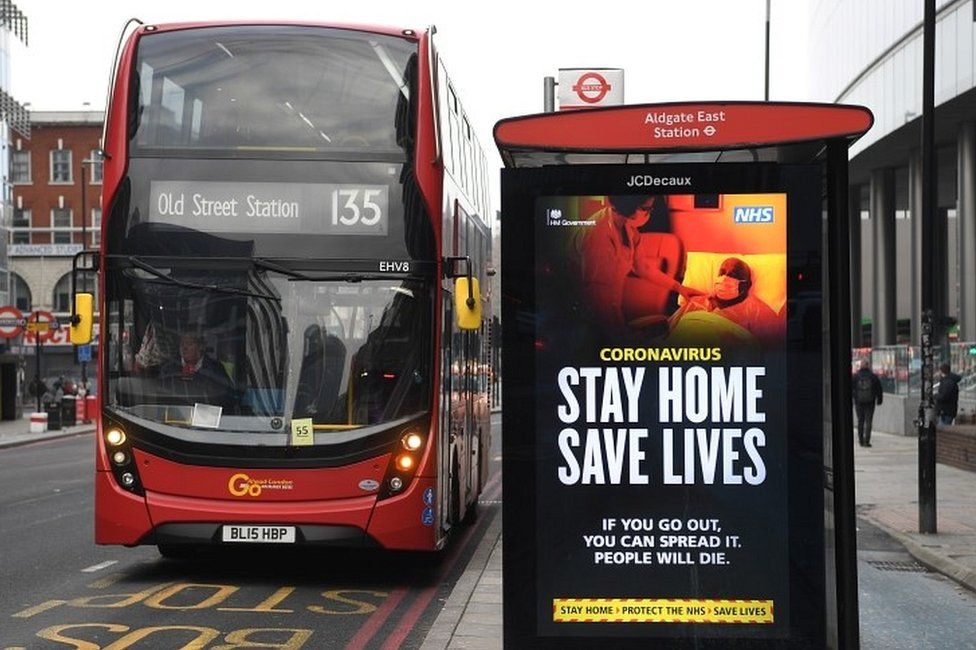 BBC – More than 100 Transport for London (TfL) workers are known to have died from Covid-19, new figures show.
Of those who died from the virus, 75 worked on London buses, while 23 worked on the Tube network.
The majority were people belonging to ethnic minorities and only five were women, TfL said.
London Mayor Sadiq Khan said TfL has "put in place a range of additional support for families and colleagues where there has been a bereavement".
Mr Khan said that as of 10 May, a total of 105 TfL staff and its partner organisations, such as cleaning and security contractors, had passed away in service due to Covid-19 related illnesses.
Out of that total figure, 27 workers had an Asian background and 33 were described as being of black ethnicity.
It added that 28 employees were of white origin.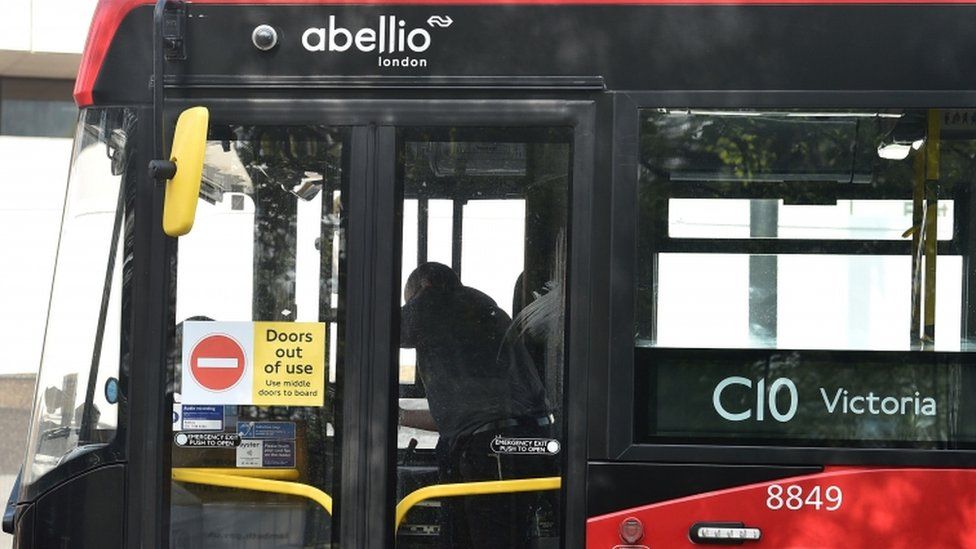 TfL said there was no available information on the ethnicity of 16 deaths, while one had dual heritage.
Two employees who died from coronavirus worked for TfL's head office, the figures show.
Details were released as part of an answer to a Mayor's Question from Conservative member Keith Prince.
In his answer Mr Khan said: "The deaths in service of any transport workers are treated with the utmost importance and sensitivity, every death in service is taken very seriously by TfL.
"TfL has worked alongside third-party colleagues to have a robust way of recording deaths in service and support has also been in place for colleagues at our third-party operators."
As part of a series of measures to stop the spread of coronavirus in the capital in March 2020, people were stopped from boarding at the front of buses.
Protective screens were also installed around drivers.
It concluded that many of the protections were introduced too late and "after most of the drivers who died had become infected".
===================================
Biden officials ending international travel requirement
Another crisis-era COVID rule is being lifted.
The Biden administration announced Friday it is ending a requirement that international travelers test negative for the coronavirus before coming to the U.S.
The Centers for Disease Control and Prevention (CDC) "has determined based on the science and data that this requirement is no longer necessary at this time," a senior administration official said.
The requirement ends at 12:01 a.m. Sunday.
Between the lines: Some experts had noted that the requirement did not seem to be serving much purpose, given that COVID-19 is already circulating widely within the United States, and land border crossings are not subject to the same requirement.
The travel industry had also lobbied to remove the requirement, saying it was no longer needed.
Sign of a new era: The move is another sign of a new stage of COVID-19 where some of the measures designed when the virus was seen as an overwhelming crisis are being wound down.
"We are able to take this step because of the tremendous progress we've made in our fight against the virus: We have made lifesaving vaccines and treatments widely available and these tools are working to prevent serious illness and death, and are effective against the prevalent variants circulating in the U.S. and around the world," the senior administration official said.
Airlines and travel groups cheered the Biden administration's decision to lift its COVID-19 testing requirement for air travelers entering the U.S., a long-sought victory for the industry.
It follows a lobbying blitz: Travel and tourism interests have pressed the White House for months to lift the requirement in a series of meetings, letters and opinion pieces. They argued that the rule was hurting demand for travel and noted that other countries such as the U.K. and France had already dropped similar restrictions.
"Lifting this policy will help encourage and restore air travel to the United States, benefiting communities across the country that rely heavily on travel and tourism to support their local economies," Nicholas Calio, president of Airlines for America, a trade group that represents the top U.S. carriers, said in a statement.
"We are eager to welcome the millions of travelers who are ready to come to the U.S. for vacation, business and reunions with loved ones."
The travel industry pitched the Biden administration on the potential economic growth of dropping the testing requirement. The U.S. Travel Association released an analysis this month finding that making the change could increase travel spending in the U.S. by 12 percent, bringing in an additional $9 billion.
=============================================
WORLD COVID STATS