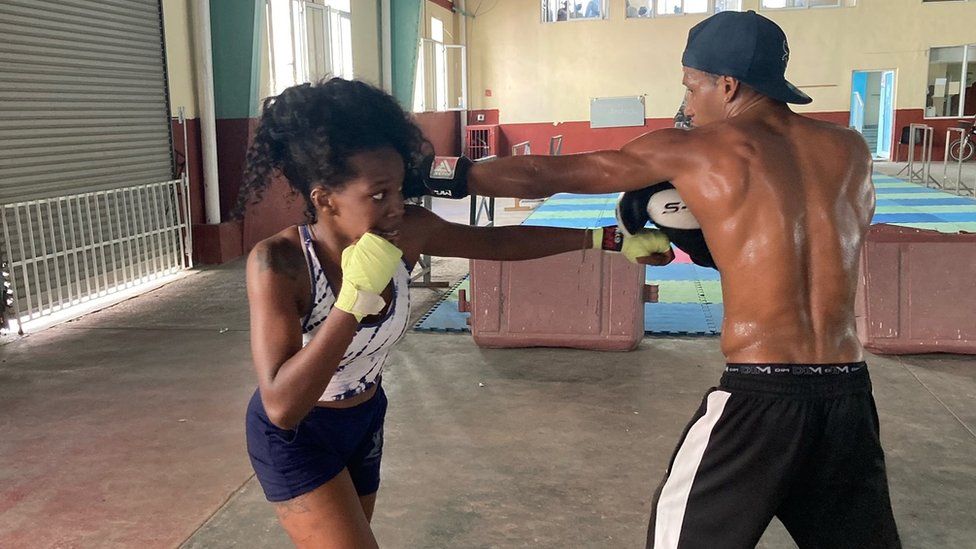 For Joanna Rodriguez, a recent rule change by the Cuban authorities to finally allow women to compete in boxing couldn't come soon enough.
Already in her 30s, time was fast running out for her shot at an Olympic or world boxing title. Working as a bouncer at a bar at night, she felt she was being forced to choose between her sporting career and putting food on the table.
Now though, as the women's leading heavyweight in Cuba, Joanna hopes her name might one day sit alongside those of Cuban boxing greats like Felix Savon or Teofilo Stevenson.
"This (new rule) is going to change everything," says Joanna after a gruelling training session in a dingy gym in Central Havana. "It could even shift the way of thinking because there is machismo among both men and women here."
Joanna should soon get the opportunity to prove her mettle on the international stage. But for the woman she calls the pioneer of women's boxing in Cuba – her trainer, Namibia Flores – the decision by the Cuban government came a decade too late.
Women's boxing was introduced as an Olympic discipline for the Games in London 2012. I met Namibia a few years after those games, as she prepared to leave Cuba to pursue a boxing career abroad. The lure of family and familiarity back home, however, became too great and she returned to the island soon after.
Now too old to be eligible to box competitively for Cuba, she has refocused – or, as she puts it, "adjusted" – her Olympic dream.

"It's a bittersweet moment," Namibia admits, after two decades of dedication to a sport in which she wasn't allowed to compete.
"I'm really happy it's happened, of course. But at the same time, a little sad as I'd hoped it would be my fists, my gloves which would bring Cuba victory."
Instead, she hopes to attend Paris 2024 as the leading women's boxing trainer on the island. "I'm just trying to do my part," she adds.
Given her agility and ferociousness even in retirement, Namibia may well prove crucial to Cuba claiming back a title it once enjoyed: the country with the highest number of Olympic boxing golds in the world.
Cuba's exalted position in amateur boxing has slipped since the rest of the world began to let women fight and the communist-run island clung on tightly to an outdated vision of femininity championed by Raul Castro's late wife, Vilma Espin.
The former Cuban president's wife was the head of the Federation of Cuban Women (FMC) and apparently considered Cuban's women's faces too beautiful and precious to be sullied by boxing.
At best, it was a misplaced form of "over-protection", as one young boxer put it to me. Others, though, considered it outright discrimination in a nation where entrenched gender roles are hard to shake, despite the government's rhetoric of absolute equality.
At the selection process for the first Cuban women's boxing team last month, however, such debates were set aside for the fighters' first taste of meaningful competition.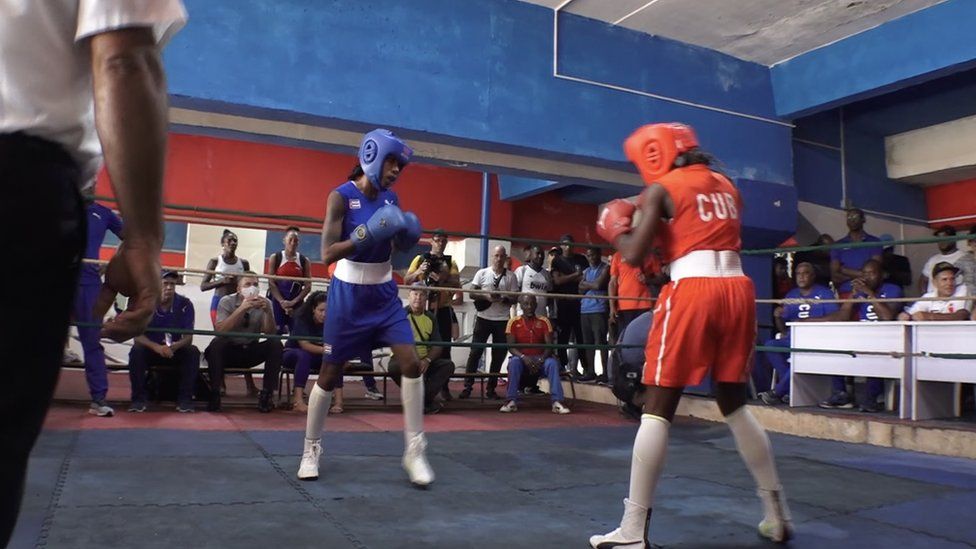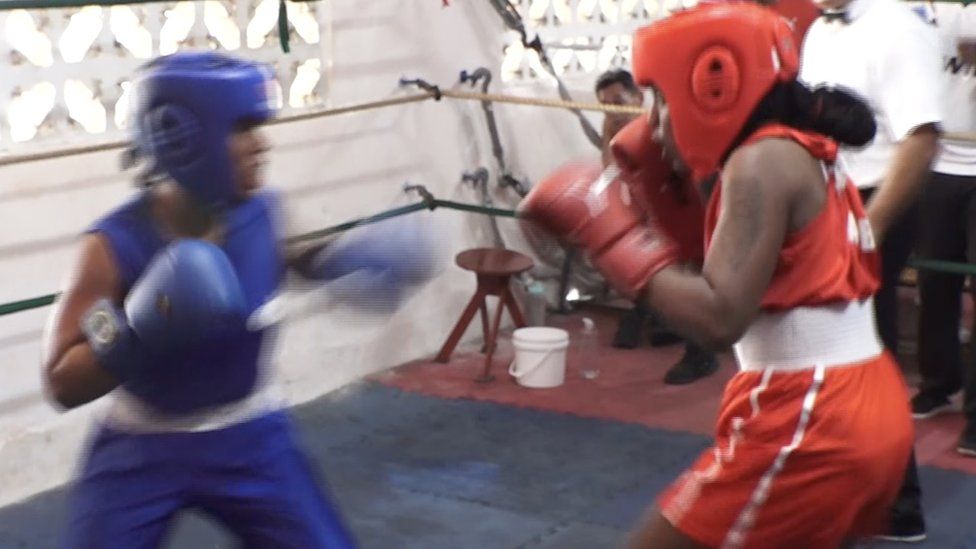 For years, female Cuban boxers have been reduced to simply watching the men from the sidelines. For once, though, it was the men who watched on. Bouts were held in seven weight categories to determine who would progress to wearing Cuba's colours in the Central American Games in June.
Following an exhausting fight, Edamelis Moreno was chosen in the featherweight category.
"Everyone knows what Cuban men have done in boxing over the years, they have reached an incredible standard," she tells me. "With respect to the rest of the world, we [Cuban women] are a little behind because this change has only just been approved."
Fortunately, she says, there's a wealth of boxing expertise and experience already in place to draw upon.
"By training hard, following the instructions of those who really understand boxing and, of course, giving it my complete commitment, I'm sure we'll bring home positive results."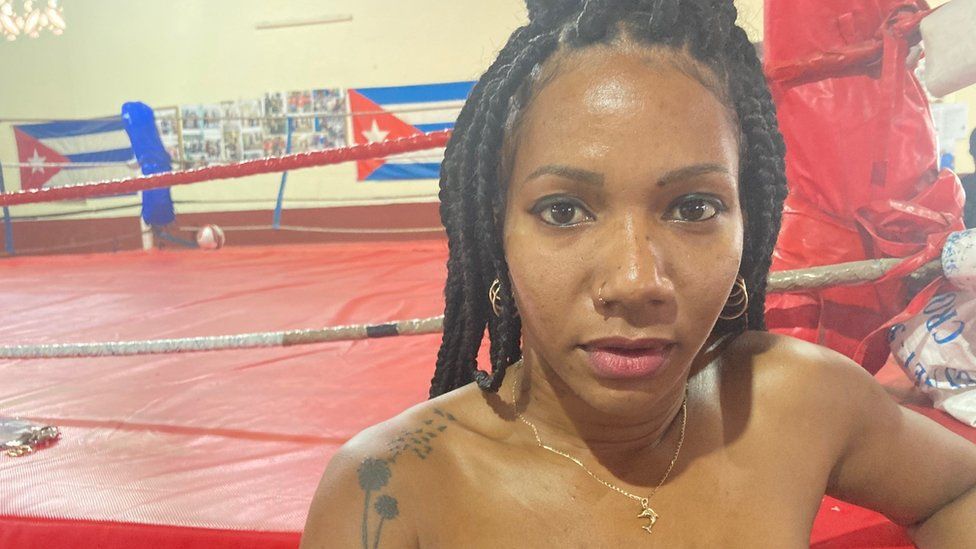 As well as coming to the fight too late, these "boxeadoras" face greater daily challenges than most other competitors.
Cuba is in the grip of its worst economic crisis since the Cold War. Essentials like boxing gloves, punching bags and skipping ropes have long been hard to come by. But these days it's tough even to find enough food or vitamins, especially for an elite fighter's regime.
"It taken a great effort," admits heavyweight Joanna Rodriguez, who at times has struggled to keep up her training with an eight-year-old daughter to provide for.
Still, she says, having been banned from competitions for so long, Cuba's women are used to boxing with one arm tied behind their backs.
At least now they're free to land a clean punch.