Fentanyl is a deadly, synthetic opioid, 50 times more powerful than heroin. Americans are dying from it at such an alarming rate, that the US has approved the sale of naloxone – an overdose-reversing drug – without a prescription. But fentanyl's trail of destruction begins further south.
Manzanillo is on the fentanyl frontline.
This pretty, seaside town on Mexico's Pacific coast was made famous in the 1970s when Bo Derek ran along its sandy beaches in the Hollywood movie, 10. But today it lives in the shadow of cartel violence.
Manzanillo is home to Mexico's largest port, the third busiest in Latin America – nearly 3.5 million containers from across the globe arrived there last year.
All sorts of cargo pass through, including the chemicals that come mostly from China and India that are used to produce organised crime's most lucrative earners – synthetic drugs like fentanyl. As a result, the port has become the primary source of bloodshed and strife in Colima state.
In 2022, this small western state had the highest per capita murder rate in Mexico, with the Sinaloa and Jalisco New Generation cartels fighting for dominance.
"Recently we made a seizure of propionyl chloride that's used in the synthesis of fentanyl. That's one of many precursor chemicals we see coming into Manzanillo," says the Naval Commander in charge of security at the port, who must remain nameless for safety reasons.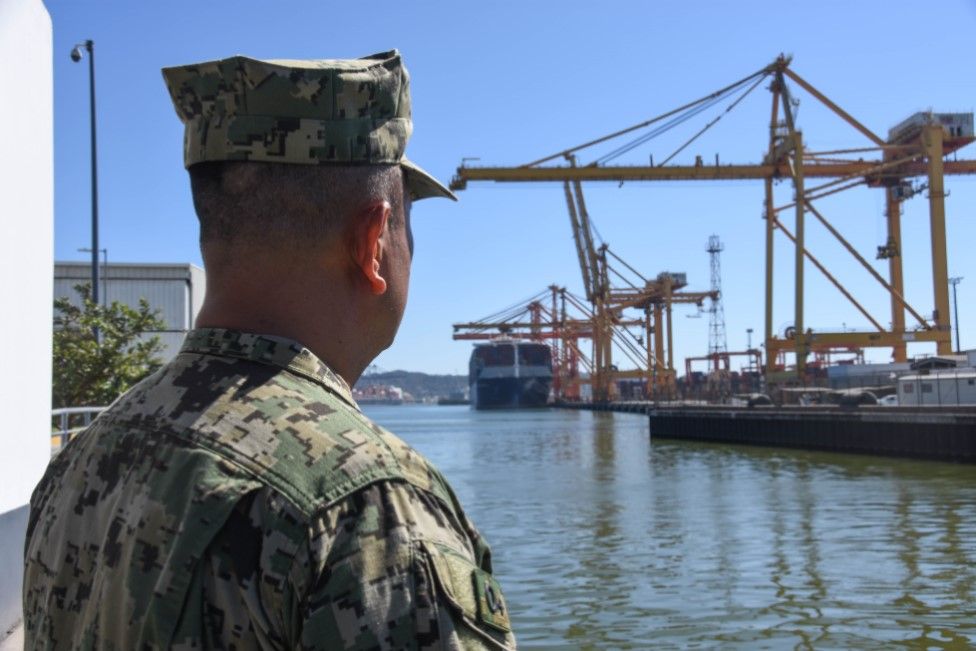 The Mexican government put the Navy in charge of all seaports in 2021 in an attempt to reduce the endemic corruption that facilitates organised crime.
Now, there's a sophisticated system of checks in place to monitor everyone working in the port of Manzanillo, and the businesses that trade in chemicals. But there's another obstacle – some ingredients are legitimately used in the manufacture of agrochemicals and pharmaceuticals.
This means there are stringent checks on paperwork, and teams of naval personnel test consignments of chemicals to ensure they conform to their labels.
There's also a sniffer dog, a Belgian shepherd – a gift from the US Embassy – trained to find fentanyl pills or powder, and some precursor chemicals.
Mexico's president, Andres Manuel Lopez Obrador, recently made headlines when he said Mexico neither produces nor consumes fentanyl. But makeshift "laboratories" have been discovered and dismantled in Mexico City and the northern states of Nuevo Leon and Sinaloa.
In Baja California, law enforcement busted two properties last year in the city of Tijuana and found large quantities of fentanyl pills and powder, with hydraulic presses to make tablets.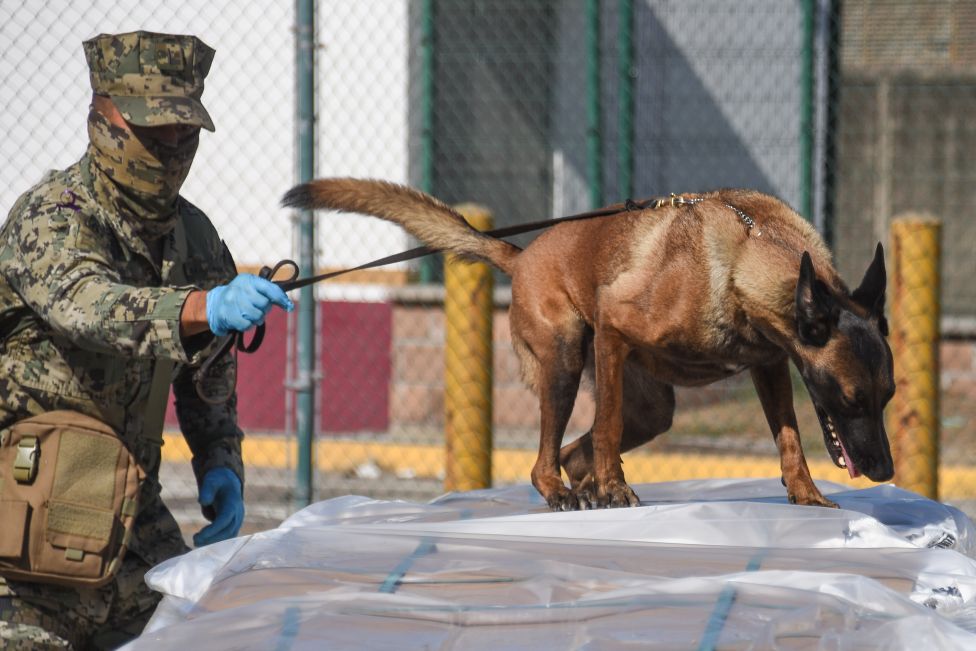 Tijuana is a messy, brutal city that hugs the border with the United States. It's become "ground zero" for fentanyl – for the trafficking of the drug north into California, and for local use.
"It's killing everybody – all my friends," says Smiley, a fentanyl addict who lives on the streets.
Hundreds, perhaps thousands of people live rough around the Tijuana canal, a concrete channel that cuts through the heart of the city. Many are drug users. And, as so often happens in the United States, those who overdose in Mexico don't always know they are taking fentanyl.
Due to its potency, a tiny dose of fentanyl can kill. And on both sides of the Mexico / US border, it's being cut with other drugs including cocaine, heroin and methamphetamine.
Smiley thinks he has seen more than 20 people overdose, but he has revived them all by using naloxone, a medicated nasal spray which can reverse an opioid overdose. Naloxone's now becoming widely available in the US. But in Mexico you still need a prescription – Smiley gets his supply from a local charity.
It isn't only homeless people who are affected. In 2022, the Mexican Red Cross were called to an average of 60 drug overdoses a month in Tijuana – people from all walks of life.
There have been multiple overdose events too, but we don't know how many fentanyl-related deaths have occurred because those statistics aren't collected in Mexico.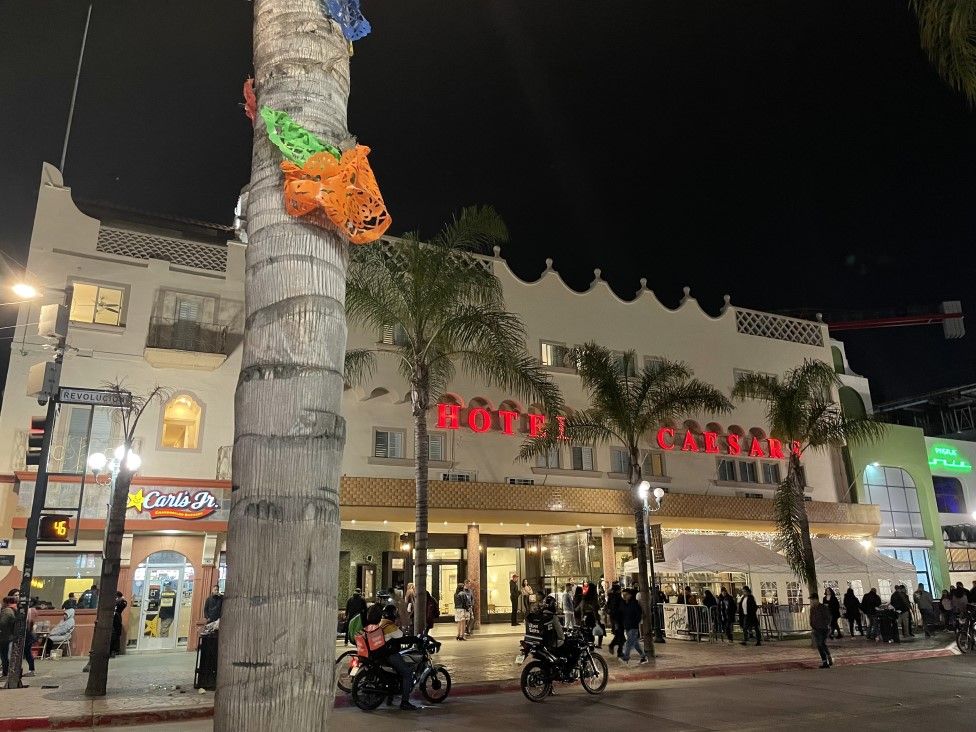 The cartels fight to dominate the mean streets of Tijuana – each block or street may be run by a different organised crime group. Competition to control the sale of drugs is violent and bloody. In January alone, there were 156 murders in Tijuana – a city of just over two million people.
Fentanyl contributes to the insecurity – and the profits from its sale are huge. It's estimated this synthetic opioid can be made for a hundredth of the cost of producing heroin.
The drug cartels no longer have to control rural communities in Mexico and the land to grow poppies – they only need to secure access to the chemicals, and engage someone with the know-how to make fentanyl. And because it's so strong, it's a narcotic that's profitable in tiny amounts, even more so once it's smuggled to the US, where its price may increase 10-fold.
"I'd wear like a Spanx – almost like a girdle, that kind of slims you down under your clothes, and I would shove [the fentanyl pills] down," remembers April Spring Kelly, when she speaks to the BBC from a US federal prison.
Other times she would traffic drugs by car.
Now April Spring Kelly is serving a lengthy sentence after admitting trafficking nearly half a million fentanyl pills plus other drugs from Tijuana into the US in 2018.
Like many Americans, she had become addicted to opioid pain relievers but then turned to heroin produced by Mexican cartels when prescribed medications became harder to obtain.
To fund her addiction, she rented an apartment in Tijuana and began moving fentanyl pills for organised crime across the border to San Diego.
Last year 70,000 Americans died of a drug overdose associated with a synthetic opioid like fentanyl. April Spring Kelly lives with immense regret – one of the fentanyl pills she trafficked was linked to a baby's death.
"It's horrible. And I hate that I was playing a part in it," she says.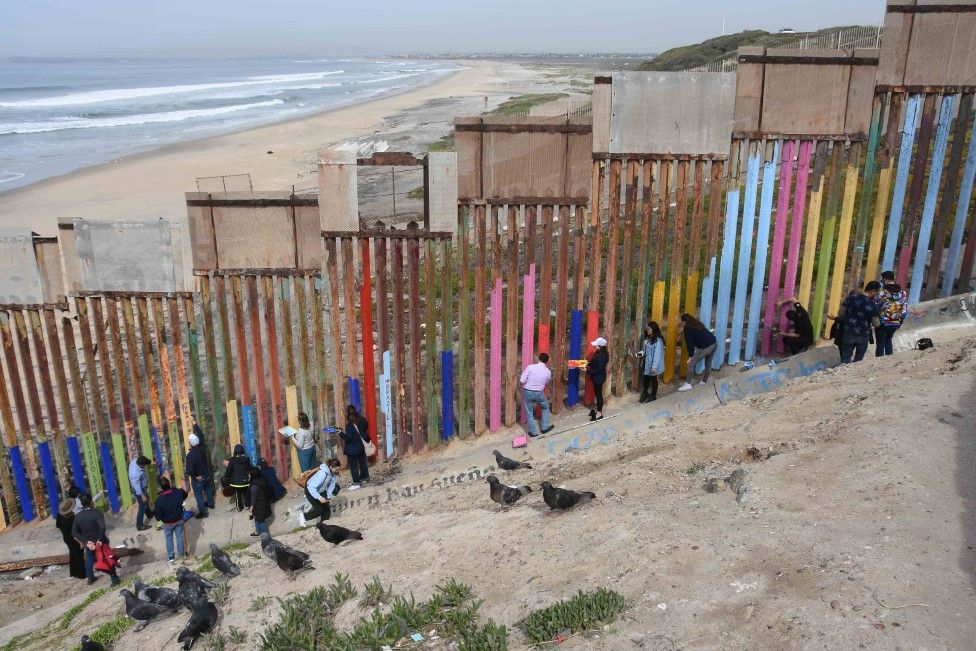 More than half the fentanyl confiscated in the US is stopped at the California border. April Spring Kelly was caught at the San Ysidro port of entry, where up to 120,000 people cross in a single day.
Once across the border from Tijuana at San Ysidro, it's a 40 minute tram journey to downtown San Diego.
In 2021, 814 people died of a fentanyl-related death in the city's county – that's more than 15 fatal overdoses a week in a population of just over three million people.
"In the last couple of years, there have been so many people that died that we couldn't keep up if we did autopsies for all of those people," says the county's chief medical examiner, Dr Steven Campman. "If we did autopsies on all the people that overdosed, we'd have to hire four new pathologists," he adds.