INDEPENDENT-Coastal regions are readying themselves for an influx from a massive seaweed blob drifting in the Atlantic.
This year record amounts of Sargassum, a type of large brown seaweed, have formed a 5,000-mile wide chain that stretches from the west coast of Africa to the Gulf of Mexico. Sargassum floats in large mats on the ocean, and never attaches to the seafloor.
In the past few weeks, southern Florida, Caribbean islands and Mexico have seen heaps of seaweed washing up on beaches.
Tourists have shared pictures of popular tourist spots, like the Southernmost Point Buoy in Key West, covered in stringy brown masses. Brian Lapointe, from Florida Atlantic University, shared with The Independent images of a thick mat of seaweed along the shoreline at Bahia Honda State Park in the Florida Keys in late March.
"The Great Atlantic Sargassum Belt", as its known, began forming in 2011. This March, Nasa satellite observations revealed 13 million tons of Sargassum in the belt, more than any other March on record.
"So far this year, record high Sargassum abundance is mostly in the central East Atlantic," said Brian Barnes, a marine scientist at the University of South Florida's Optical Oceanography Laboratory.
"But in other parts of the Atlantic and Caribbean, its abundance is still high—in the 75th percentile of measurements made between 2011 and 2022."
The seaweed belt's density typically peaks in June or July
More seaweed is expected but timings are difficult to predict. Nevertheless, public officials have said they stand ready to rake and remove the stuff.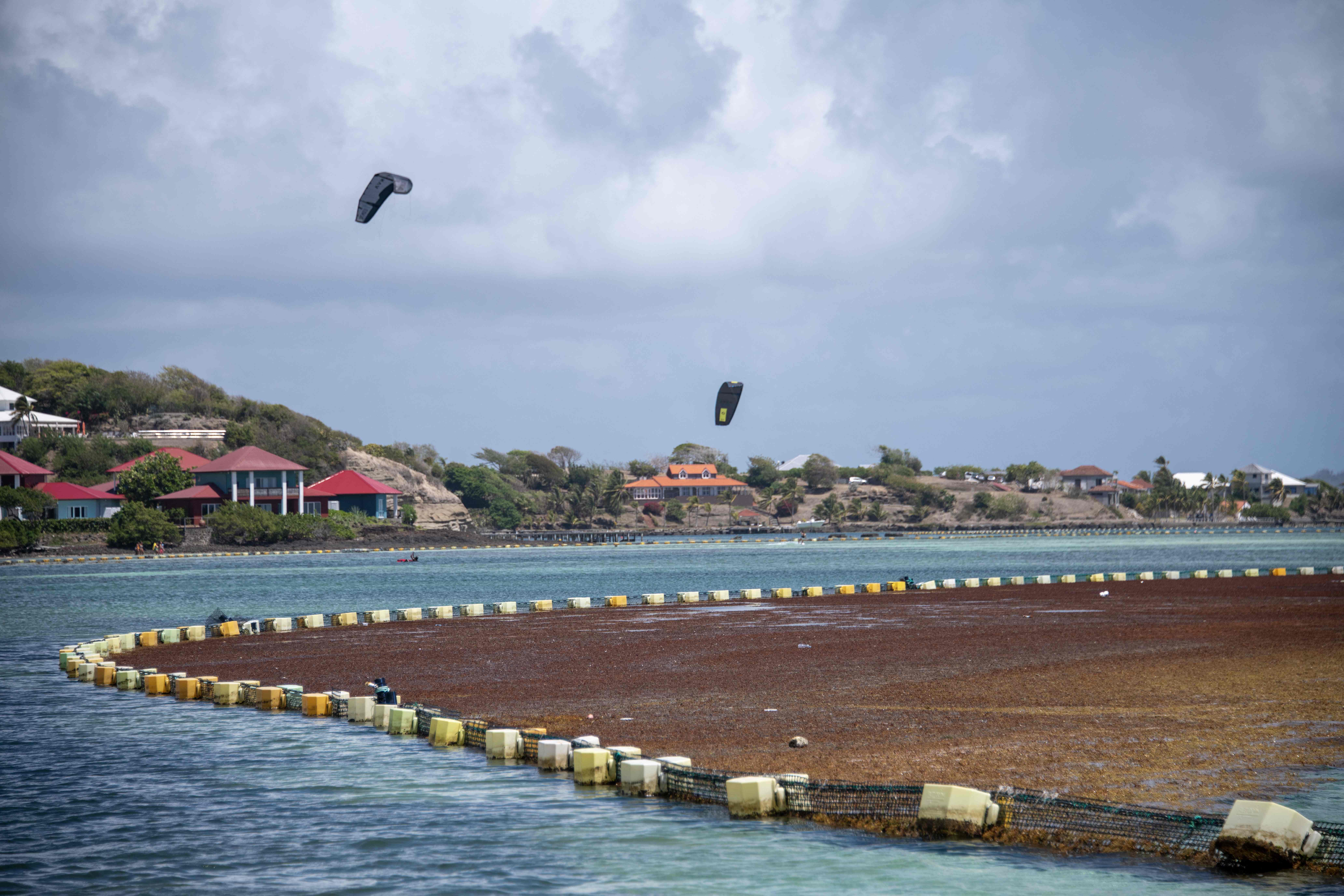 "We normally rake four times a week, but if we have to, we are ready to beef up patrols," George Garrett, the city manager in Marathon, told the Florida Keys tourist board.
Some Florida beaches have live webcams that allow those hoping for a day at the shoreline to check out the state of the seaweed before they go.
Private beaches attached to hotels will typically send out teams of staff or contractors to remove the piles.
The Caribbean islands of Martinique and Guadaloupe, also contending with mountains of seaweed, are trying out some innovative solutions.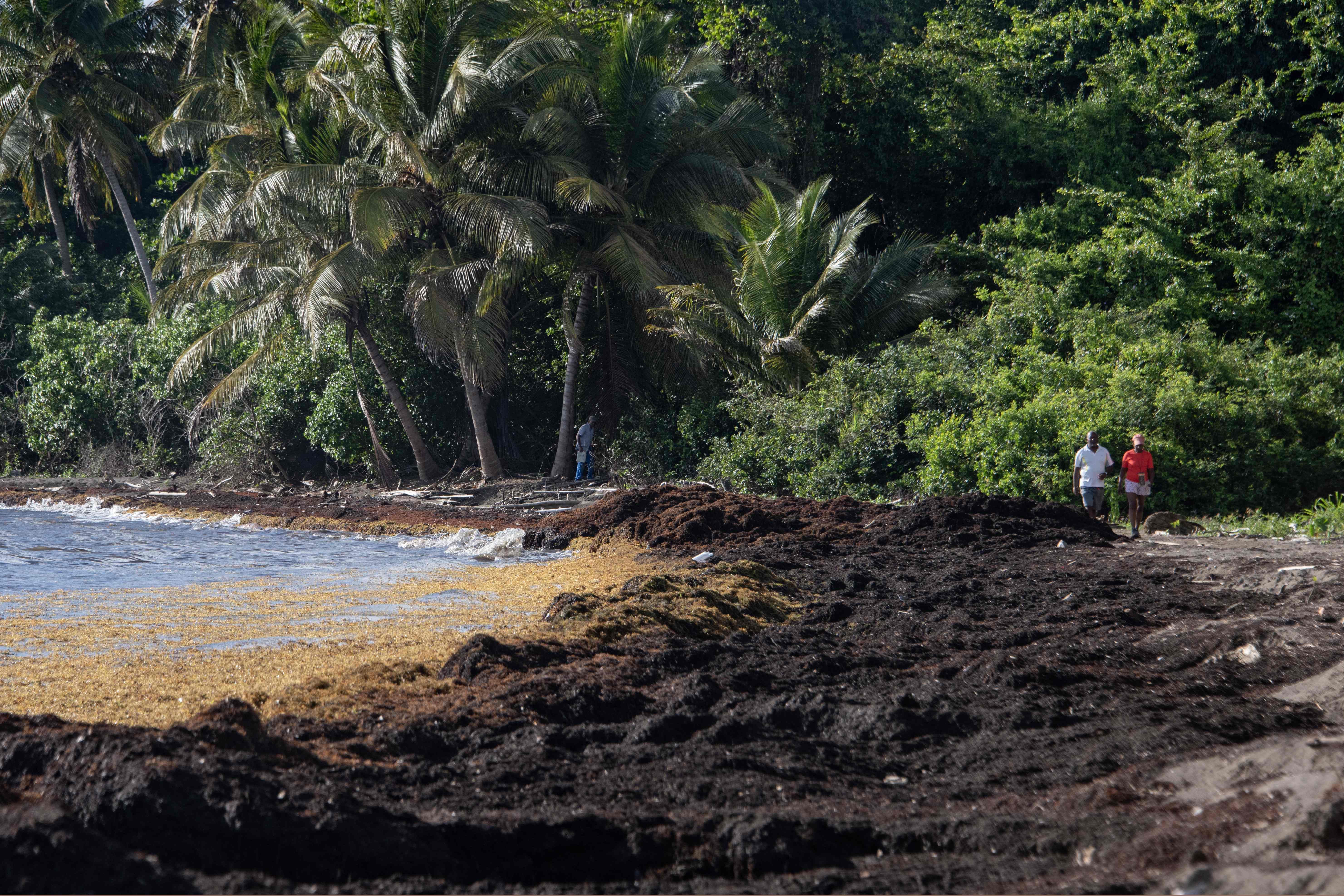 Large coastal nets have been deployed off the coast of Le Francois, on the French Caribbean island, to hold back the seaweed, keeping the sands and the water near the shore clear.
The seaweed belt is also slowing the boats in the around-the-world Ocean Race as they make their way from Brazil to Newport, Rhode Island this week, The Associated Press reported, as it keeps getting tangled in rudders, foils and keels.
In small amounts in the ocean, Sargassum is good for species like turtles, invertebrates, fish, and birds as it provides habitat. But too much seaweed can make it difficult for creatures to swim and breathe. If large amounts sink to the oceanfloor, it can choke coral and seagrass.
And while the seaweed isn't harmful for humans, it gives off the smell of rotten eggs when it begins to break down and can cause headaches from hydrogen sulfide it releases.
Walking on the slimy seaweed can also bring beachgoers in contact with marine life like jellyfish and sea lice.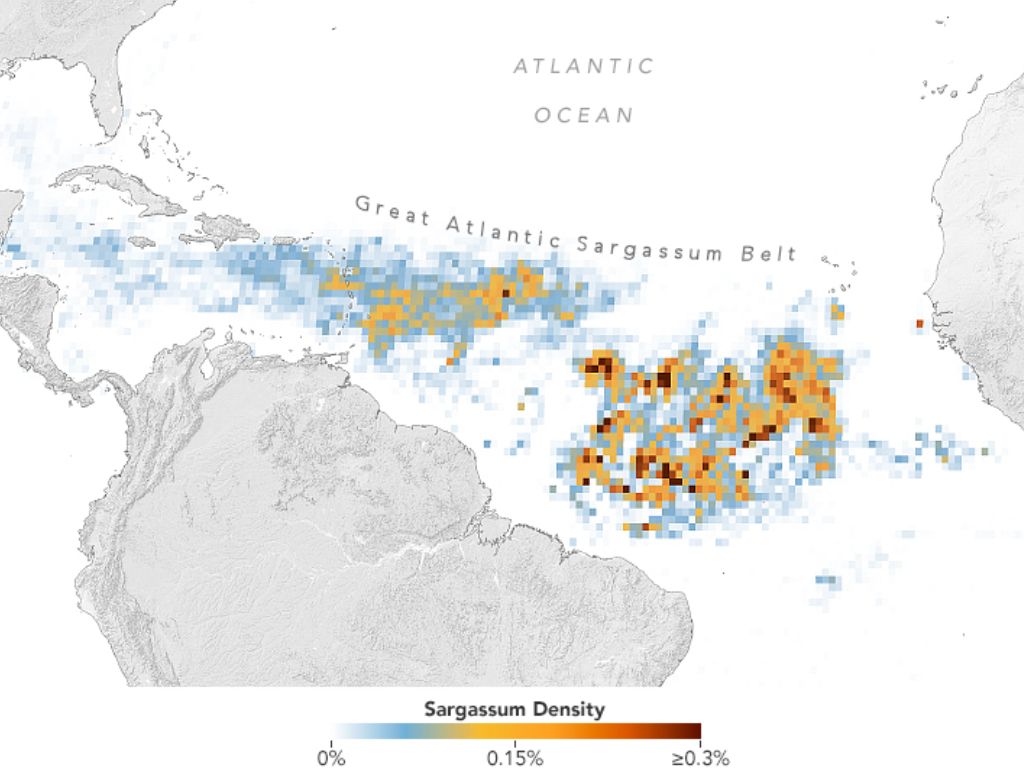 It's not completely clear what's behind the Sargassum's prolific growth but a 2019 study found that fertiliser and other chemical run-off into the ocean was associated with more seaweed.
Changing ocean circulation patterns are also a factor, according to Nasa, because Sargassum grows more rapidly when sea surface temperatures are normal or cooler than average.
"Major beaching events are inevitable around the Caribbean and along the east coast of Florida as the belt continues to move westward," Barnes added.