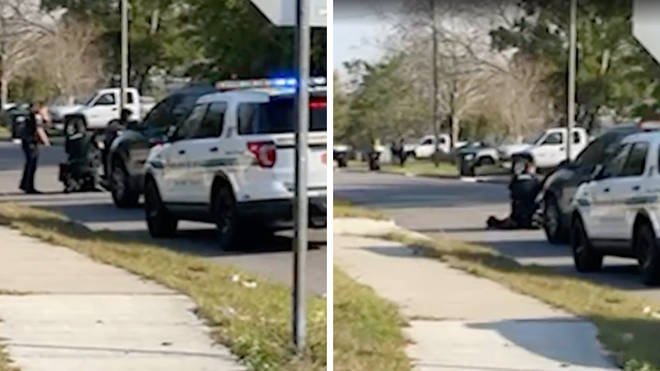 Three people are dead and two more have been left injured after the Florida shootings. Picture: Spectrum News
A TV journalist has been shot dead while reporting from the scene of a separate but linked fatal shooting in Florida.
The journalist was covering the death of a 20-year-old woman after a shooting in Pine Hills, Florida.
At around the same time, police rushed to another home, where they found another 20-year-old woman and nine-year-old girl had been shot. The girl later died in hospital.
Another journalist, who was also covering the shooting with Spectrum News, was shot and injured.

A 19-year-old man was arrested at the scene and police have said they believe all three shootings are connected.
The suspect has been identified as Keith Melvin Moses, who has been formally charged with the murder of the first victim. Additional charges relating to the remaining victims are expected to follow.
Orange County Sheriff's Office released a photo of Moses in custody, in which he appears to be smirking.
Sheriff John Mina said: "No one in our community – not a mother, not a nine-year-old and certainly not news professionals – should become the victim of gun violence in our community."
Mr Mina said the suspect has a lengthy criminal history.
"It is unclear if [the suspect] knew if they were news media or not," the Sheriff said.
"We're still trying to work all of that out. That vehicle was almost exactly in the same spot as the vehicle from the homicide this morning. So it's unclear why exactly they were targeted."
"I want to acknowledge what a horrible day this has been for our community and our media partners," Mr Mina said.
"I work closely with all of you… no one in our community — not a mother, not a 9-year-old, certainly not news professionals — should become the victim of gun violence."