Ecuador's President Guillermo Lasso has asserted his innocence over corruption charges at an impeachment trial being held in the National Assembly.
Mr Lasso, 67, has been accused of embezzling funds from public companies.
The conservative leader told the opposition-controlled parliament his accusers lacked evidence and suggested the trial was politically motivated.
Impeachment proceedings last year failed to garner enough votes to make it to the trial stage.
But last week, 88 out of 116 lawmakers present voted in favour of the trial going ahead, enough for it to take place.
The trial represents the final stage of the impeachment proceedings and will culminate in a vote by lawmakers on whether Mr Lasso should stay in office or be ousted.
Ninety-two members of the National Assembly – two-thirds of the current 137 lawmakers – would have to vote against Mr Lasso in order for him to be removed from office.
On Tuesday, the trial kicked off with the accusations against the president being laid out.
The president is accused of having been aware of an embezzlement scheme involving contracts between a state-owned oil transport company, Flopec, and a tanker company, and is said to have done nothing to stop it.
Mr Lasso has denied any wrongdoing and says that the alleged embezzlement occurred before he came into office
Speaking in the National Assembly, he referred to the charges as "unfounded" and accused his opponents of creating a "fictitious situation".
"Even those who proposed this trial recognise that they have nothing," he said, adding that his accusers were "trying to destroy the credibility, not of this presidency, but of democracy itself".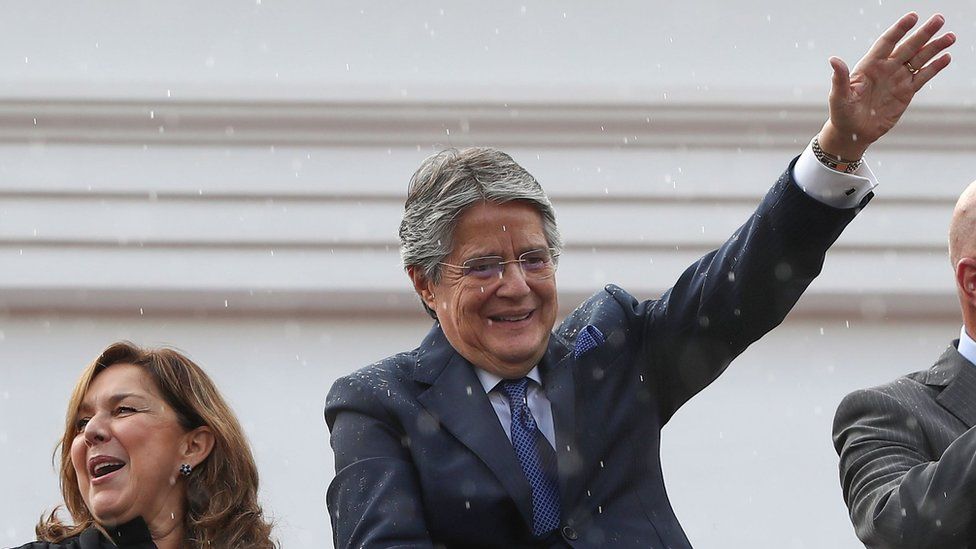 The trial could extend over a number of days, while the impeachment vote itself is not expected until the weekend.
However, there is a chance it may not come to a vote if President Lasso decides to invoke a constitutional clause referred to as "muerte cruzada" (mutual death).
The clause gives the president the power to dissolve the National Assembly, but it also forces him to call fresh general elections within six months.
Were he to invoke this clause, Mr Lasso would govern by decree, that is without any input from lawmakers and only with the oversight of the constitutional court, until the new elections.
The "muerte cruzada" option was only introduced in 2008 and has never been used before, but Mr Lasso told the Financial Times newspaper that he would use it rather than risk being deposed.
It is seen as an extreme measure, and Conaie, Ecuador's largest confederation of indigenous groups, has warned that it will stage mass protests should Mr Lasso dissolve the National Assembly.
The clause can only be invoked before the final vote takes places, so Mr Lasso will be watching closely for shows of support or opposition among lawmakers as the trial unfolds.
The impeachment trial comes at a tumultuous time in Ecuador, with security at a low as a crime wave driven by gangs which have formed alliances with Mexican cartels sweeps through some of the main towns.