One of the leaders of Haiti's most powerful gang, 400 Mawozo, has been extradited to the US for smuggling weapons and kidnapping US citizens.
Germine Joly, known as Yonyon, was taken on an FBI plane to Washington on Tuesday, Haitian authorities said.
He had been in jail in Haiti for several years before his extradition.
Last week, 400 Mawozo also kidnapped a diplomat from the Dominican Republic.
Carlos Guillén, the trade attaché at the Dominican embassy in Haiti's capital Port-au-Prince, was seized by gang members while he was travelling to his home country, which is located on the same island as Haiti.
Haiti's gangs have grown in strength since the assassination of President Jovenel Moïse in July 2021.
A month ago, thousands of people took to the streets to demand the late president's successor, Ariel Henry, do more to combat the criminal gangs.
The 400 Mawozo gang has controlled a highly strategic area in Haiti for several years, including the only road to the country's north and the only land route between Port-au-Prince and the Dominican Republic.
It is notorious for demanding high ransoms for kidnapping victims. The 17 North American missionaries, who were kidnapped in October, did manage to escape, but it is not clear if the $1m ransom was paid.
In the past few weeks security forces in Haiti have launched a major operation, which has led to the deaths and arrests of many members of the 400 Mawozo gang.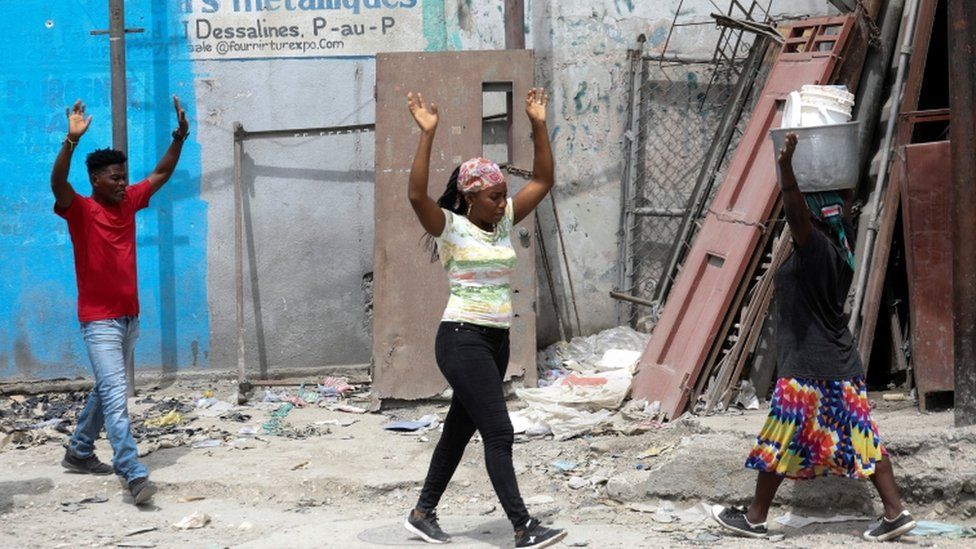 In recent days, clashes have broken out between 400 Mawozo and rival gang Che Mechan, which have paralysed a northern suburb of Port-au-Prince.
On Monday, residents from the impoverished area of Cité Soleil ran away in panic as gun battles broke out.
Hundreds of families were forced to flee the area and at least 20 civilians were killed, according to Haitian authorities.