World Food Programme scrambles to provide relief through air and sea to earthquake victims as local violence soars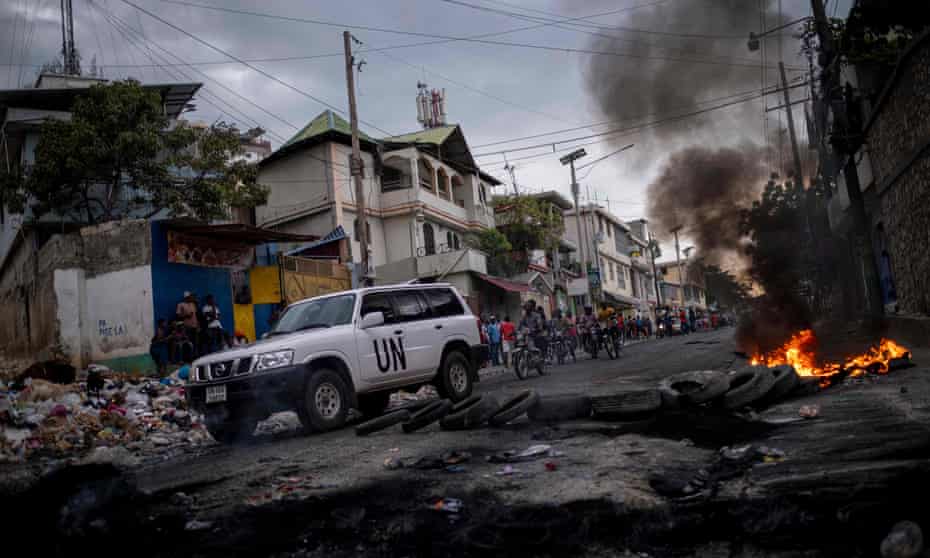 The World Food Programme (WFP) is now using seafaring barges to ship supplies to earthquake victims in southern Haiti, after escalating gang violence made overland journeys unsafe for aid convoys.
Since the 7.2 magnitude earthquake struck the country's southern peninsula in August, thousands of survivors have been sporadically cut off from Port-au-Prince, the capital, by roadblocks set up by warring gangs, leading relief workers to employ novel workarounds, including shifting aid to barges and helicopter airlifts.
"A recent upsurge in gang violence, including kidnappings, is impacting relief operations," said Fernando Hiraldo, the acting UN humanitarian coordinator in Haiti on Thursday. "Violence, looting, road blockades and the persistent presence of armed gangs all pose obstacles to humanitarian access, a situation which is further complicated by very serious fuel shortages and the reduced supply of goods."
The WFP – the world's largest humanitarian organization – has carried out 18 voyages this month from Port-au-Prince to Miragoane, a coastal commune 62 miles away, bypassing violent neighborhoods on the outskirts of the capital.
From Miragoane, trucks continue by road to Les Cayes, the largest city in the region and a hub for relief efforts. Helicopters also fly twice daily to the region with staff and supplies.
The earthquake leveled many rural villages and hamlets, killing at least 2,200 people and leaving tens of thousands homeless – piling misery on a country already addled with fuel shortages, political turmoil and crippling poverty.
More than 165 criminal gangs currently operate in Haiti, sometimes with tacit political support and often, better armed than the police, turning some neighborhoods into war zones where even police fear entering.
Across the capital, gangs kidnap the rich and poor alike for ransom, and extort business owners with impunity. Gang wars have escalated since president Jovenel Moïse was assassinated in his home in July.
Relief efforts to the south initially stuttered as aid trucks were turned back at roadblocks in the capital, though eventually, some were allowed passage.
In recent weeks, the law and order situation in the capital has deteriorated drastically, culminating in the brazen kidnapping of 17 missionaries on Saturday and a blockade on the road to Les Cayes.
"Growing insecurity is not only hampering the humanitarian response but is creating new humanitarian needs", Hiraldo said. "Since June, gang violence in the Port-au-Prince area has displaced at least 19,000 people and has affected 1.5 million."
… we have a small favour to ask. Tens of millions have placed their trust in the Guardian's high-impact journalism since we started publishing 200 years ago, turning to us in moments of crisis, uncertainty, solidarity and hope. More than 1.5 million readers, from 180 countries, have recently taken the step to support us financially – keeping us open to all, and fiercely independent.
With no shareholders or billionaire owner, we can set our own agenda and provide trustworthy journalism that's free from commercial and political influence, offering a counterweight to the spread of misinformation. When it's never mattered more, we can investigate and challenge without fear or favour.
Unlike many others, Guardian journalism is available for everyone to read, regardless of what they can afford to pay. We do this because we believe in information equality. Greater numbers of people can keep track of global events, understand their impact on people and communities, and become inspired to take meaningful action.
We aim to offer readers a comprehensive, international perspective on critical events shaping our world – from the Black Lives Matter movement, to the new American administration, Brexit, and the world's slow emergence from a global pandemic. We are committed to upholding our reputation for urgent, powerful reporting on the climate emergency, and made the decision to reject advertising from fossil fuel companies, divest from the oil and gas industries, and set a course to achieve net zero emissions by 2030.
If there were ever a time to join us, it is now. Every contribution, however big or small, powers our journalism and sustains our future.Support the Guardian from as little as £1 – it only takes a minute. If you can, please consider supporting us with a regular amount each month. Thank you.