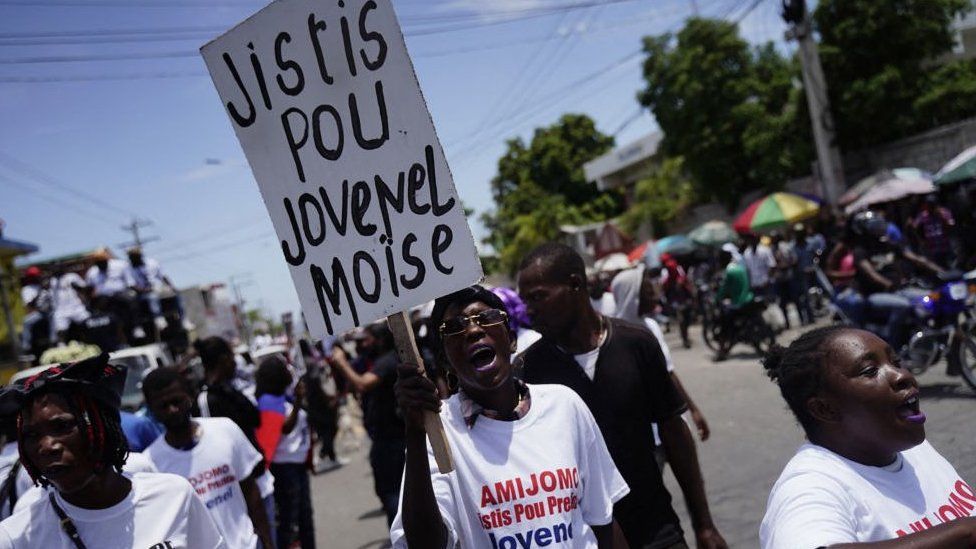 A man from the Canadian province of Quebec has been charged with terrorism for an alleged plot to topple the Haitian government of Jovenel Moise.
Gerald Nicolas, 51, was charged by the RCMP, Canada's federal police force, on Thursday.
President Moise was killed in July 2021 by gunmen who stormed his home in Port-au-Prince.
Canadian police say the charges against Mr Nicolas are not related to the assassination.
The RCMP allege that Mr Nicolas, a resident of the town of Levis, near Quebec City, travelled to Haiti on an undisclosed date to coordinate a group of individuals who planned a coup to bring down Moise's government.
"The investigation, which began in July 2021, revealed that Mr Nicolas planned to stage an armed revolution in Haiti and ultimately seize power," police said In a press release.
He is facing three charges related to terrorism, including leaving Canada to take part in terrorist activity, facilitating terrorist activity and providing property for terrorism purposes.
A spokesman for the RCMP, Sgt Charles Poirier, said the accused is alleged to have visited "multiple countries in order to recruit, finance, and also acquire weapons".
He did not say what countries were visited, only that there were "multiple in the Caribbean and South America". He told BBC News that the investigation found that accused was ultimately unable to procure the weapons he was seeking.
Under Canada's Criminal Code, Mr Nicolas could face up to 14 years in jail for each charge if convicted.
In an interview with French-language broadcaster Radio-Canada, Mr Nicolas denied the charges, said he had been set up by jilted girlfriend, and argued that the prosecutors are motivated by race.
Mr Nicolas is expected to appear in a Quebec court on 1 December.
President Moise was shot dead on 7 July 2021. His widow, Martine Moise, the former first lady, was also shot but survived.
The full details behind the assassination remain unclear, but Haitian police have accused a group of mainly foreign mercenaries – 26 Colombians and two Haitian Americans – of carrying out the killing.
Three people in the US have been charged in connection to Moise's murder, including Haitian former senator John Joel Joseph, 51, Colombian ex-soldier Mario Palacios, 43 and Haitian-Chilean businessman Rodolphe Jaar, 49. Mr Palacios and Mr Jaar have pleaded not guilty.
If convicted, the three US men could face life in prison.