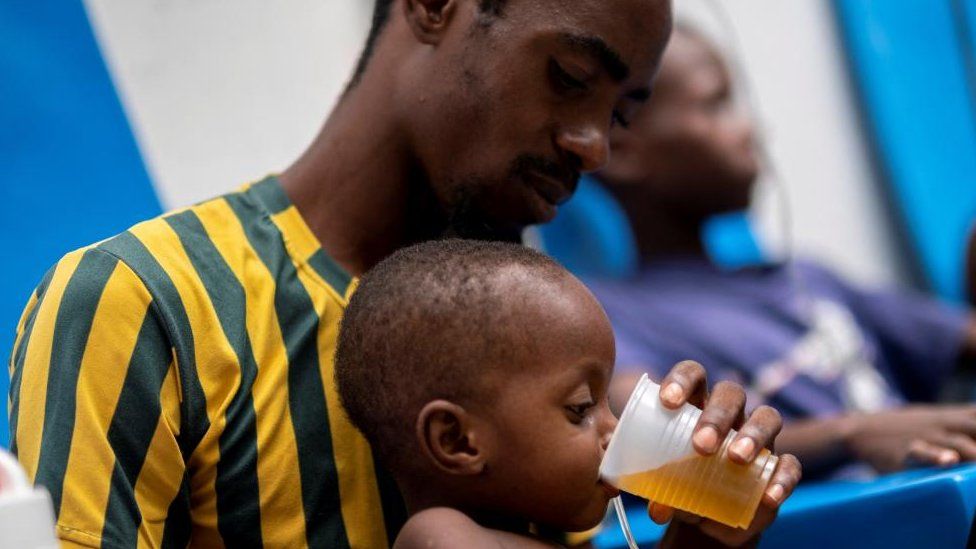 Haiti's cholera outbreak is worsening, with confirmed cases jumping to more than 700 and cholera-related deaths to 161, the Pan-American Health Organisation (PAHO) says.
Health officials are investigating a further 7,000 suspected cases.
PAHO head Carissa Etienne said half a million people were at risk of contracting cholera.
The United Nations has appealed for nearly $150m (£127m) to help contain the spread of the disease.
The current outbreak started at the beginning of October, when two cases were confirmed in the greater Port-au-Prince area. Before those two cases, there had not been any for more than three years.
Haiti had been cholera-free until 2010, when an outbreak spread from leaking sewage pipes from a United Nations base housing Nepalese peacekeepers.
Almost 10,000 people died as a result of the outbreak. The UN later apologised for its failure to prevent the spread of the disease.
Cholera is contracted by eating food or drinking water contaminated with the bacterium Vibrio cholerae. It can affect children and adults, causing severe diarrhoea, and can kill within hours if left untreated.
The United Nations is calling for funding to provide clean water, hygiene and sanitation to slow down its spread.
The cholera outbreak is particularly worrying because it comes at a time when Haiti is already mired in a security crisis.
Médecins Sans Frontières (MSF) is managing more than 60 per cent of the bed capacity to treat cholera patients in the capital. Mobile teams, consisting of water and sanitation specialists and health promoters, are working in the most affected neighbourhoods to raise awareness of the barrier measures against the spread of the disease.
We have also organised the chlorination of approximately 100 water points and the installation of eight oral rehydration points, where basic commodities and clean water are distributed.
Despite these activities, MSF and the few organisations present in the response will not be able to adequately address this cholera outbreak. Other humanitarian actors and donors must join the response effort, either by setting up treatment centres or by urgently scaling up access to safe water and sanitation activities.
In addition, it is extremely important that vaccination be used as a fundamental tool in dealing with the disease. Several hundred thousand doses of vaccine have been allocated to the country by the International Coordinating Group (ICG), the international mechanism for vaccine response to epidemics. The authorities have submitted an official request to the ICG to obtain a number of vaccine doses.
MSF stands ready to begin implementing a vaccination campaign in support of the health authorities and to complement other water and sanitation, and health promotion activities.
As the number of cholera cases increases in the different communes of the capital but also in other departments, it remains difficult to assess the real extent of the outbreak.
"The overload of cholera treatment centres, which prevents all patients from being treated, the difficulties for patients to travel due to fuel shortages and insecurity, and the increase in community deaths are worrying signs," says Michael Casera, MSF epidemiologist.
"In neighbourhoods with high levels of insecurity, patients with severe symptoms at night often have to stay home because motorcycle cabs refuse to take them to a health centre," he says.
Armed gangs control parts of the capital and heavy gunfights between rival gangs have disrupted food, water and fuel deliveries.
According to the UN, nearly half of Haiti's population are experiencing high levels of food insecurity.
Almost 100,000 people have been displaced by the rising gang violence.