BBC- Three Haitian Americans and a Colombian have been charged in the US over the assassination of Haiti's President Jovenel Moïse in July 2021.
Seven people in total have now been charged in the US.
His death in his private residence in the capital, Port-au-Prince, plunged the country, already suffering from rising violence and an economic crisis made worse by natural disasters, into further turmoil.
Police say a group of mercenaries, most of them Colombians, was behind the attack, which they suspect a Haitian doctor of ordering as part of a plot to become president.
Dozens of people have been arrested in connection with the case. But for the most part, the investigation has been slow, and the exact details about the people who carried out the plan and their real motives are only beginning to emerge.
Moïse, 53, was shot dead inside his home in the Pelerin 5 neighbourhood, in the hills above Port-au-Prince at 01:00 local time on 7 July 2021, according to police.
The president was shot 12 times and had bullet wounds to his forehead and several to his torso. His left eye had been gouged out and bones in his arm and in his ankle had been broken, according to one of the judges conducting the investigation.
He died at the scene and was found lying on the floor on his back, his shirt soaked in blood. The first lady, Martine Moïse, was also shot but survived.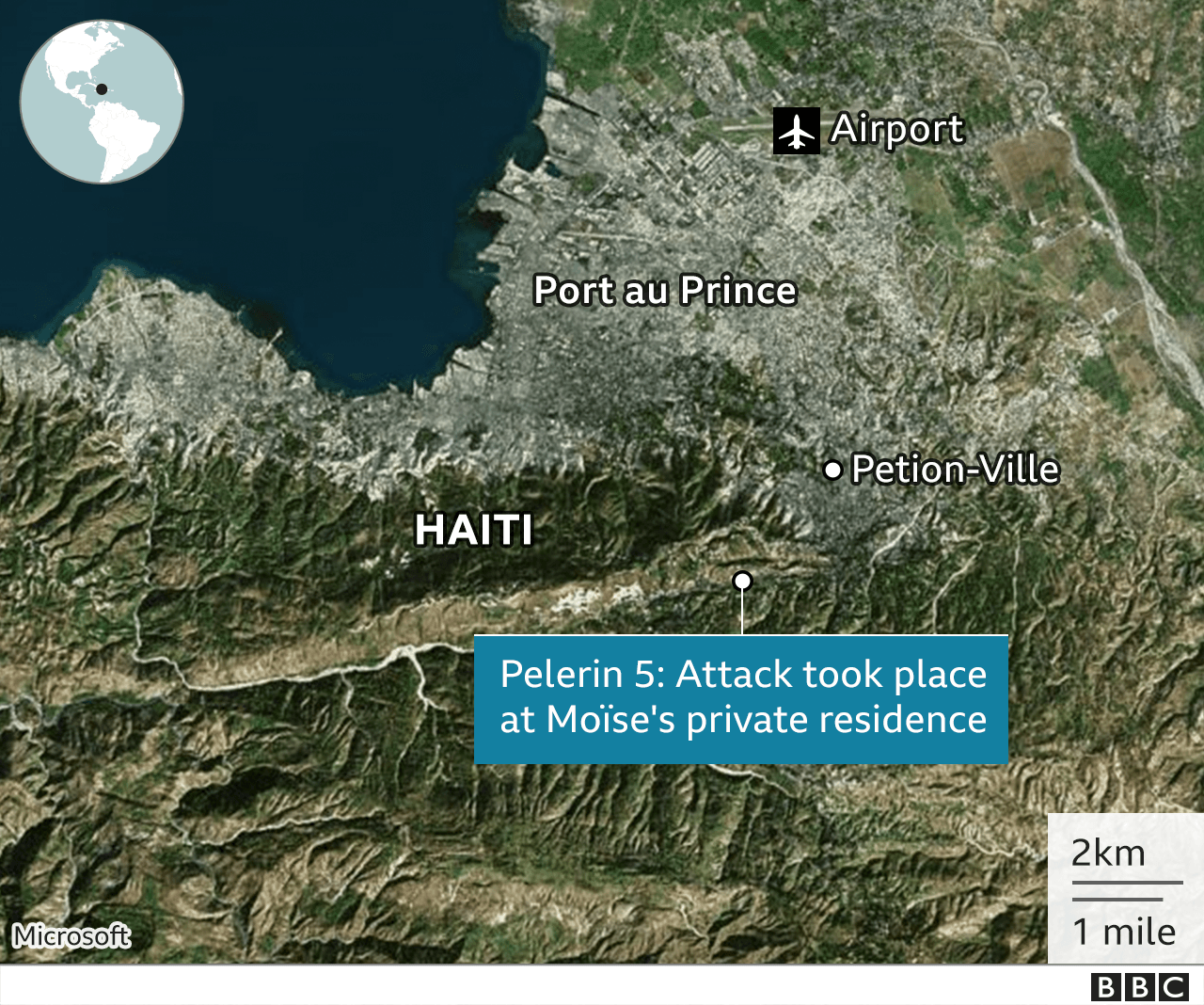 Haitian police allege a group of mainly foreign mercenaries – 26 Colombians and two Haitian Americans – made up the group that carried out the killing.
An investigating judge said the two Haitian Americans had told interrogators they had been hired as interpreters on the internet.
The two allege that they did not know there was a plan afoot to kill the president but believed they were to act as interpreters when he was arrested. Haiti's official languages are Creole and French, while the Colombian suspects speak Spanish.
One of the Haitian Americans said he had been given what he believed was an arrest warrant for the president.
Most of the Colombian detainees have been identified as former soldiers, including a lieutenant-colonel. Family members told Colombian media the suspects had told them that they had been hired "to provide security" in Haiti.
After retiring from the army, many Colombian soldiers go on to work for security firms abroad, mainly in the United Arab Emirates, where they are valued for their training and experience in fighting armed groups.
At the end of January 2023, dual Haitian American citizens James Solages and Joseph Vincent, as well as Colombian citizen Germán Alejandro Rivera García, were charged by the US justice department with conspiracy in connection to the murder.
Another Haitian American man, Dr Christian Emmanuel Sanon, was charged with smuggling.
According to the US justice department, Mr Solages and Dr Sanon met in April 2021 "to discuss regime change in Haiti and support for Sanon, an aspiring Haitian political candidate".
Three other people, including a Haitian former senator, have been charged so far in connection with the case the US.
Who hired the Colombians?
Haitian police chief Léon Charles said Dr Sanon, who was arrested after the assassination, was a "key suspect" in the case.
According to Mr Charles, Dr Sanon hired 26 of the 28-strong hit squad through a Miami-based company called CTU, run by Venezuelan national Tony Intriago. Dr Sanon, he added, was "the first person" that one of the Colombian suspects had called when police surrounded them.
Dr Sanon, a 63-year-old doctor who lived in Florida, arrived in Haiti on a private jet in early June with "political motives", Mr Charles said, adding that police had found weapons, ammunition and a Drug Enforcement Administration cap in his possession.
The police chief suggested that the Colombians might have been duped by Dr Sanon, who was planning to become Haiti's president.
"The initial mission that was given to these assailants was to protect the individual named Emmanuel Sanon, but afterwards the mission changed," he said without clarifying if all or any of the suspects had been briefed about the changes.
Another prime suspect, according to Mr Charles, was former Haitian senator John Joel Joseph, who allegedly supplied weapons and planned meetings. He was arrested in January in Jamaica.
But still on the run is Joseph Felix Badio, a former official in the justice ministry's anti-corruption unit, also seen as a key suspect in the case.
How did the assailants gain access?
Video footage, not independently verified but thought to have been taken by residents, shows armed men dressed in black arriving in several vehicles.
A man, thought to be a security guard, appears to have been forced to lie face down in the street while another man can be heard shouting in English over a loudspeaker, "DEA [US Drug Enforcement Administration} operation, everybody stay down!"
Haiti's ambassador to the US, Bocchit Edmond, said that while the attackers had disguised themselves as US drug agents, he believed there was "no way" they really were US agents.
Officials say the ground between the property's gatehouse and the residence was littered with cartridge cases, indicating that multiple shots were fired.
Yet the only people injured by bullets were the president and his wife, a fact which has raised questions about the possible complicity of the president's guards.
The group seems to have met little or no resistance inside the residence or during their initial getaway.
Two domestic staff were tied up and the presidential couple's adult daughter, Jomarlie, hid in her brother's bedroom and was unhurt.
The timeline immediately after the assassination is not very clear. Some of the suspects were reportedly tracked down to a house nearby, which was then surrounded by police.