Gov. Hochul declares polio emergency in NY
New York Gov. Kathy Hochul (D) declared a "disaster" in the state on Friday due to the spread of polio through wastewater.
The emergency declaration allows a larger group of medical personnel to administer polio vaccines and requires providers to send immunization data to the New York State Department of Health.
"On polio, we simply cannot roll the dice," State Health Commissioner Mary
T. Bassett said in response to Hochul's order.
She continued: "If you or your child are unvaccinated or not up to date with vaccinations, the risk of paralytic disease is real. … Polio immunization is safe and effective — protecting nearly all people against disease who receive the recommended doses."
Vaccine boost: The state's polio immunization drive will be bolstered by the New York State Immunization Information System, which will collect data on which communities need access to vaccines the most.
The vaccination rate against polio among 2-year-old children in New York is
79 percent and "significantly less than that in several counties and zip codes," according to the governor's office.
Polio vaccines will now be able to be distributed by first responders, midwives and pharmacists.
NIH launches trial testing efficacy of monkeypox drug
The National Institutes of Health (NIH) is launching a Phase 3 clinical trial to determine the efficacy of tecovirimat — the smallpox antiviral better known as TPOXX — for use in treating monkeypox, as current data on its effectiveness against the virus is limited.
The National Institute of Allergy and Infectious Diseases (NIAID) is sponsoring the trial, which is being led by the organization's AIDS Clinical Trials Group. The study is currently enrolling adults and children who have been infected with monkeypox in the U.S.
Off-label use: TPOXX was approved by the Food and Drug Administration (FDA) in 2018 to treat smallpox. It was authorized for use in treating monkeypox in August based on studies treating orthopoxviruses, the family of viruses that both monkeypox and smallpox fall under.
TPOXX has not been approved for use in monkeypox but has been designated as an "investigational" drug so that it can be used to treat monkeypox.
"Monkeypox can be an extremely painful infection that lasts for weeks," NIAID Director Anthony Fauci said in a statement.
"We currently lack efficacy data that would help us understand how well this drug may mitigate painful monkeypox symptoms and prevent serious outcomes," said Fauci. "This clinical trial was designed to answer those important questions."
Who's been treated: According to federal data, nearly 2,000 patients diagnosed with monkeypox have been treated with TPOXX so far, nearly all of them men. Only 24 women have been confirmed to have received TPOXX to treat monkeypox infections.
China approves inhaled Covid vaccine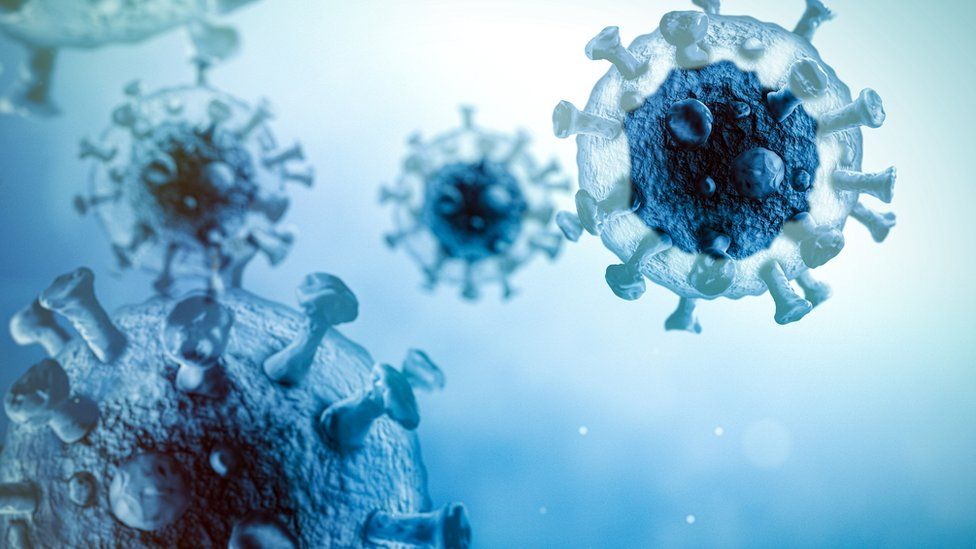 China has become the first country to approve an inhaled Covid vaccine.
Made by CanSino, it has similar ingredients to its injected vaccine, using a harmless adenovirus as a carrier for the genetic code that teaches the body how to fight Covid.
Inhaled as a fine mist, Convidecia Air can provide good protection after just one breath, the company says.
Other researchers, including teams in the UK and the US, have been investigating nasal spray vaccines.
Scientists say these may give added immunity in the lining of the nose and upper airways, where Covid typically enters the body.
The National Medical Products Administration of China granted CanSino approval for its inhaled vaccine to be used as a booster dose.
It can top up protection in those who have previously had a jab, trials suggest.
Infections are falling around the UK – but health bosses predict a resurgence of Covid and flu this autumn and winter.
They are urging those eligible to protect themselves from serious illness by being vaccinated against both.
Covid: Millions invited for booster jabs from Monday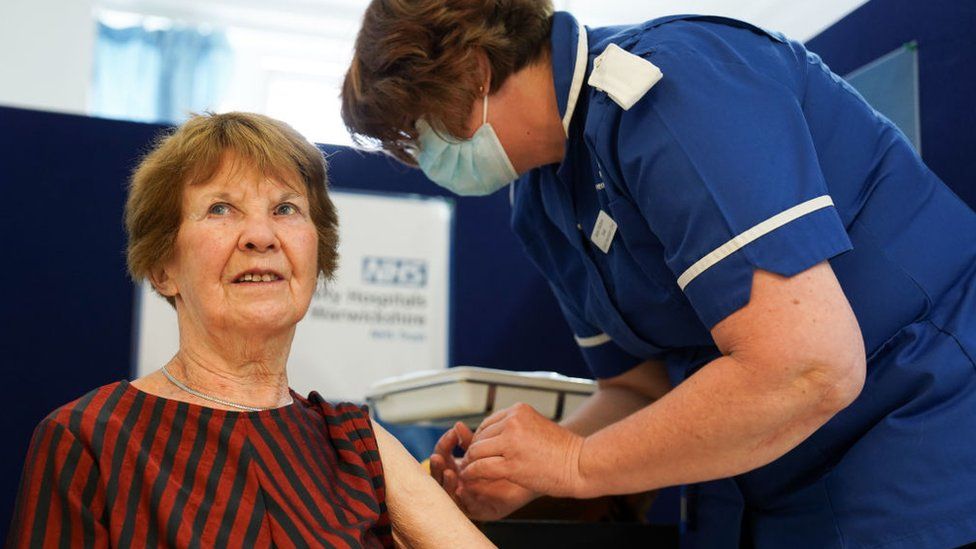 Millions of people will be invited for their autumn Covid booster jab in England and Scotland next week, with care home residents the first to receive them.
Although infections are falling, health bosses are predicting a resurgence of Covid and flu this autumn and winter.
They are urging those eligible to protect themselves from serious illness by getting vaccines against both.
A recently approved vaccine against the Omicron variant will be used first.
However, there is not enough of Moderna's "bivalent" vaccine to protect everyone aged over 50 so health officials say people should take whichever booster they are offered. These will be the vaccines used in the spring.
The UK's Medicines and Healthcare products Regulatory Agency (MHRA) announced on Saturday that it had approved a second "bivalent" coronavirus vaccine from Pfizer/BioNTech for people aged 12 and over.
The groups who qualify for an autumn booster are:
adults aged 50 and over
people aged five to 49 with health conditions that put them at higher risk – including pregnant women
care-home staff
frontline health and social care workers
carers aged 16 to 49
household contacts of people with weakened immune systems
The most vulnerable will be prioritised first.
England's autumn booster campaign starts on the same day, with 1.6 million care home residents, staff and housebound people the first to receive their top-up Covid jab.
Also from Monday, another four million people at highest risk – including over-75s and those with weakened immune systems – will be invited to book a vaccine appointment, with slots on offer at GP surgeries and pharmacies from the following week.
The number testing positive would be:
one in 60 in England
one in 65 in Wales
one in 55 in Scotland
one in 50 in Northern Ireland
The ONS says it is monitoring Covid rates closely as children return to school across the UK.
Cases of Covid in hospital are also falling.
But health experts have warned the virus and flu are likely to make a comeback together during the autumn and winter for the first time since the pandemic started.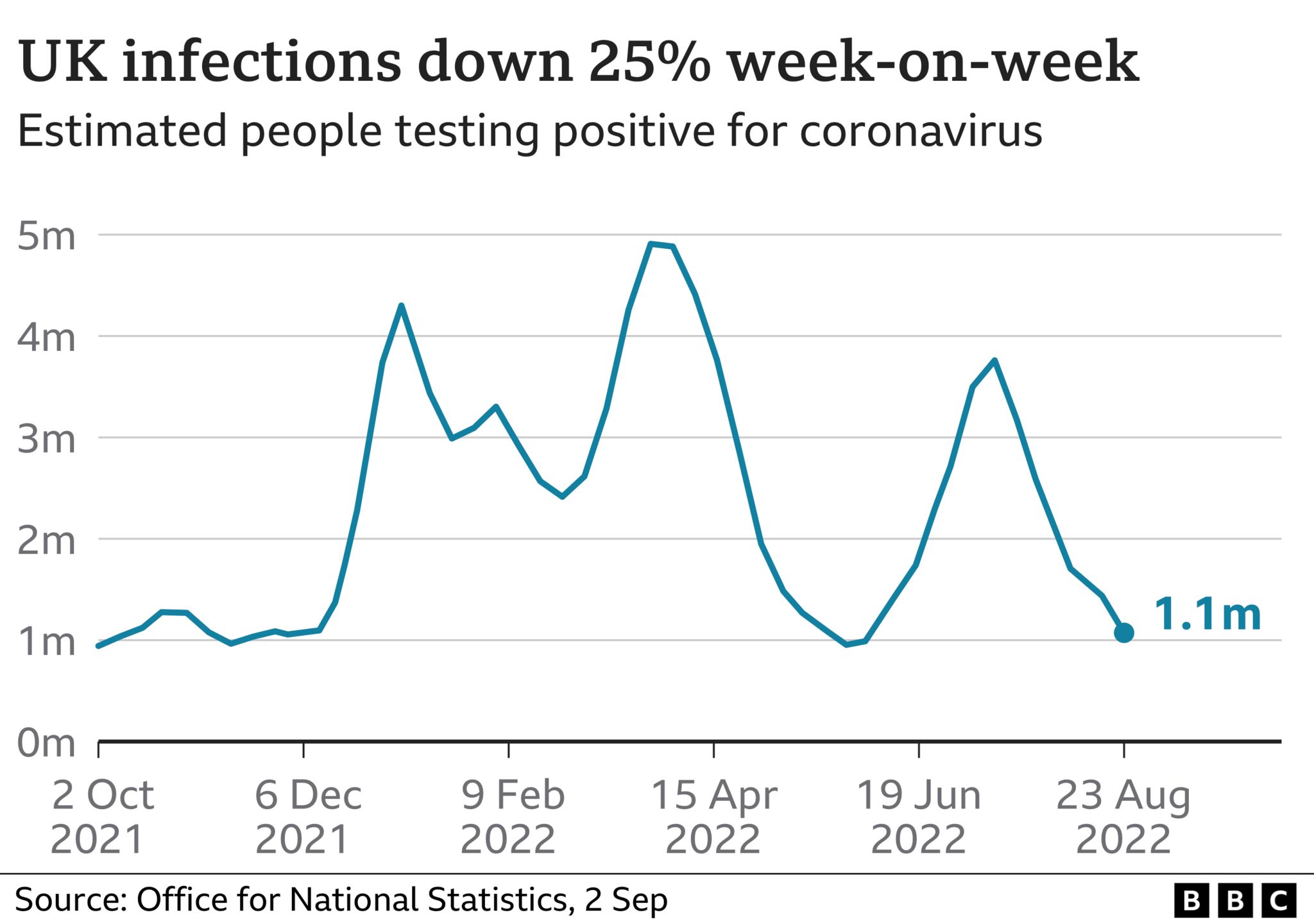 NHS England chief executive Amanda Pritchard called on people "to get the newly approved, next generation Covid vaccine when invited to do so, as well as your annual flu jab, to ensure you have maximum protection".
Covid and flu vaccines may be offered at the same appointment and both jabs are approved to be given at the same time. However, local health systems will organise the rollout in the way that suits them best.
More than 126 million Covid vaccines have been given by NHS staff and volunteers since the start of the vaccine programme in December 2020
WORLD COVID STATS
Highlighted in green
= all cases have recovered from the infection