By James FitzGerald & Elsa Maishman
BBC Minute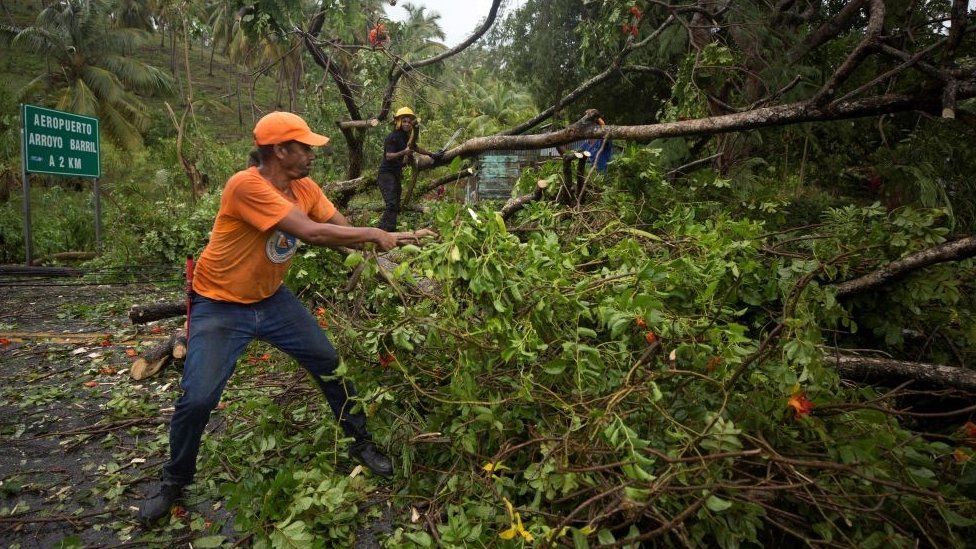 Hurricane Fiona is continuing to strengthen – threatening lives in parts of the Caribbean, say US forecasters.
The National Hurricane Center (NHC) said the category two storm currently packing speeds of 110mph (175km/h) could even worsen to a category four – the second-highest designation.
The strengthening Category 2 storm, predicted to become a Category 3 event by Tuesday afternoon with winds exceeding 111mph (178kmh), was on track to pass close to the eastern end of the Turks and Caicos Islands on Tuesday evening, before heading for the southern Bahamas.
Rain is lashing Puerto Rico, where at least two people have died and 90% of the island remains without power.
The president of the Dominican Republic says damage there is "considerable".
Luis Abinader has declared three eastern provinces to be disaster zones, amid warnings from the NHC of "heavy rainfall and life-threatening flash flooding" in eastern areas.
Several villages were cut off in the country as floodwaters rose, while hundreds of people were forced to leave their homes and thousands were left without power.
Lexie Wilcox, who lives in the easternmost province of Altagracia, said it was the worst hurricane she had experienced and hit her local area much harder than Hurricane Maria in 2017.
On Monday morning there were trees down, with roads blocked and a lot of flooding.
She was unable to sleep, spending the night mopping up rainwater.
The roof has been partially blown off her shed, and a security sign blew off her house.
Ms Wilcox and her neighbours are without electricity, and believe this may take days to be fixed as the storm is still ongoing.
Connection returned for a few minutes on Monday, just long enough to allow Ms Wilcox, who is Canadian, to watch the end of Queen Elizabeth II's funeral while the hurricane raged outside.
The NHC update, posted at 23:00 on Monday (03:00 GMT), also warned of ongoing threats to life in Puerto Rico due to "catastrophic flooding".
Fiona made landfall there on Sunday, causing not only deluges but also widespread landslides and mudslides.
US President Joe Biden pledged to scale up support for the island following a conversation with the governor.
Images shared on social media have showed cars submerged and people attempting to wade down streets filled with water, while efforts continue to rescue those who have got stranded.
The victims were a 58-year-old man who died after being swept away by a river, while another in his 30s died in a generator fire.
The storm caused an island-wide blackout which providers warned could take days to fix.
Puerto Rico's electricity grid remains fragile after the island was devastated in 2017 by Hurricane Maria – the most powerful storm in its history.
Some areas of the island face the prospect of 30in (76cm) of rainfall as the storm passes.
The NHC said the core of the hurricane was next expected to move near the easternmost Turks and Caicos Islands.
Storm conditions were also forecast in the Bahamas, while people in Bermuda have been advised to monitor Fiona's progress.
On the Turks and Caicos Islands, a British Overseas Territory with 40 low-lying coral islands and a population of about 40,000 that sits about 700 miles southeast of Florida, the government's National Emergency Operations Center (NEOC) told residents of three eastern islands to shelter in place, and ordered businesses to close.
"All persons are to remain indoors at their residence, place of safety or where they seek shelter until the NEOC issues NATIONAL ALL CLEAR", the agency told residents of Grand Turk, South Caicos and Salt Cay. Residents were stocking up on food and water while shelters were being prepared. Foreign governments issued travel alerts for the islands, a popular tourist destination.
Similar preparations were under way in the eastern Bahamas. Fiona is on track to hit the eastern Bahamas on Wednesday, when it could have reached Category 4 strength.
In Puerto Rico, a territory of the United States, residents were still facing strong winds, frequent lightning and heavy rain on Monday.
Fiona made landfall in Puerto Rico on Sunday afternoon, dumping up to 30 inches (76.2 cm) of rain in some areas, with at least two people killed.
The storm comes five years after Puerto Rico was ravaged by Hurricane Maria, which triggered the worst power blackout in U.S. history and killed 3,000.
U.S. President Joe Biden spoke with Puerto Rico Governor Pedro Pierluisi on Monday, promising to increase the support personnel sent to the island over the next few days.
Federal Emergency Management Agency (FEMA) Administrator Deanne Criswell will travel there on Tuesday.
Nearly 90% of Puerto Rico remained without power on Monday, according to Poweroutage.us. Officials said it would take days to reconnect the whole island of 3.3 million people.
Puerto Rico's power grid is fragile despite emergency repairs after Maria, according to Center for a New Economy, a Puerto Rican think tank.
Maria, a Category 5 storm in 2017, left 1.5 million customers without electricity and knocked out 80% of power lines. Thousands of Puerto Ricans still live under makeshift tarpaulin roofs.
Fiona made landfall in the Dominican Republic near Boca Yuma at 3:30 a.m. local time on Monday, according to the NHC. The center of the storm reached the northern coast of Hispaniola before noon.
It is the first hurricane to score a direct hit on the Dominican Republic since Jeanne left severe damage in the east of the country in 2004.
Reporting by Ivelisse Rivera and Ezequiel Abiu Lopez; Additional reporting by Tim Reid. Editing by Gerry Doyle