BBC- India has recorded more than 20 million Covid infections, but the government says that cases are "slowing down".
The country added more than 355,000 cases on Tuesday, down from more than 400,000 daily cases on 30 April.
But testing numbers have have dipped as well, sparking fears that India's true caseload is far higher.
Case numbers, however, been consistently falling in Maharashtra state, which had driven the second wave since early April.
Meanwhile an oxygen shortage has shown no signs of abating and people in several hotspot cities, including the capital Delhi, are struggling for treatment.
India's second wave, fuelled by lax safety protocols and massive public festivals and election rallies, has also overwhelmed its hospitals. Delays in testing, diagnosis and treatment, as well as a shortage of critical care beds and crucial drugs, has resulted in a spike in deaths too.
The country has so far reported more than 222,000 deaths due to the virus. But experts say India's Covid death toll is vastly under-reported as official tallies don't appear to match what people are witnessing on the ground – long lines at crematoriums, mass funeral pyres and cities running out of space to bury or cremate the dead.
Many states have introduced restrictions, from full lockdowns to night curfews. The northern state of Bihar, which has been adding about 13,000 daily cases in recent days, is the latest to announce a full lockdown -only essential services, such as government offices, groceries and hospitals, will be open.
Are infections actually slowing down?
While India's daily caseload does appear to have fallen, it's too early to say if infections are slowing down.
Given delays in testing and official record-keeping, experts typically look at weekly averages rather than daily cases for a more accurate picture. And on average, India's cases were rising this past week – but at a slower rate than the previous week.
But it's also true that daily cases have fallen, on average, in Delhi, Uttar Pradesh and Maharashtra, all hotspot states.
Erratic testing, however, makes it hard to gauge the significance of these numbers. While Maharashtra's testing numbers have been consistent, Delhi's have dropped in recent weeks.
The other issue, experts say, is insufficient testing. While Uttar Pradesh, one of the worst-affected states, has recorded no drop in testing figures, it's testing far less than other states.
It's India's most populated state, with more than 220 million people and is doing about 184,000 tests per million people. Compare that to Tamil Nadu, which has about 75 million people and is doing more than 300,000 tests per million of its population.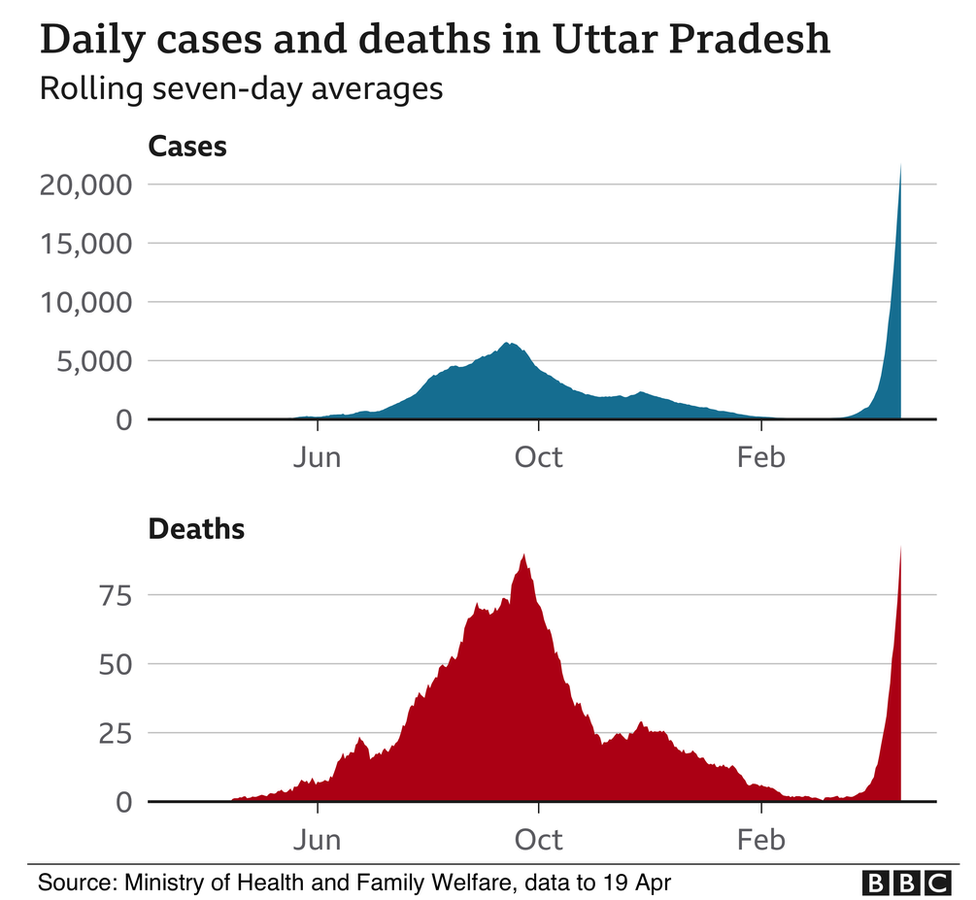 Health officials said there was "cautious hope" of some respite from the second wave. But Lav Agarwal, joint secretary of the health ministry, said that the "gains" were very early and needed to be sustained by "containment measures at district and state level".
Experts also say that other hotspots are likely to emerge in the coming weeks as the pandemic moves through the country.
A struggle for oxygen
Delhi's government has said it wants the army to run Covid care facilities and intensive care units.
Delhi Chief Minister Arvind Kejriwal has repeatedly said that the city is not getting enough oxygen from the federal government, which allocates oxygen quotas to states.
But federal officials deny there are shortages, saying the challenge has come from transportation.
India produces thousands of tonnes of oxygen a day, but some experts say the supply crunch comes from a lack of investment in distribution networks.
Delhi hospitals have resorted to sending SOS messages on social media to secure supplies. For residents, hours spent in queues to top up portable canisters have become part of daily life.
Officials have also been urged to find more sites for cremations as the city's morgues and crematoriums are overwhelmed by masses of Covid deaths.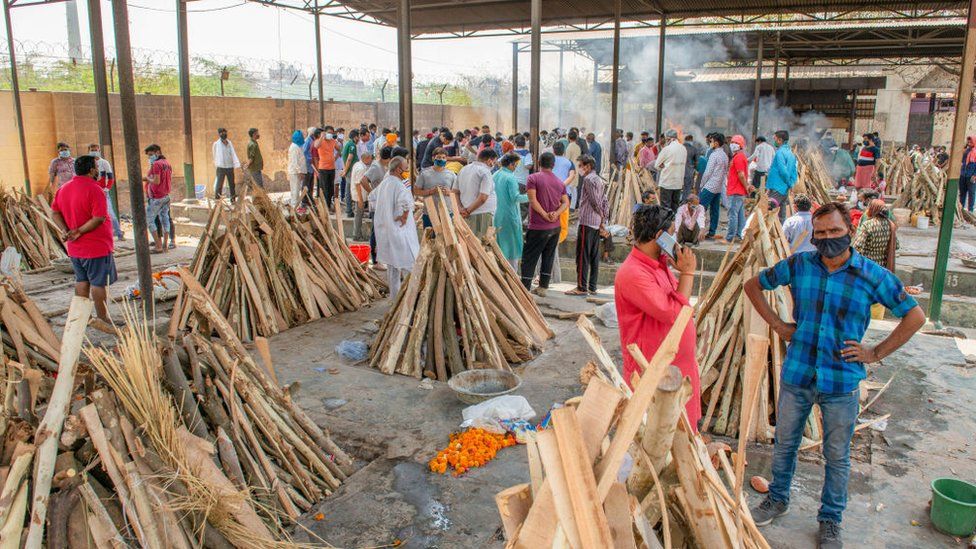 Is India's vaccination drive helping?
A sluggish vaccination campaign has compounded the crisis.
Since January, India has administered more than 157 million vaccine doses so far – it ranks third in the world, after China and the United States. But just over 10% of India's 1.4 billion people have had one dose and only about 2% have got both doses.
Despite being the world's biggest producer of vaccines, India is facing a shortage of supplies. And vaccination rates are down, from 3.7 million doses a day about a month ago to just 1.7 million a day.
The chief executive of India's Serum Institute, the world's biggest vaccine manufacturer, has warned shortages will last for months. It's set to deliver 220 million doses over the next few months, which would still only cover 8 per cent of India's population.
The Indian government is reported to be in discussions with Pfizer, which is seeking an "expedited approval pathway" for its Covid-19 vaccine.
=================================================
Moderna providing up to 500M vaccine doses to Covax program for lower-income countries
The Hill- Moderna committed to providing up to 500 million doses of its COVID-19 vaccine to a United Nations-backed initiative designed to supply vaccinations to middle- and low-income countries.
The company announced an agreement with Gavi, the Vaccine Alliance to sell an initial 34 million doses to COVAX at the "lowest tiered price" within the fourth quarter of this year. The deal also permits Gavi to purchase 466 million additional vaccine doses in 2022.
But while the move will help with global access, the vaccines won't be delivered until the second half of the year. That means the short- and even medium-term supply issues won't be solved by the sale.
What's COVAX? Gavi co-leads, along with the Coalition for Epidemic Preparedness Innovations and the World Health Organization (WHO), the COVAX program, which aims to give lower-income nations access to shots by 2022. Covax aims to distribute up to 2 billion doses this year, with a goal of reaching 20 percent of the population in participating countries. To date, it has delivered 49 million doses.
The COVAX program hit a roadblock in recent weeks when India outlawed exports of COVID-19 vaccines as the nation deals with rapidly rising case and death numbers. India hosts the world's largest vaccine manufacturer and has been a main supplier of AstraZeneca doses.
Follows: Moderna's pledge comes three days after the WHO authorized the company's vaccine for emergency use – the fifth vaccine to get such approval.
===================================================
UK likely to give green light for travel to fewer than 10 EU countries
Traffic light system to be used cautiously despite European plan to let in Covid-vaccinated tourists from June.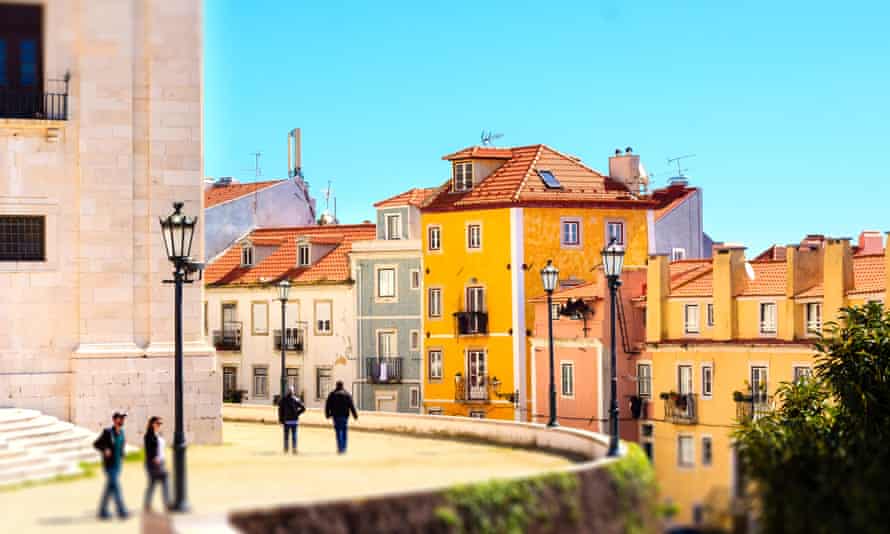 The changing quarantine requirements for popular holiday destinations looks set to make 2021 the year of the last-minute booking.
The EU will reopen to holidaymakers from countries with low Covid infection rates such as the UK, and to anyone who has been fully vaccinated, by the start of June under a European Commission plan.
A traffic light system will be announced this week under which countries will be added to green, amber and red lists, with different rules regarding issues such as quarantine of returning travellers for each list.
Senior UK government sources said the number of destinations to which Brits can travel quarantine-free from 17 May could be in single figures – despite pressure from Conservative MPs for the UK to greenlight travel to the whole of Europe as vaccine rates improve. A significant number of countries on the list are unlikely to be major holiday destinations, one source warned.
One Whitehall source said changes could come quite rapidly over the summer as the list of green countries is reviewed every three weeks.
"It will be a cautious approach, but then things could start to change quickly," the source said.
On Monday, Johnson said that he did not want to see an "influx of disease" once international travel resumes, which is why the government said it is being "as cautious as we can" with the roadmap.
"We do want to do some opening up on 17 May but I don't think that the people of this country want to see an influx of disease from anywhere else," the prime minister told reporters during a campaign visit to Hartlepool. "I certainly don't and we have got to be very, very tough, and we have got to be as cautious as we can, whilst we continue to open up."
The government will have the right to rapidly remove countries from the green or amber lists if cases spiral quickly, but more routinely countries will be added to a "watch list", raising questions about the implications for cancellations and insurance.
Portugal, Malta and Gibraltar are likely to be green list countries, where testing will be required before travel but not quarantine after returning. Popular destinations like Spain and France are expected to be on the amber list initially where home quarantine is still required. Red list countries, which are likely to include Brazil, UAE and South Africa, require quarantine in government-mandated hotels.
Advice to UK ministers will be given by the Joint Biosecurity Centre, which will give its final verdict on Wednesday, meaning an announcement is likely to be delayed until Friday because of local elections on Thursday. However, one government source said there was a possibility Johnson could make the announcement on Wednesday, a vital morale boost before the polls after a week battling stories of Tory sleaze.
The government will give the go-ahead for international travel to recommence on 17 May, and official advice to "minimise travel" will change to "travel safely, plan ahead" with no advice on limiting travel around the UK.
The Labour leader, Keir Starmer, warned there should not be a repeat of the "chopping and changing" of the travel corridors list introduced last summer. "We need to be very careful. I think it's clear that the virus is increasing in some countries around the world, so we have to be very, very careful," he told reporters during a campaign visit to Lewisham.
Agreement on opening of European borders is due to be sought from EU member states during meetings on Tuesday and Wednesday.
The existing requirement to undergo Covid testing before or after arrival or to quarantine could still be enforced by member states but EU officials hope there will be a gradual phasing out of these conditions.
Under the commission's proposals, member states would allow travel into the EU of those people who had received, at least 14 days before arrival, the final dose of an authorised vaccine.
Even those who have not been fully vaccinated, which is likely to be a younger demographic in the UK, will be allowed into the EU if they are coming from a country with a "good epidemiological situation".
As it stands, only seven countries worldwide are on a green list allowing for non-essential travel. The commission is proposing to increase the threshold of 14-day cumulative Covid-19 case notification rate from 25 to 100. The UK's rate is about 23.2 per 100,000 people.
A senior official said the UK could be added to the green list but that it would depend on a reciprocal willingness to open its borders to all EU citizens. "The figures for the UK are good," the EU official said. "Those vaccinated in the UK will be eligible to travel to the EU but [we are] mindful of other aspects: reciprocity. It is still a principle under this new recommendation."
The commission is proposing, however, an emergency brake. When the epidemiological situation of a non-EU country worsens quickly and in particular if a variant of concern or interest is detected, a member state will be able to "urgently and temporarily suspend all inbound travel by non-EU citizens resident in such a country".
Johnson also confirmed that the UK is likely to relax social distancing measures on 21 June when the government intends to loosen all remaining restrictions on hospitality and social gatherings. However, it is likely to mean that masks remain mandatory in some indoor settings.
"I think we have got a good chance of being able to dispense with the one-metre plus from 21 June," Johnson said. "That is still dependent on the data, we can't say it categorically yet, we have got to look at the epidemiology as we progress, we have got to look at where we get to with the disease. But that's what it feels like to me right now."
On Monday, the UK recorded 1,649 new coronavirus cases and just one death within 28 days of a positive Covid test, the lowest figure since 30 August last year. However, there is always a lag in reporting deaths – greater at weekends and bank holidays – so it does not necessarily mean only one such death has occurred the previous 24 hours.