Ministers consider diluting plan to relax Covid rules as India variant surges
Health secretary indicates plans for 'freedom day' in England on 21 June could be knocked off track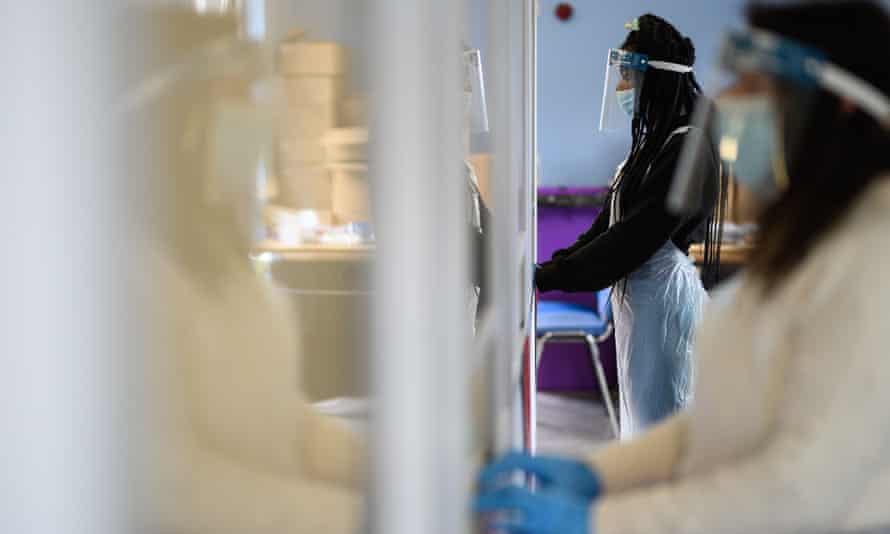 Ministers are considering diluting plans for "freedom day" in England on 21 June and delay the end of all social distancing rules, as new figures showed another sharp increase in the Covid variant first detected in India.
The health secretary, Matt Hancock, said no announcement would be made until 14 June on whether all restrictions will be lifted a week later, as planned.
"We've always known that one of the things that has the potential to knock us off track would be a new variant," he said. "That's why we made the presence of a new variant that could do that one of our four tests when we set out the roadmap, which is the test we must pass for going down each step."
Meanwhile, he said, the government was "throwing everything" at speeding up testing and vaccinations in Bolton, Blackburn and six newly affected areas.
The number of confirmed cases of the variant B.1.617.2 uncovered in the UK had now risen to 2,967, the health secretary said. That was up by 28% in just two days, from 2,323 on Monday.
The true number may be higher, as genomic sequencing to confirm the presence of the variant takes several days. Public Health England said the most recent sample included in the 2,967 total was taken a week ago, on 12 May.
No 10 has still not lost hope of allowing all restrictions to lift on 21 June. Sources said there was now more optimism in government than there was a few days ago about the prospect of forging ahead with the roadmap as planned. Next week is expected to be the crucial deciding week to show how the variant may have spread and to assess its transmissibility.
Officials had explored whether using Covid certification in venues such as pubs and restaurants could help remove the need for social distancing, but ministers have now rejected that prospect. However, it may be used for venues which have not yet been allowed to open – such as nightclubs and arenas.
The delay in lifting rules on social distancing, mask-wearing and work from home guidance may mean in practice that little would change on 21 June, apart from the opening of some high-risk venues on the condition of prior vaccination or testing on entry.
Diluting the government's plans is likely to infuriate Conservative MPs who are adamant the prime minister must stick to his roadmap, which he called a "one way road to freedom", when he announced it in February.
Businesses such as pubs and restaurants are also keen to see distancing rules lifted urgently, to allow them to serve more customers.
The deputy chief medical officer, Prof Jonathan Van-Tam, said that "the data will begin to firm up sometime next week", giving a better picture of the threat posed by the virus.
"That will then feed into models that will help them to understand how this looks in terms of the future prospects in terms of resurgent disease, and from there ministers will be able to make further decisions," he said.
Van-Tam said it was a race against the virus to vaccinate as many people as possible. "The challenge that's ahead of us in the next two to three to four weeks is to make sure that we outrun the virus through really vigorous push on vaccine delivery and that is why when you are called, you must come forward and help us finish the job."
Hancock said six new areas had been identified by the government as potential hotspots for the variant, based on analysis of data including travel routes and tests on sewage.
He said testing and vaccinations would now be accelerated in Bedford, Burnley, Hounslow, Kirklees, Leicester and North Tyneside.
Van-Tam urged the public to be cautious in these areas, and not "rip the pants out of it", by overdoing new freedoms such as meeting up in pubs and restaurants. "I would advise the residents in those areas to think very carefully about the freedoms they have, weigh the risks, and be very cautious," he said, suggesting they meet outside, and in smaller groups, if possible.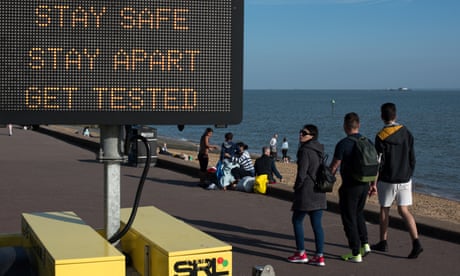 Hancock and Van-Tam also played down the likelihood of foreign holidays this summer, with the health secretary stressing that the public should only be travelling to the 170 or so amber list countries for exceptional reasons. The travel lists are due to be reviewed every three weeks.
"We have been absolutely crystal clear that you should not go to an amber or red list country on holiday," the health secretary said, when asked why some ministers had hinted that people could travel simply to see friends.
Hancock also repeated his promise to holiday in the UK this summer.
The increasing prevalence of the variant has raised renewed questions about whether the government should have acted earlier in placing India on the red list of countries from which travel is largely banned – a decision that was not made until 23 Apri
The prime minister's spokesperson confirmed on Wednesday that direct flights from India continued to arrive in the UK. He said that was so that UK citizens could return safely, and stressed that they would be subject to the strict hotel quarantine regime on arrival.
Hancock said the government's approach had been, "surging vaccines and testing", in the affected areas, hailing the fact that across Blackburn with Darwen and Bolton, the NHS had delivered 26,094 jabs over the past week, as well as 75,000 tests.
Prof Neil Ferguson, a member of the government's Scientific Pandemic Influenza Modelling Group (SPI-M), said on Wednesday that the final stage of lockdown easing appeared "very much in the balance".
He said there was a "glimmer of hope" that the B.1.617.2 variant might be less transmissible than first feared but that it would take time to be sure. Asked whether it was realistic for England to emerge fully from lockdown on 21 June, Ferguson said: "I think that's being actively considered. I think it's very much in the balance. The data collected in the next two to three weeks will determine that."
He said early data suggested vaccines protected against serious illness but may be less effective at stopping transmission of the variant first detected in India.
=================================================
Brazil in vaccine talks with Moderna, reviewing CanSino shot
Brazil's health minister said on Wednesday he had spoken with Moderna (MRNA.O) about buying its COVID-19 vaccine, as the country scrambles for shots from producers passed over last year.
Separately, the health regulator Anvisa said it had received an emergency use request late on Tuesday from Belcher Farmaceutica, the Brazilian representative of China's CanSino Biologics (6185.HK), and it would take up to seven days to make a decision, if the papers are in order.
Brazil is still suffering a long, deadly second wave of coronavirus infections and has struggled to implement an effective nationwide vaccination program. Less than 10% of the population has been fully immunized against the virus.
"I spoke with representatives of Moderna today, and indicated that the Health Ministry and Brazilian government would like to enter into partnership with the manufacturer for the supply of vaccines with a high capacity to respond to COVID-19 variants," Health Minister Marcelo Queiroga wrote in a tweet.
In early March, before Queiroga became minister, the ministry said it was "practically in the final stage of negotiations" with Moderna for the purchase of vaccines.
The ministry announced talks with Moderna in July 2020.
In February, Eduardo Pazuello, then health minister, criticized the price of Moderna's vaccine.
"The destiny of our country is to be vaccine makers. We will make vaccines for Brazil and Latin America," Pazuello said at the time. "We can't count on labs that simply sell us vaccines."
Brazil is currently using locally finished vaccines produced by AstraZeneca (AZN.L) and China's Sinovac (SVA.O), as well as imported doses of the shot from Pfizer (PFE.N)/BioNTech (22UAy.DE).
"China is committed to continue and expand its vaccine partnership with Brazil," China's ambassador to Brazil, Yang Wanming, tweeted on Wednesday.
Five of every six COVID-19 shots administered in Brazil through April came from a partnership between Sinovac and Sao Paulo's Butantan biomedical institute, but production has sputtered due to delayed shipments from China. read more
=======================================================
Emergent CEO: J&J vaccine production could resume in days
Emergent BioSolutions could resume manufacturing doses of Johnson & Johnson's coronavirus vaccine "within a matter of days," the company's CEO Robert Kramer told a House panel Wednesday.
The company is facing scrutiny from Congress after it was awarded a $628 million contract last year to establish the primary U.S. facility for manufacturing vaccines developed by Johnson & Johnson and AstraZeneca.
Democratic lawmakers on the House Coronavirus Crisis Subcommittee pressed Kramer on Emergent's ability to fix a host of manufacturing issues identified by a Food and Drug Administration (FDA) inspection of its Baltimore facility in April.
At least one of those issues led to the contamination of 15 million J&J doses with ingredients from AstraZeneca's vaccine, which the company was also manufacturing at the time.
As a result, the FDA paused production and essentially quarantined the remaining doses on hand to conduct thorough quality checks. The Biden administration also ordered AstraZeneca to find a new manufacturing partner.
How many doses are we talking about? There are more than 100 million doses of Johnson & Johnson's vaccine on hold, Kramer said, disclosing for the first time just how much of the vaccine has been affected.
"We have made significant progress against all of those commitments, we are very close to completing them, and I would expect we would be in a position to resume production within a matter of days," Kramer said.
Significance: If that were the case, the resumption of manufacturing would be a major boon to the U.S. vaccination effort. The nation is relying only on two-dose vaccines from Moderna and Pfizer-BioNTech, as supplies of the single-dose J&J vaccine have essentially dried up.
Related: Emergent has been paid more than $270 million without actually making a usable vaccine yet.
Democrats on the Oversight and Reform Select Subcommittee on the Coronavirus Crisis found that under a May 2020 contract issued by the Trump administration, taxpayers have already paid Emergent more than $271 million.
Emergent has charged the federal government $27 million per month in reservation fees to maintain its "readiness" to manufacture vaccines, but has not been able to distribute any doses.
The documents raise new questions about Emergent's oversight from the Trump administration, and the outsize role it played in Johnson & Johnson's manufacturing plan.
Fauci: Americans 'misinterpreting' mask rules
Anthony Fauci, the nation's leading infectious diseases expert, said in a new interview that some Americans do not have a full understanding of the latest guidelines put forth by the federal government relative to mask wearing and coronavirus vaccines.
"I think people are misinterpreting, thinking that this is a removal of a mask mandate for everyone. It's not," Fauci told Axios at an event on Wednesday. "It's an assurance to those who are vaccinated that they can feel safe, be they outdoors or indoors.