A Brazilian senator has said the country's former leader, Jair Bolsonaro, was at a meeting about a plot to keep him in power.
Marcos do Val has alleged he was asked to get the head of the electoral authority to compromise himself to discredit the presidential election.
Mr Bolsonaro narrowly lost October's vote, prompting unsubstantiated claims by his supporters of voting fraud.
His son has admitted the meeting took place but denies a crime was committed.
Mr do Val told a news conference on Thursday that he was invited to a meeting on 9 December with Mr Bolsonaro by Daniel Silveira, a former lawmaker and a close ally of the former president. This was more than a month after Luiz Inácio Lula da Silva had won the election and three days before his presidency was formally approved.
Mr Silveira then allegedly asked Mr do Val to get the head of the electoral authority, Justice Alexandre de Moraes, to make compromising comments on tape that would lead to his arrest.
"I immediately said that I would not do that, I would not do that type of thing," said Mr do Val, who claimed that Mr Bolsonaro "sat in silence" while Mr Silveira laid out the details of the plot during the meeting.
However, he has denied suggestions that he was coerced by the former president, telling journalists he "was in a position similar to mine, listening to an odd idea by Daniel Silveira".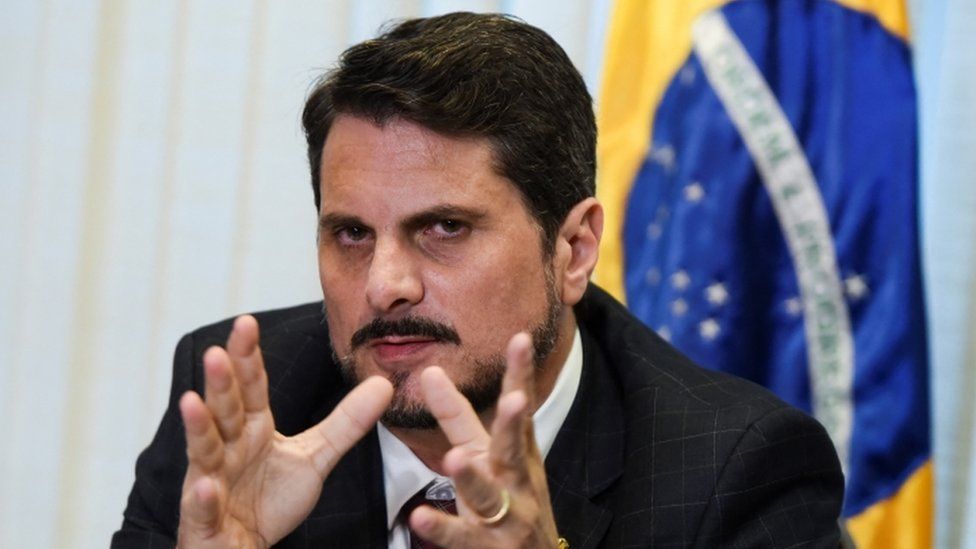 Mr do Val's comments come after Mr Silveira was arrested on Thursday in relation to previous offences after his parliamentary immunity came to an end.
Thousands of Bolsonaro supporters stormed the country's Supreme Court, Congress and presidential palace in the capital, Brasília, after camping in and around the city for weeks calling for a military coup.
Mr Bolsonaro has voiced "regret" for the unrest, but denies he caused it. Neither he nor his representatives have yet commented on Mr do Val's remarks.
The former president is currently in Florida after leaving Brazil at the end of December, before his successor was sworn in. His lawyers have told the BBC he has applied for a 6-month US tourist visa.