Latin America is poised to receive millions of U.S.-made COVID-19 shots in the coming weeks as the United States emerges as a top exporter of vaccines against the novel coronavirus, according to two people familiar with the matter.
The United States is considering prioritizing countries within its own hemisphere for the 80 million domestically-made vaccine doses it has pledged to send abroad, one person familiar with the matter said.
Meanwhile, Pfizer Inc (PFE.N) has begun exporting millions of its U.S.-made shots largely to countries in Central and South America, a second person familiar with the matter said.
Many Latin American countries have a dire need for COVID-19 vaccines as they combat outbreaks. Brazil has been one of the world's hardest hit countries by the pandemic, reporting a total of more than 15 million cases and 400,000 deaths as of this week.
Pfizer, which developed its vaccine with German partner BioNTech SE , is producing around 10 million shots in the United States each week for export as its domestic output pulls ahead of U.S. demand for vaccines, the second person said.
The drugmaker is making shipments from its Michigan facility to U.S. neighbors Canada and Mexico, as well as nearly 10 other Latin American countries, the person said.
Recent recipients of Pfizer's U.S.-made vaccine doses include Brazil, Costa Rica, Ecuador, Peru, and Uruguay, the person added.
The White House is still deliberating how to direct the shots it promised to send abroad and President Joe Biden has not yet made a decision. But giving preference to countries that share a hemisphere with the United States is one argument under consideration because it would be in the American people's interest to do so, the first person said.
The criteria for sharing the vaccine would be epidemiological and include geographic flexibility so that adjustments could be made as the pandemic shifts, another person familiar with the matter said.
VACCINE DIPLOMACY
The United States is competing with China and Russia to deepen its ties around the world and further its geopolitical clout through so-called "vaccine diplomacy."
Republican Senator and former presidential candidate Mitt Romney on Thursday urged the United States to speed up global vaccination sharing to better compete with global rivals. read more
Gayle Smith, the U.S. global coordinator on COVID-19, said on Wednesday that the United States will donate a significant number of COVID-19 vaccines through the COVAX program for distributing doses to poorer countries being co-led by the World Health Organization. read more
Pfizer is directing its U.S.-made shots to Latin America because of the region's proximity to its manufacturing plants and because of the U.S. drugmakers' goal of getting more shots to low and middle income countries, the second person said.
The United States is becoming a top supplier of COVID-19 shots to the world as the success of its own vaccination campaign has led to reduced demand at home.
More than 60% of U.S. adults have received at least one COVID-19 shot, according to federal data. Meanwhile, countries such as India and Brazil are struggling to obtain the doses they need to help bring severe outbreaks under control.
Brazil has only distributed enough shots so far to have vaccinated around 13% of its population, even as it records almost 65,000 new cases per day on average, according to Reuters data.
Biden said on Monday the White House will give out 20 million shots previously earmarked for U.S. residents by the end of June. They will include vaccines made by Pfizer, Moderna Inc (MRNA.O) and Johnson & Johnson (JNJ.N). read more
The White House is also planning to give other countries around 60 million U.S.-made doses of AstraZeneca's (AZN.L) vaccine, which is not yet authorized for use in the United States.
Pfizer began exporting doses from its Kalamazoo, Michigan plant last month, with the first batch of shipments abroad going to Mexico. A deal with the White House last year had barred it from exporting doses until after March 31, Reuters reported. read more
Pfizer is continuing to hold talks with India, where the virus is raging out of control, as its shot is not yet authorized by India. The timeline for any potential agreement is not clear, the second person said.
=============================================
Vaccines are satanic': Bolivia battles fake news in inoculation drive
Bolivia's immunization drive against COVID-19 is being hit by anti-vaccine misinformation that is stoking scepticism and leaving inoculation centers half empty, a challenge for the government facing a wave of new infections.
Health workers and officials have raised concerns about low turnout at some vaccination sites, saying jabs are going to waste. They blame fake news campaigns that have included leaflets saying vaccines contain "satanic" material.
"We read some pamphlets in El Alto from anti-vaccine groups about the presence of a substance in the vaccines from Lucifer and because of that the vaccines were satanic," said Maria Rene Castro, deputy minister of epidemiology.
"Global disinformation has come to our country and it has had an impact on people who are avoiding getting vaccinated."
Bolivia, like much of South America, is being hammered by a deadly new wave of coronavirus infections, with recent daily cases at 98% of the country's peak set in February. So far a total of 340,000 people have been infected and 14,000 have died. (Graphic on cases and deaths)
The region has also struggled with a scarcity of vaccines, though Bolivia has started to see more doses flow in after deals for Russia's Sputnik V, China's Sinopharm (1099.HK) and with India's Serum Institute for AstraZeneca (AZN.L) shots. read more
However, many vaccines centers in major cities have continued to face low turnout, with empty sites and queues.
"I don't want to get vaccinated, I don't want to die and I don't want to get sick," said El Alto resident Rogelio Mayta.
Health worker Patricia Almanza said that organization around the vaccine campaign had been poor, which had not helped encourage people to come to get their shots.
"It's criminal that during this time of the pandemic we have to discard vaccines," she said.
"There are places where the vaccines are being discarded, or health workers are going out to look for people to vaccinate so that something so precious is not being thrown away."
Bolivia has given at least one shot to just 7% of its population, far behind the 32% in the European Union and 48% in the United States. (Graphic on vaccinations)
Wealthier Latin Americans have traveled overseas, especially to the United States, to get vaccinated, which has created a stark divide between the rich and poor. Vaccine scepticism risks widening that even further. read more
"For me the COVID-19 vaccine is not credible," said Ismael Blanco on the dusty narrow streets of the highland city. "I don't trust the vaccine."
===============================================
Dogs can better detect Covid in humans than lateral flow tests, finds study
French trial shows dogs were able to detect presence of coronavirus with 97% accuracy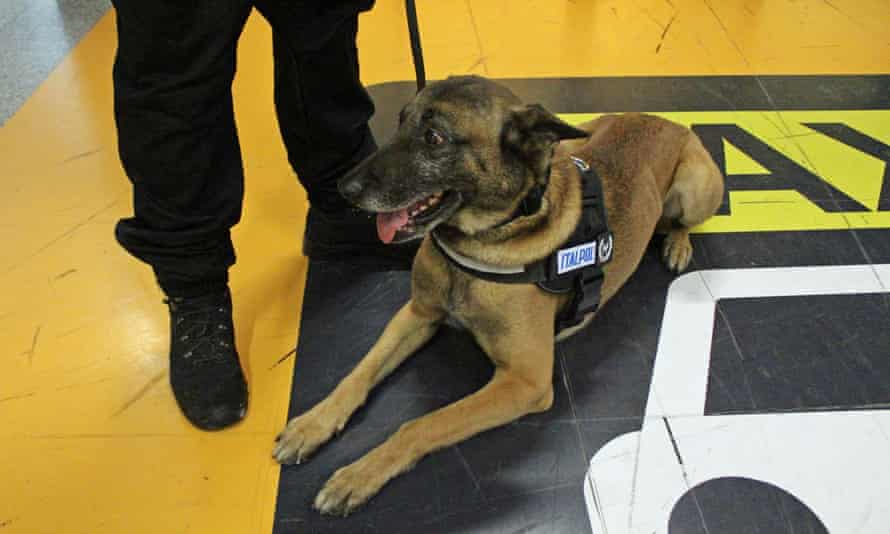 Guardian- Dogs are better at detecting Covid-19 in humans than many fast lateral flow tests (LFTs), according to a French study which could see canines more widely deployed for mass virus screening in crowded places including airports.
The trial, conducted in March and April by France's national veterinary school and the clinical research unit of Paris's Necker-Cochin hospital, showed dogs were able to detect the presence of the virus with 97% accuracy.
The dogs were also 91% correct in identifying negative samples, the study showed. A recent review of 64 studies found LFTs correctly identify on average 72% of people infected with the virus who have symptoms, and 58% who do not.
"These results are scientific confirmation of dogs' capacity to detect the olfactory signature of Covid-19," the Paris hospital board said, adding that the study – which is due to be published in a scientific review – was the first of its kind.
"These are excellent results, comparable with those of a PCR test," Prof Jean-Marc Tréluyer told Agence-France Presse. Tréluyer said dogs would not replace polymerase chain reaction (PCR) tests, which are significantly more reliable than LFT tests.
But, he said, "they could help identify those people who should undergo a full viral test and – because the dogs' response is so quick – facilitate mass testing" in places such as airports, train stations and concert venues.
In the French study, researchers collected samples – cotton pads pressed for two minutes under participants' armpits – from 335 people aged between six and 76 who presented themselves for a PCR test at testing centres in Paris.
The pads were then sealed in jars and given to at least two of the nine dogs used in the trial – none of whom came into contact with the volunteers – to be sniffed. The dogs' handlers did not know in advance which samples were positive.
The dogs detected 97% of the 109 people whose PCR test subsequently proved positive, and 91% of those whose PCR test was negative.
Researchers in countries including Australia, Germany and Britain have experimented with dogs to detect Covid, while Finland and the United Arab Emirates last year launched trials with sniffer dogs at Helsinki and Dubai international airports.
============================================
WORLD STATS
Coronavirus Cases:
165,877,177
Highlighted in green
= all cases have recovered from the infection
Highlighted in grey
= all cases have had an outcome (there are no active cases)