Before he arrived at a city-run shelter in Manhattan, Wilson, a 23-year-old Venezuelan asylum seeker, crossed through multiple Central American countries, over the US-Mexico border, up the eastern seaboard and, finally, to New York City.
Now, he will likely have to move again.
Wilson and dozens of other migrants have been sheltering at the Watson Hotel in New York, but officials have told them they must leave by 31 January.
"The Watson Hotel humanitarian relief centre will transition to serve arriving families with children seeking asylum," the city announced earlier this month. More than 28,000 asylum seekers are currently in the city's care, and Mayor Eric Adams said New York was at breaking point.
The decision has led to an ongoing stand-off, with men refusing to board buses to an alternative shelter and police demanding they take down tents they had set up outside.
"People here are frustrated," said Wilson, who like others spoke through a translator and asked the BBC to withhold his surname for safety reasons.
"The city tells us that they're helping us but that's not true," he said. "And so we understand that it's all political because we're not receiving the help that we are supposed to be getting."
The migrant's protests have put the spotlight back on an issue that has been simmering in New York City for months. A large number of migrants have arrived here in that time, some coming of their own accord, while others have been bussed by border-state Republicans who want to pressure Democrats to act on immigration.
More than 41,000 asylum seekers have arrived in the city since lasts spring, according to the mayor's office, with the number growing each week.
To accommodate the men who have been asked to leave the Watson Hotel, New York officials have set up a 1,000-bed emergency facility at the Brooklyn Cruise Terminal which they say will safely house whoever needs shelter. The city said the facility would also have medical services and laundry equipment.
But the men at the Watson Hotel, and immigration advocates who support them, have reported poor conditions which they say includes cots laid end-to-end and little privacy. And they say the terminal is located too far from public transportation or the limited job options that can give them a foothold in one of the world's most expensive cities.
On Monday, dozens of men milled outside the Watson Hotel, urging residents not to board buses bound for the Brooklyn Cruise Terminal shelter or other locations. They occasionally chanted, but most stood around tables of food and coffee that volunteers had brought to support them. About a dozen police officers kept watch on the scene.
There was some confusion with migrants hearing conflicting reports about the conditions at the Brooklyn shelter or how long they should have been permitted to stay at the Watson Hotel. One protester shouted, incorrectly, that the buses to the new shelter were being run by federal immigration authorities.
"People were fearful about what would happen if they went to Brooklyn Cruise Terminal," said New York City Councilmember Shahana Hanif, a Democrat who chairs the immigration committee.
Mr Adams defended the facility, saying that it was heated and "healthy food is present," according to a local ABC News affiliate.
A video from inside the facility, released by the Department of Immigrant Affairs, showed ping pong tables, sofas, a few televisions, and many long tables set up for migrants.
Another video, provided to the BBC by a migrant who said he had visited the shelter, showed many rows of cots packed densely together in a large, warehouse like room. The cots came with pillows and what appeared to be sheets.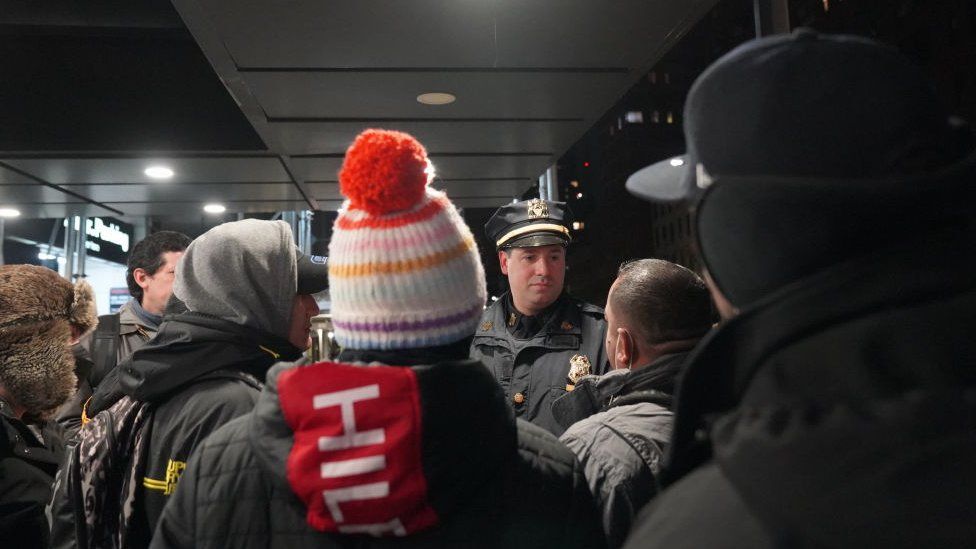 The city is now running two separate shelter systems through the Department of Homeless Services and a new, separate, emergency program that includes the Watson Hotel, the Brooklyn Cruise Terminal, and a handful of other hotels taken over by the city.
"We must get this resolved, but there's a crisis right now, and that crisis should be co-ordinated by the national government," Mr Adams told CNN on Monday. He called on the White House to expedite the work permit process. At the moment, many migrants cannot legally work for several months after applying for asylum, making them even more reliant on city-run shelters for housing.
Several have started working anyway, putting them in a "precarious situation," Ms Hanif said.
Jordan, a 33-year-old Venezuelan asylum seeker, had recently found work installing security cameras. He said he enjoyed the work but feared eviction from the Watson Hotel would set back his progress.
He said he had hoped for "another month or something so I would be able to save up a little money to rent a room".
The only thing he asked from the city, he said, was a place he could stay in the meantime.