Novavax 'encouraged' by results of joint COVID-flu vax
U.S. biotech company Novavax said on Wednesday that its COVID-Influenza vaccine was shown to induce an immune response and was well-tolerated.
"We continue to evaluate the dynamic public health landscape and believe there may be a need for recurrent boosters to fight both COVID-19 and seasonal influenza," Gregory Glenn, Novavax's president of research and development, said in a statement.
"We're encouraged by these data and the potential path forward for a combination COVID-19-influenza vaccine as well as stand-alone vaccines for influenza and COVID-19," said Glenn.
According to the company, its combined vaccine was shown to be "generally well tolerated" and serious adverse effects were "rare."
The company's clinical trial looked into different formulations of the potential COVID-Influenza vaccine, which Novavax said involved "powerful fine-tuning" of the different doses of its COVID and influenza vaccines.
Different formulations of the combined vaccine induced immune responses that were "comparable" to standalone COVID-19 and flu shots, Novavax said.
==================================
Shanghai lockdown: Whole communities relocated in anti-Covid drive
By Robin Brant
BBC News, Shanghai
The BBC has been told of fresh efforts to relocate entire communities in areas of Shanghai as Chinese authorities enforce extreme measures to try to stop a new wave of Covid.
An official notice from local Communist Party officials in an area in the north of the city details orders to transfer residents to quarantine facilities more than 100 miles (160km) away.
The plan is to move people from their homes in Pingwang to the neighbouring province of Zhejiang, where they will stay for at least a week. Young children, the elderly and those with disabilities could be excluded, according to the notice.
It said only those who tested negative could go – it's not clear why people with negative tests are being moved. Officials are under great pressure to cut the risk of transmission and reduce cases to zero.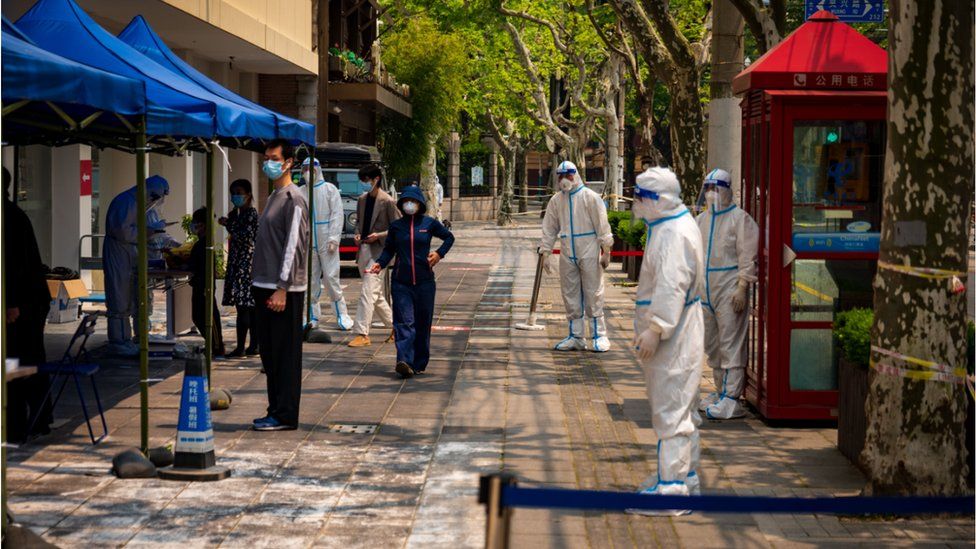 It comes just days after authorities moved people out of their homes and evacuated much of the population in another area of Shanghai.
At least 1,000 people were forced to leave the small town of Beicai and move to temporary accommodation so officials could disinfect the area on the outskirts of the Pudong area in the east of the city.
An official notice issued to residents told them to pack their belongings and leave their wardrobe doors open. They were also told to leave open the front door of their home. Images on social media of people queuing with packed suitcases at night-time showed the scale of the operation.
The notice from the town's Epidemic Prevention Office also included this order: "You cannot bring your pets with you during this evacuation, but we will arrange for them to be taken care of."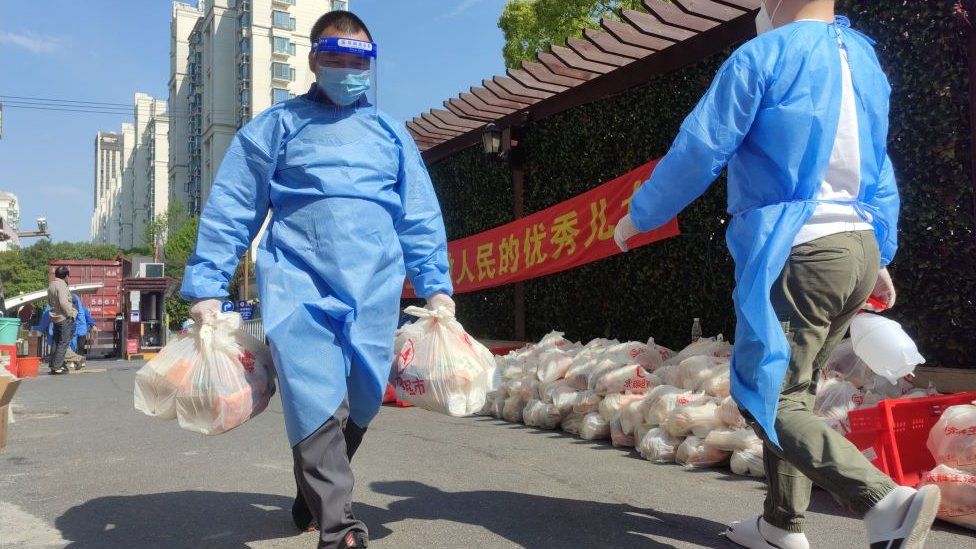 It's a renewed sign of the extreme lengths to which China is willing to go to stop the spread of Covid in Shanghai, which has recorded about 400,000 cases during this outbreak. Most of the city's 25 million population remain under a strict lockdown which is now in its fourth week.
This week officials in the city have recorded 17 people who died after contracting Covid. Nearly all were elderly, unvaccinated residents with underlying health problems.
Video has emerged on social media showing health workers in full PPE walking through Beicai spreading lime powder in the streets and pavements to try to kill any remaining remnants of the virus. Local government officials had earlier denied claims that up to 8,000 people there had tested positive, dismissing it as "false information".
Residents were reportedly moved to several quarantine centres or quarantine hotels. One 33-year-old woman, who was sent to a school that had been requisitioned, posted on social media: "I had enough, just arrived last night but I already want to go back home!!!"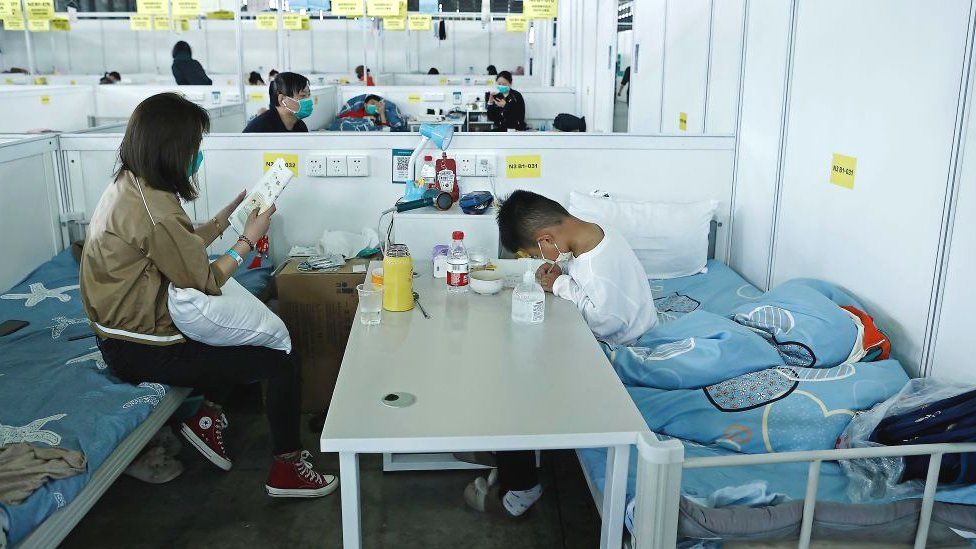 Others said the conditions in the temporary hospitals they'd been moved to were an improvement. One domestic worker who is in her 40s said she was among 100 people taken to a facility where she said the food was better. In an earlier post she'd complained about the government supply of "two carrots, one rotten pumpkin and two ears of corn".
The decision to relocate a large number of the town's population appears to have come immediately after a visit by a very senior Communist Party official. Vice Premier Sun Chunlan, who is in charge of day-to-day measures to counter the spread of Covid across China, went to see for herself the extent of the problem the day before the evacuation took place.
On the same day – 16 April – she visited a nearby area of Shanghai and instructed officials that there should be "no exemptions", adding "all infected people should be treated, all close contacts should be isolated".
The BBC has tried repeatedly to contact officials in the area via the public phone number. The official notice handed out to residents ended by saying: "In the face of the sudden epidemic, the only way we can overcome the difficulties together is to work together and return to normal life as soon as possible."
This is not the first time that authorities in China have moved the entire population of a town to try to stop the virus spreading.
Earlier this year around 9,000 residents of two compounds in nearby Hangzhou were moved out en masse to what was described as "centralised isolation sites" after an outbreak of the Omicron variant.
In January last year around 20,000 people living in more than a dozen towns in Hebei – a province near Beijing – were transferred in an effort to contain the virus.
=====================================================
Woman Caught Covid Twice in 20 Days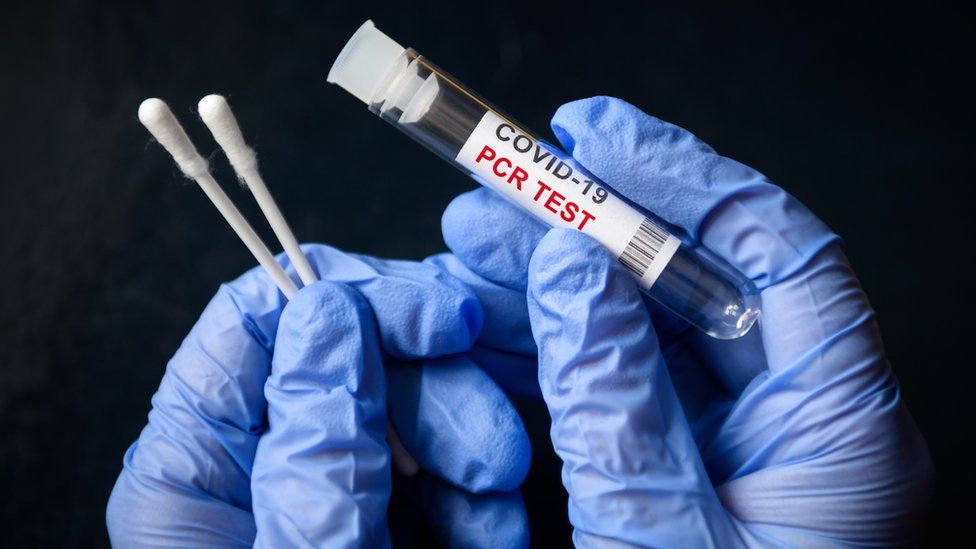 A 31-year-old healthcare worker caught Covid twice within 20 days – the shortest-known gap between infections, Spanish researchers have claimed.
Tests show the woman was infected with two different variants – Delta in late December and then Omicron in January.
This shows that even if you have had Covid before, you can still be infected again even if fully vaccinated, the researchers say.
Reinfections in the UK require 90 days between positive tests.
Based on that definition, health officials say nearly 900,000 people have potentially been infected twice with Covid up to the start of April.
It is difficult to pin down an exact number, because only whole genome sequencing can confirm the infections are caused by different strains, and very few positive tests go through this process.
The Spaniard did not develop any symptoms after her first positive PCR test, but less than three weeks later she developed a cough and fever which prompted her to take another test.
When the tests were analysed further, they showed the patient had been infected by two different strains of coronavirus.
In a presentation at the European Congress of Clinical Microbiology and Infectious Diseases, study author Dr. Gemma Recio said the case highlighted that Omicron can "evade the previous immunity acquired either from a natural infection with other variants or from vaccines".
She said: "In other words, people who have had Covid-19 cannot assume they are protected against reinfection, even if they have been fully vaccinated.
"Nevertheless, both previous infection with other variants and vaccination do seem to partially protect against severe disease and hospitalisation in those with Omicron," added Dr Recio, from the Institut Catala de Salut, Tarragona in Spain.
She said monitoring reinfections in people who were fully vaccinated was important, and would help the search for variants which evade vaccines.
Covid reinfections rose sharply in December 2021 after the much more infectious Omicron variant emerged, and there was another increase when a slightly different version of it, called BA.2, appeared in early March.
Before that, 1% of all cases recorded in the UK were labelled as second infection – but that has now gone up to 11%.
Most are likely to be people infected by the Alpha or Delta variants and then infected again by the more contagious Omicron.
Scientists predict that eventually everyone will catch Covid twice, and probably many more times over the course of their lifetime.