New COVID-19 cases in US soar to highest levels on record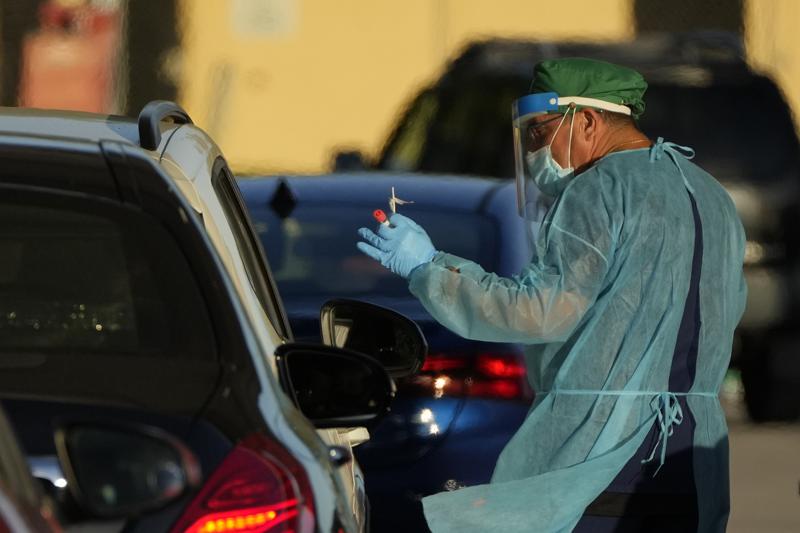 CHICAGO (AP) — More than a year after the vaccine was rolled out, new cases of COVID-19 in the U.S. have soared to their highest level on record at over 265,000 per day on average, a surge driven largely by the highly contagious omicron variant.
New cases per day have more than doubled over the past two weeks, eclipsing the old mark of 250,000, set in mid-January, according to data kept by Johns Hopkins University.
The fast-spreading mutant version of the virus has cast a pall over Christmas and New Year's, forcing communities to scale back or call off their festivities just weeks after it seemed as if Americans were about to enjoy an almost normal holiday season. Thousands of flights have been canceled amid staffing shortages blamed on the virus.
Dr. Anthony Fauci, the top U.S. infectious-disease expert, said Wednesday that there is no need to cancel small home gatherings among vaccinated and boosted family and friends.
But "if your plans are to go to a 40- to 50-person New Year's Eve party with all the bells and whistles and everybody hugging and kissing and wishing each other a happy new year, I would strongly recommend that this year we not do that," he said.
The threat of omicron and the desire to spend the holidays with friends and loved ones have spurred many Americans to get tested for COVID-19.
Aravindh Shankar, 24, flew to San Jose, California, on Christmas from West Lafayette, Indiana, to be with family. Though he felt fine, he decided to get tested Wednesday just to play it safe, since he had been on an airplane.
He and his family spent almost an entire day searching for a testing appointment for him before he went to a site in a parking lot next to the San Jose airport.
"It was actually surprisingly hard," Shankar said about trying to find a test. "Some people have it harder for sure."
The picture is grim elsewhere around the world, especially in Europe, with World Health Organization chief Tedros Adhanom Ghebreyesus saying he is worried about omicron combining with the delta variant to produce a "tsunami" of cases. That, he said, will put "immense pressure on exhausted health workers and health systems on the brink of collapse."
The number of Americans now in the hospital with COVID-19 is running at around 60,000, or about half the figure seen in January, the Centers for Disease Control and Prevention reported.
While hospitalizations sometimes lag behind cases, the hospital figures may reflect both the protection conferred by the vaccine and the possibility that omicron is not making people as sick as previous versions.
COVID-19 deaths in the U.S. have climbed over the past two weeks from an average of 1,200 per day to around 1,500.
Public health experts will be closely watching the numbers in the coming week for indications of the vaccines' effectiveness in preventing serious illness, keeping people out of the hospital and relieving strain on exhausted health care workers, said Bob Bednarczyk, a professor of global health and epidemiology at Emory University.
CDC data already suggests that the unvaccinated are hospitalized at much higher rates than those who have gotten inoculated, even if the effectiveness of the shots decreases over time, he said.
"If we're able to weather this surge with hopefully minimal disruptions to the overall health care system, that is a place where vaccines are really showing their worth," Bednarczyk said.
It's highly unlikely that hospitalization numbers will ever rise to their previous peak, said Amesh Adalja, senior scholar at the Johns Hopkins Center for Health Security at the Bloomberg School Public Health. Vaccines and treatments developed since last year have made it easier to curb the spread of the virus and minimize serious effects among people with breakthrough infections.
"Its going to take some time for people to get attuned to the fact that cases don't matter the same way they did in the past," Adalja said. "We have a lot of defense against it."
But even with fewer people hospitalized compared with past surges, the virus can wreak havoc on hospitals and health care workers, he added.
"In a way, those hospitalizations are worse because they're all preventable," he said.
Several European countries, including France, Greece, Britain and Spain, also reported record case counts this week, prompting a ban on music at New Year's celebrations in Greece and a renewed push to encourage vaccination by French authorities.
WHO reported that new COVID-19 cases worldwide increased 11% last week from the week before, with nearly 4.99 million recorded Dec. 20-26. But the U.N. health agency also noted a decline in cases in South Africa, where omicron was first detected just over a month ago.
___ Associated Press writer Terry Tang in San Jose, California, contributed to this report.
=====================================================
Fauci: Omicron not as severe for vaccinated
© Julia Nikhinson
Early data show the omicron variant of the coronavirus appears to be less severe than the delta strain among people who are vaccinated, Anthony Fauci said Wednesday.
Citing international studies and some initial data from U.S. hospitals, Fauci said people who are vaccinated and boosted are also less likely to be hospitalized. And despite a surge in infections over the past month, hospitalizations have not increased nearly as quickly.
"We know now, incontrovertibly, that this is a highly, highly transmissible virus. We know that from the numbers we're seeing," Fauci told reporters during a White House briefing.
However, he said, "all indications point to a lesser severity of omicron versus delta."
The numbers: Omicron is now the dominant strain of coronavirus, but delta is still prominent. Cases were already rising steadily this fall because of the delta variant, but the emergence of omicron in the past month has led to a near vertical spike.
The U.S. on Tuesday broke a record for most single-day COVID-19 infections, with 441,278 cases. That surpassed the previous daily record by close to 150,000.
On Wednesday, the Centers for Disease Control and Prevention reported another 431,567 infections. The seven-day average of cases hit a record 277,241, an increase of more than 60 percent over the past week.
Positive signs? Fauci on Wednesday said there's been a 126 percent increase in cases over the past two weeks, but only an 11 percent increase in hospitalizations.
While hospitalizations and deaths are a lagging indicator, the "disparity between cases and hospitalizations strongly suggest there will be a lower hospitalization to case ratio," Fauci said.
Fauci noted that omicron has some ability to evade immunity, particularly against infection. But for people who are vaccinated, they remain protected against severe illness.
==========================================
Florida Adds 39,000 New COVID Cases from Christmas Weekend
MIAMI (AP) — Florida reported 39,000 new COVID-19 cases on Monday from the Christmas weekend, as thousands of people waited in lines for tests following holiday gatherings and flights on crowded airplanes.
Florida reported 17,955 new cases from Sunday and another 21,040 cases from Christmas Day, according to figures from the Centers for Disease Control and Prevention.
Florida has seen a sharp increase in new COVID-19 cases in the past week. Last Friday, it added more than 32,000 cases, a day after reporting 31,000 in one day as well.
Following the Christmas weekend, thousands of Floridians around the state lined up sometimes for hours Monday to get COVID-19 tests. At a testing site on the east side of Orlando, some people waited three hours for their turn.
"I feel terrible. I feel like I wanna be at home in bed, take a cold shower. It's getting tough out here," Irma Bernabe told Orlando television station WESH.
At Miami-Dade County libraries, workers handed out 90,000 free take-home COVID tests, according to the Miami Herald. The county also distributed more than 12,000 tests at its libraries on Christmas Eve.
The number of new COVID-19 cases even forced the cancellation of the latest performance of George Balanchine's "The Nutcracker" by the Miami City Ballet.
The dance company said it had to make "the difficult decision," and only announced it publicly about an hour before the Sunday afternoon show at the Adrienne Arsht Center in downtown Miami.
"These are challenging times for all and we truly appreciate your support and understanding as we navigate the necessary changes," said the statement posted on the company's Instagram page.
The Miami City Ballet has not yet announced whether the final performances slated for Wednesday and Thursday in West Palm Beach will go on as planned.
==================================================
US Domestic travel mandate back in spotlight
© Istock
The debate over requiring COVID-19 vaccines for domestic travel is back in the spotlight this week, despite pushback from the business community and the potential for strong backlash if the Biden administration imposes such a mandate.
The White House said that a potential mandate is not off the table, and the uptick in COVID-19 cases brought on by the highly transmissible omicron variant has raised questions over whether a requirement is another way to keep Americans safe.
President Biden's chief medical adviser, Anthony Fauci, said on Wednesday that the administration is discussing a mandate, but pointed to the safety of the mask requirement in place for all U.S. transportation networks.
"When you're dealing with domestic flights, you want to keep people safe on domestic flights. And as I said, right now, we feel that the masking requirement and the degree of filtration on a plane is sufficient to keep people safe," Fauci told reporters during a White House COVID-19 response team briefing. "If there's a need to do more beyond this masking, mainly having a vaccine issue, we will seriously consider that as new information arises."
Airline lobby: Airlines and other business groups oppose a vaccine and testing requirement for domestic air travel. Delta Air Lines on Wednesday reiterated their position that the health protections on airlines enable safe travel, pointing to the hospital grade filtration systems and masking onboard aircraft and inside airports.
The administration is already facing criticism for new guidelines that halved the isolation time for people who are asymptomatic or showing improved symptoms, which came after pressure from the airline industry.
HAVANA, Dec 29 (Reuters) – Cuba will give booster shots to its entire population in January, according to a report in state-run media, in a bid to keep the highly contagious Omicron variant of the coronavirus at bay.
Health authorities in the island, heavily dependent on tourism, last week reported a 35% week-on-week jump in coronavirus cases.
As of Tuesday, they had registered at least 44 cases of Omicron, though both infections and deaths from COVID-19 remain at 1% of their pandemic peak on Aug. 22, according to statistics compiled by the online database "Our World in Data".
Health Minister Jose Angel Portal Miranda said the threat from Omicron had prompted Cuba to fast-track its booster campaign, and that all those eligible would have a booster shot in January, according to the state news outlet CubaDebate.
Cuba has already administered nearly 1.5 million boosters in the capital Havana, and to high risk groups such as health care workers. That campaign will now spread across the island in the coming weeks.
The poor, communist-run nation has vaccinated 92% of its population with at least one shot, and 85% with a full course, of its homegrown vaccines, according to "Our World in Data."
That puts it second in the world behind only the United Arab Emirates, among countries of at least 1 million people. read more
Cuba has vaulted ahead of its neighbors in Latin America and other emerging economies by developing its own vaccines instead of competing for those produced by wealthier nations.
Officials say Cuba's protein-based shots – Abdala, Soberana 02 and Soberana Plus – give upwards of 90% protection against symptomatic COVID-19 when offered in three-dose schemes, though those claims have yet to be fully vetted in peer-reviewed journals, or by the World Health Organization.
Cuban scientists had previously called for boosters to be given six months after the first three shots, but have now halved that time, the CubaDebate report said.
Reporting by Dave Sherwood and Marc Frank; Editing by Kevin Liffey