UK Prime Minister Boris Johnson has promised to ban people guilty of sending racist abuse to footballers from attending matches.
The prime minister said he would ensure the "football banning order regime is changed" to crack down on racism.
Labour has been calling for the law to be changed after England players were subject to abuse on social media.
But Sir Keir Starmer said the PM's promise to take action "rings hollow" after his previous refusal to condemn fans who booed players taking the knee.
An online petition calling for the FA and the government to ban those who have carried out racist abuse to be banned for life has reached over a million signatures.
The prime minister said: "What we are doing is taking practical steps…so that if you are guilty of racist abuse online on football, then you will not be going to the match. No ifs, no buts, no exemptions, no excuses."
A football banning order is used to ban someone from attending matches for a set period of time, and can be imposed for offences such as throwing missiles onto the playing area or into the crowd, and racist or indecent chanting at a match.
Downing Street says there will be a 12 week consultation on changing banning orders to include online abuse offences. The government wants the changes to happen "as swiftly as possible" but has not given a precise timetable.
'Culture war'
At a stormy Prime Minister's Questions, Labour leader Sir Keir Starmer said: "We could all see what's happened here – the government has been trying to stoke a culture war and they've realised they're on the wrong side, and now they're hoping nobody has noticed.
"Why else would a Conservative MP boast that he's not watching his own team?
"Why else would another Conservative MP say that Marcus Rashford spends too much time playing politics when he's actually trying to feed children that the government won't? And why will the prime minister refuse time and time again – even now – to condemn those who boo our players for standing up against racism?"
The prime minister said: "Nobody defends booing the England side."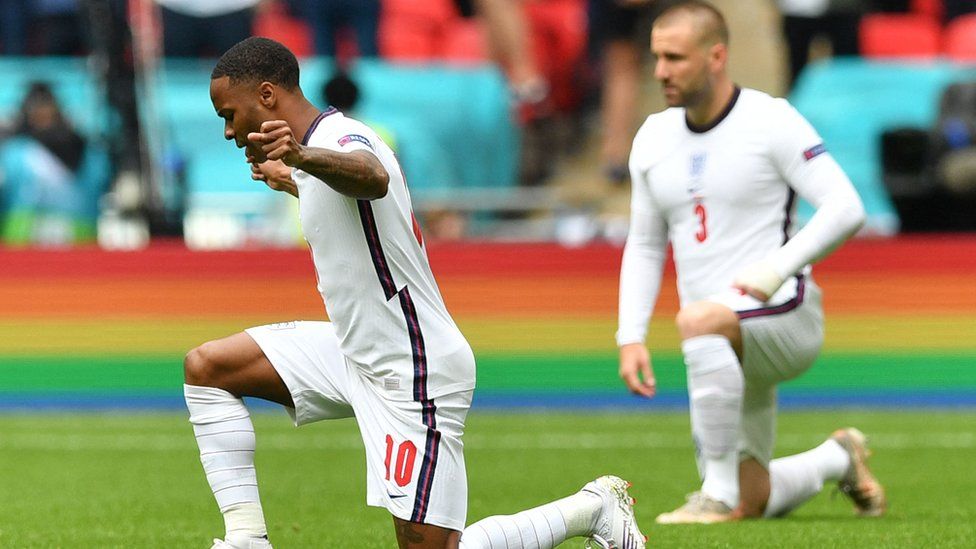 Sir Keir accused the PM of not showing racism the red card, but instead giving it the "green light" and of indulging in the "worst kind of gesture politics", by "putting on an England shirt over a shirt and tie whilst not condemning those booing".
Patel 'faced racism'
Home Secretary Priti Patel described the act as "gesture politics". Asked in June if she would criticise fans who booed England players taking the knee, Home Secretary Priti Patel said: "That's a choice for them, quite frankly."
On Monday, the home secretary tweeted that she was "disgusted" by the online abuse directed at some England players, after the team lost to Italy on penalties in Sunday's Euro 2020 final.
England footballer Tyrone Mings replied that she had "stoked the fire" through her stance on taking the knee.
Sir Keir challenged the prime minister on the home secretary's stance, saying: "He (Mings) is right, isn't he?"
Mr Johnson defended the home secretary and said Ms Patel had "faced racism and prejudice all her career of a kind that he can never imagine".