The first horn of the 2023 Pure Grenada Sailing Week blew this morning at 10am as the fleet, 30 boats strong, adjusted their sails to a gentle northeasterly 10 to 12-knot breeze.
All appeared in good form as they prepared to carry 200 crew over the start line in Tyrell Bay and along the same 30-mile course around Grenada's sister island of Carriacou.
The Simplified (cruising) class were up first, with Grenada's own Bronwen McKiever first over the line on her 1966 Morgan 34, Sea Swan. Next up were the Multihulls, where Spirit of Everest, a Leopard 47 owned by Grenadian Robbie Yearwood, led the class. The Classics took the the line next as Mah Jong, a Yawl 52 skippered by Carriacou's Alex Goldhill, crossed before the six other in the class. The largest class this year, CSA 2 with 11 boats, was next, where Bernard Evan-Wong's modified Cal 40, Huey Too, led the pack. Intermittent lulls began to interfere with the start of the last class, CSA 1, were Jean Michael Figueres's Farr 40, Maisons Satec, was first out the gate.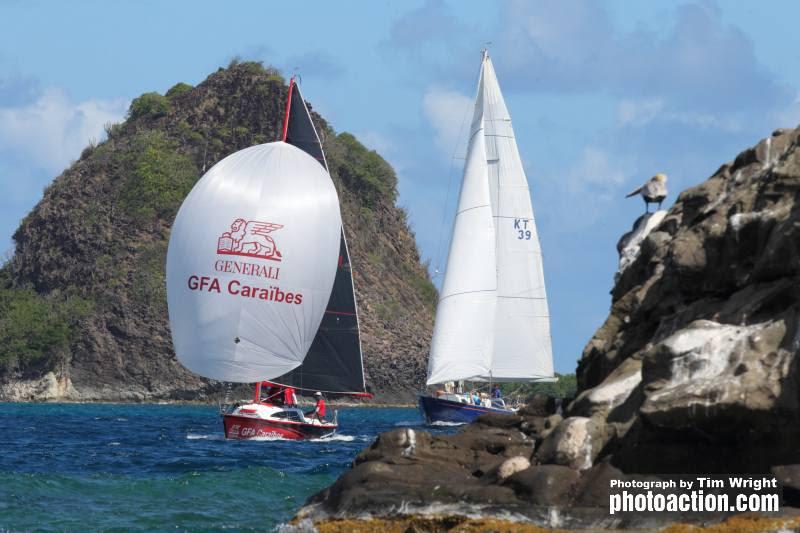 2023 Pure Grenada Sailing Week day 1 – photo © Tim Wright / www.photoaction.com
Light winds continued to plague the fleet as they tacked upwind along Carriacou's leeward coast and between the offshore islands of Mabouya and Sandy. The wind picked up as the boats rounded Carriacou's northern point, Gun Point, and began their downwind run outside Windward's barrier reef, many hoisting their spinnakers. Maisons Satec, took line honours at Tyrell Bay and across the finish line, having circumnavigated Carriacou in just under 3 hours (2:57:05). Following only a few minutes behind was Chris Wood's Nautor Swan 48, Assuage, and On Deck's Millenium Farr 65, Spirit of Juno. The next few hours saw the majority of the fleet cruise back into the bay as corrected times were calculated and results accumulated. Just before 4pm the last boats crossed the finish line.
Final results saw Richard Szyjan's Hobie 33, Category 5, take first place in the CSA 1 class, followed less than two minutes of corrected time by Maisons Satec, and GFA Caraibes – La Morrigaine only eight seconds later.
In CSA 2 Mark Chapman's Dingolay took first place, followed by Huey Too in second, and Assuage following closely behind.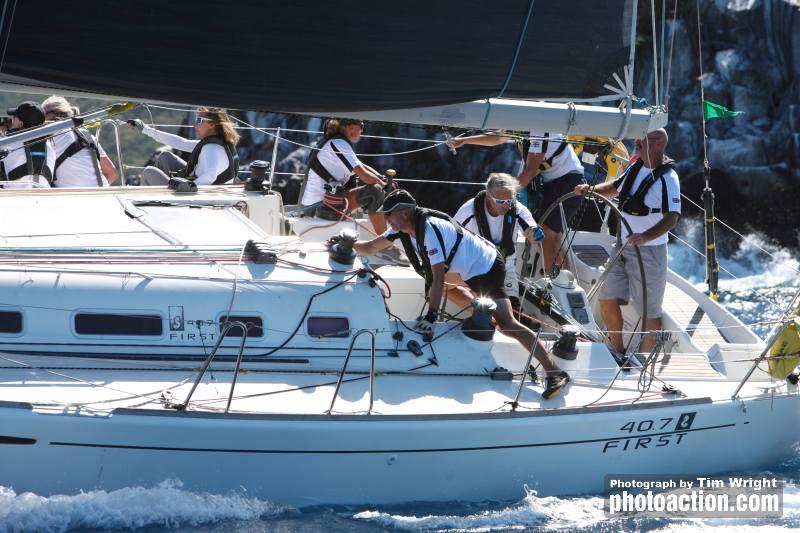 2023 Pure Grenada Sailing Week day 1 – photo © Tim Wright / www.photoaction.com
The Alfred Mylne 65, The Blue Peter, placed first in the Classics class, with Judd Tinius's Galatea taking second, and Glacier, the locally-built sloop built by Windward resident Benson Patrice, skippered by his son and crewed by his grandson, took third place.
John McMonigall's Oyster 82, Zig Zag, finished 40 minutes of corrected time ahead of the second place finisher, Amandla Kulu, a Hanse 505. Bronwen McKiever's Sea Swan placed third.
With only three Multihulls competing today, the Leopard 47 Spirit of Everest placed first, followed by Diane and David Slater's Delphine. Sean Thomas's Apollon and Daphne struggled to get around the north of the island and submitted a DNF.
With an otherwise successful and exciting start to the regatta, the 2023 Pure Grenada Sailing Week is shaping up to be a fun-filled and competitive event.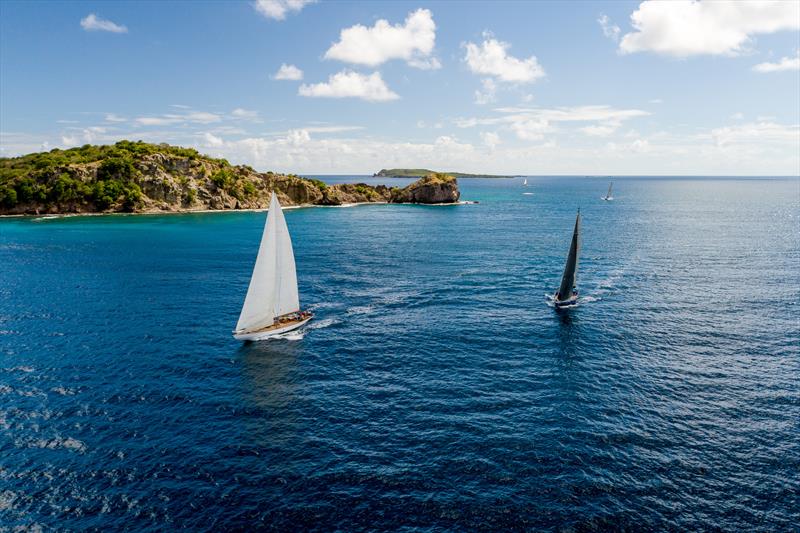 2023 Pure Grenada Sailing Week day 1 – photo © Arthur Daniel