Reuters
ST ANDREW, Jamaica, June 24 (Reuters) – At a Rastafari farming community high up in the hills above Jamaica's capital, dreadlocked locals gather at the temple to worship and celebrate with Bible readings and traditional drumming and chanting. No COVID-19 protocols are in place.
This isolated community of around 100 people called the School of Vision has so far escaped the ravages of the pandemic. They credit traditional medicine, like root wine and herbs such as neem, bitterwood and ginger, for helping fend off the virus, and do not want to take the vaccine.
Jamaica has reported around 16,800 infections and 350 deaths per 1 million people, according to statistics compiled by Reuters – lower than many other countries in the region.
But lockdowns to keep the spread in check have taken a toll on the economy, and in particular on the tourism on which the Caribbean island relies, and authorities are keen to secure and roll out vaccines to return to normality.
One challenge they face is scepticism of vaccines, which is widely shared among Jamaica's Rastafari, who tend to distrust Western medicine and institutions, partly due to a long history of racial injustice.
"There is some danger in (the vaccines) and that is why I am not taking it and not encouraging it," Dermot Fagon, 66, the dreadlocked priest of the School of Vision, told Reuters. He said he feared it would allow authorities to track people via a microchip, a conspiracy theory that has spread in other parts of the world, too.
Although the School of Vision itself is small and fringe, Rastafari – who account for around 5-10% of Jamaica's nearly 3 million inhabitants – have an outsized influence on society.
Prominent Rastafari reggae and dancehall artists like Spragga Benz and Cocoa Tea have voiced skepticism about the COVID-19 vaccines, influencing their large followings on social media.
Only 32% of Jamaicans said they would take a COVID-19 vaccine, according to a recently published Gallup poll – one of the highest vaccine hesitancy rates worldwide and far below the around 60-70% that World Health Organization experts have estimated is needed to achieve herd immunity.
Jamaica's government is aware of the Rastafari community's doubts, and prepared for the reality that not every Jamaican would take the vaccine, Health Ministry Permanent Secretary Dunstan Bryan told Reuters.
"Herd immunity can be achieved without having all those populations vaccinated," he said.
SKEPTICISM
The Rastafari movement developed in Jamaica in the 1930s after a prophecy that a Black man would be crowned king in Africa and Haile Selassie was subsequently made Ethiopian Emperor.
Blending Old Testament Christian prophecy and pan-African political consciousness, Rastafari philosophy and lifestyle became famous around the world through Bob Marley's reggae songs.
Fagon says he took to the mountains outside the capital Kingston years ago to avoid the ills of modern Western society, which Rastafari refer to as 'Babylon,' and live a more natural, harmonious life.
"We don't like the synthetics," Patrick Barrett, a popular reggae artist known as Tony Rebel, told Reuters, adding that food was his medicine. "I would prefer the natural order of things."
Jahlani Niaah, a lecturer of Rastafari studies at the University of the West Indies, said "average Jamaicans have more skepticism" because of Rastafari mistrust. Other groups like evangelical churches are also advising against the vaccines.
Authorities have so far only fully vaccinated some 57,000 people – not even 2% of the population – as they have struggled to obtain the necessary supplies.
For some Rastafari, it's all just a tall tale.
"It is a false alarm," popular reggae artist Worin Shaw, 44, known as Jah Bouks, told Reuters. "They are fabricating a lot of things, government and scientists. It is a money-making thing you know."
Reporting by Kate Chappell in Kingston and Ina Sotirova in St Andrew Writing by Sarah Marsh Editing by Rosalba O'Brien
=======================================================
Russia mandates vaccinations for some as virus cases surge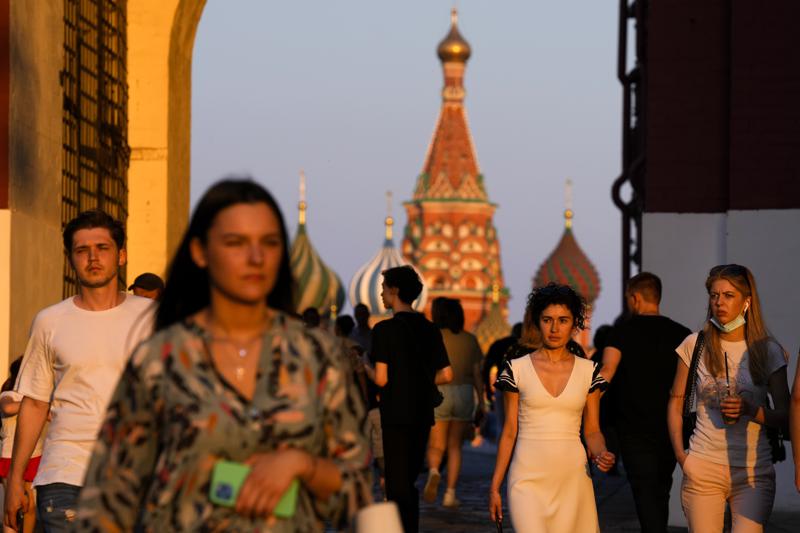 MOSCOW (AP) — They tried grocery giveaways and lotteries for new cars and apartments. But an ambitious plan of vaccinating 30 million Russians by mid-June still has fallen short by a third.
So now, many regional governments across the vast country are obligating some workers to get vaccinated and requiring the shots to enter certain businesses, like restaurants.
As many Western countries lift coronavirus restrictions and plan a return to normal life after mass vaccinations, Russia is battling a surge of infections — even though it was the first in the world to authorize a vaccine and among the first to start administering it in December.
Daily new cases have grown from about 9,000 in early June to about 17,000 on June 18 and over 20,000 on Thursday, with Moscow, its outlying region and St. Petersburg combining for about half of all new infections.
Officials have blamed Russians' lax attitude toward taking necessary precautions and the growing prevalence of more infectious variants. But perhaps the biggest factor is the lack of vaccinations.
Only 20.7 million people, or 14% of its population of 146 million, have received at least one shot as of Wednesday, and only 16.7 million, or about 11%, have been fully vaccinated.
Experts say those numbers are due to several factors, including the public's wariness of the rushed approval and rollout of the Sputnik V vaccine; an official narrative that Russia had tamed its outbreak; criticism on state TV of other vaccines as dangerous; and a weak promotional campaign that included incentives such as consumer giveaways.
In light of the surge, at least 14 Russian regions — from Moscow and St. Petersburg to the remote far-eastern region of Sakhalin — made vaccinations mandatory this month for employees in certain sectors, such as government offices, retail, health care, education, restaurants, fitness centers, beauty parlors and other service industries.
Moscow authorities said companies should suspend without pay employees unwilling to get vaccinated, and they threatened to temporarily halt operations of businesses that don't meet the goal of having 60% of staff get at least one shot by July 15 and both shots by Aug. 15.
As of Monday, all Moscow restaurants, cafes and bars will admit only customers who have been vaccinated, have recovered from COVID-19 in the past six months, or can provide a negative coronavirus test from the previous 72 hours. City officials also limited most elective hospital care to those who are fully vaccinated or can provide tests showing they have antibodies to fight the infection.
The moves seem to be an act of desperation by authorities.
"They backed themselves into a corner, they have no choice now," said Judy Twigg, a political science professor specializing in global health at Virginia Commonwealth University.
"They overhyped this vaccine so that people didn't trust it. Then they took a series of measures that were clearly attempted to make it seem as though the government had everything under control, the pandemic was no big deal. … And now they're in this situation, not surprisingly, where low vaccination rates have left an opening for the delta variant to come in," she said.
Kremlin spokesman Dmitry Peskov insisted Thursday the vaccinations in Moscow were "voluntary," because those refusing to get the shot can still seek a different job.
The governor of the southern region of Krasnodar, home to the Black Sea resort of Sochi, said hotels and sanitariums will only accommodate vacationers with a negative coronavirus test or a vaccination certificate starting July 1. As of Aug. 1, only vaccinated individuals will be admitted.
The mandates have drawn mixed responses, with some saying they are welcome if they prevent closures of businesses, while other say it's unclear how employers can persuade those who don't want the shots.
"Most restaurateurs believe that vaccination is necessary," said Sergei Mironov, founder of a restaurant chain and vice president of the Federation of Restaurateurs and Hoteliers. "But it is necessary to create (the right) conditions for the vaccination (drive)."
"There are too many rumors, and even doctors say different things," and convincing younger employees to get vaccinated is especially difficult, he said.
Tatyana Moskalkova, the government's human rights commissioner, said the unvaccinated have cited discrimination by employers, with threats of dismissal or withholding bonuses.
At a TV awards ceremony Tuesday, popular actor Yegor Beroyev wore a yellow star akin to those worn by Jews under the Nazis in World War II, and he spoke of "waking up in a world where (COVID-19 vaccination) became an identification mark of whether you are a citizen, … will you be able to visit institutions and events, will you enjoy all the benefits and rights."
As proof of vaccination for entering a restaurant, customers must visit a government website and get a QR code, a digital pattern designed to be read by a scanner.
Restaurant owners won concessions Thursday when Moscow agreed the QR codes aren't needed for the next two weeks at establishments with outdoor terraces, and underage customers won't have to provide documentation if accompanied by their parents.
Still, the situation for many restaurants "is hard and will be harder by the day," Mironov said.
In Moscow, online searches for fake inoculation documents increased shortly after the mayor announced mandatory vaccinations, social anthropologist Alexandra Arkhipova told an online lecture on vaccine hesitancy.
Police quickly cracked down, launching 24 criminal cases last week against sellers of fake vaccination certificates. Still, several accounts offering the bogus documents could be found easily on the Telegram messaging app this week.
The number of such offers has grown about 19% every month since March, said Evgeny Egorov, digital risk protection analyst at Group-IB, a Singapore-based cybersecurity company. In mid-June, Group-IB found at least 90 active offers, he said.
The independent pollster Levada Center said polls show about 60% of Russians are unwilling to get vaccinated.
Levada director and sociologist Denis Volkov said the vaccination mandates could change the minds of many because it's a clear signal from the government that the shots are necessary.
"I often hear (from respondents) that they wouldn't do it, are afraid and so on, but if there are restrictions, and it is required for travel, state services, or at work, then yes," Volkov said.
It could be starting to change attitudes. Deputy Prime Minister Tatyana Golikova said the average vaccination rate across Russia has almost doubled in the past week, and long lines have been seen at pop-up vaccination clinics in Moscow shopping malls.
A demand for vaccines could also lead to shortages. As of mid-May, just over 33 million doses were produced in Russia, and a significant amount was exported.
Several regions have reported supply problems this week, but Peskov said those were "temporary logistical difficulties."
=============================================
WORLD STATS
Highlighted in green
= all cases have recovered from the infection
Highlighted in grey
= all cases have had an outcome (there are no active cases)