South African scientists explore vaccines' effectiveness against Omicron
Crucial work will study how well current jabs work and whether they need to be updated to tackle new variant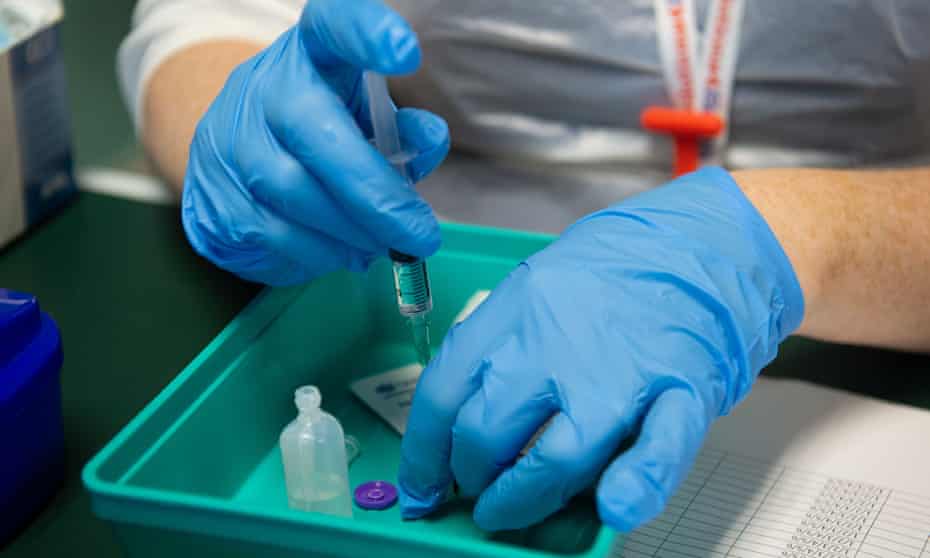 Scientists in South Africa have begun crucial work to assess how well Covid vaccines hold up against the Omicron variant that has been detected in more than a dozen countries since it was formally reported last week.
The variant carries dozens of mutations that are expected to change how the virus behaves, including its ability to cause infection and how well it can hide from immune defences primed by vaccines or previous infection with an older variant.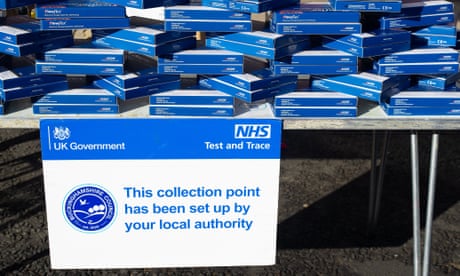 Antibodies protect against viruses by gumming them up and preventing them from infecting human cells. To do so, they must recognise particular parts of the virus. Most Covid antibodies latch on to one of three sites on the virus, but all are mutated in Omicron, meaning antibodies produced by vaccines or past infection may be significantly less effective.
Prof Penny Moore at the University of the Witwatersrand and the National Institute for Communicable Disease in South Africa said "pseudoviruses" – harmless, non-replicating viruses used to model coronavirus variants – will be engineered to carry Omicron's mutations. These will then be exposed to antibody-carrying blood plasma from vaccinated people and those who have recovered from Covid infection to see if they neutralise the virus.
Her lab will assess the protection provided by the Oxford/AstraZeneca, Pfizer/BioNtech and Johnson & Johnson vaccines, while tests on plasma from recovered patients will help to shed light on the risk of reinfection with Omicron. Early reports from South Africa suggest that reinfections are more common with Omicron than the Delta variant, but far more data is needed to be sure.
Moore's results, which could be available in the next two weeks, are expected to provide some of the first laboratory evidence on whether existing vaccines are sufficient to keep Omicron at bay, or whether manufacturers will need to produce an updated vaccine. But with Omicron carrying so many mutations, making the pseudoviruses is not straightforward. "It will take some time to introduce so many mutations," Moore said.
Further work on vaccine protection is under way at the African Health Research Institute in Durban where Prof Alex Sigal, a virologist, is growing batches of live Omicron from people who became infected in the recent surge in Gauteng in South Africa. Once he has enough to work with, the variant will be tested against blood plasma from vaccinated people and those with some natural immunity after a Covid infection.
South African scientists were the first to report the Omicron variant to the World Health Organization on 24 November. At the time, the first known infection was on 9 November, but earlier infections may come to light as countries conduct thorough searches for cases, chiefly among travellers who recently returned from the region.
The work in South Africa is part of an urgent global effort to understand the threat posed by Omicron. Ravi Gupta, professor of clinical microbiology at the University of Cambridge, hopes to join the effort soon, first with pseudoviruses and then with live Omicron. Further experiments, he said, will look at how well synthetic antibody treatments deal with the variant. The therapies are crucial for patients who are not able to mount their own immune response to the virus.
Several vaccine manufacturers have also launched studies into how well the jabs protect against Omicron. AstraZeneca is analysing infections and vaccination status in people in Botswana and Eswatini on the borders of South Africa. Meanwhile, a spokesperson for Pfizer said the company hoped to have initial results from its own antibody studies "in the coming weeks".
If the variant largely evades vaccines, both Moderna and Pfizer claim they can produce a new, tailor-made vaccine in about 100 days, subject to approval by regulators.
========================================================
US FDA Approves Merck's Antiviral Pill
An advisory group for the Food and Drug Administration (FDA) has voted to recommend Merck's COVID-19 antiviral pill for infected adults at high risk for severe coronavirus illness, hospitalization or death.
The panel narrowly endorsed Merck's five-day oral treatment in a 13-10 vote on Tuesday.
The advisers recommended the FDA authorize the pill, developed with Ridgeback Biotherapeutics, for adult patients enduring mild to moderate COVID-19 who face a higher risk of serious illness, including due to underlying health conditions.
The drug manufacturer filed for an emergency use authorization last month after its study suggested molnupiravir reduced the risk of hospitalization by 50 percent. But updated data from Friday showed a 30 percent reduction in hospitalizations among more participants.
The close vote came as experts considered concerns about the decreased risk reduction in Merck's updated data as well as the risks the drug could present for pregnant people.
Several who backed the pill for high-risk infected adults pointed to the ongoing state of emergency amid COVID-19 and the limited treatments for the virus.
"I see this as an incredibly difficult decision," the committee's chairperson, Lindsey Baden, said. "There are many, many more questions than answers."
"But I can see scenarios where there are benefits and therefore having this available for those scenarios makes sense to me," he added.
Those who voted against the endorsement cited a "modest" effectiveness shown in the data.
Approval of these pills could expand accessibility of at-home COVID-19 treatments, pending FDA authorization and Centers for Disease Control and Prevention approval. The U.S. has already agreed to buy 3.1 million courses of the drug, with the option to purchase more.
Antiviral COVID-19 drugs have been considered a potential game changer in the pandemic since all current drugs require an injection or IV. Other pills are in development, including Paxlovid from Pfizer, which requested FDA authorization earlier this month.
The vote comes after the FDA released its review of Merck's data on the drug last week that concluded molnupiravir's effectiveness but raised concerns about its effects on pregnant people.
Merck representatives recommended during the meeting that people who are pregnant or breastfeeding do not take the pills due to potential risks, including possible toxicity and birth defects.
The pharmaceutical company suggested women of childbearing age use contraception while receiving molnupiravir. Merck plans to launch a pregnancy surveillance program to further track the drug's effects on pregnant people.
Several advisers supported a warning for pregnant people not to take the drug, and some suggested requiring pregnancy testing for patients before they receive the drug.
Merck is also not currently seeking authorization for the pill to be administered to children.
Some experts expressed worries that the drug, which inserts small errors into the virus's genetic code to prevent replication, could spark the virus to mutate into more dangerous strains, although the FDA considers the issue a "theoretical" concern.
Merck's pill would not function as a preventative treatment, as it would be administered to already infected individuals to avoid worse outcomes.
The treatment is not designed to replace vaccinations, as COVID-19 vaccines would still be needed to stop infection in the first place. Merck did not study the drug's effects among vaccinated people.
The advisers' decision also comes as anxiety has mounted over the World Health Organization's most recent variant of concern: the omicron strain.
A Merck representative told the FDA in the meeting that the company has not tested molnupiravir against the omicron variant, but they expect the pill to remain effective against the strain.
==============================================
Covid: UK aims for 500,000 jabs a day in bid to outpace Omicron variant
Ministers to ramp up vaccinations to 3.5m a week as minimum gap for boosters is halved to three months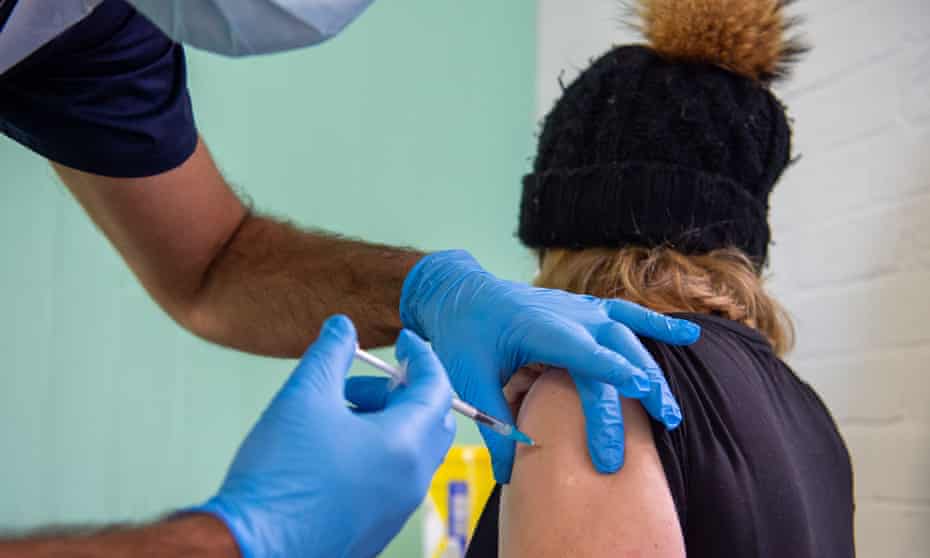 Ministers are targeting a return to half a million UK Covid jabs a day as the waiting time for boosters was cut to three months in a bid to outpace the Omicron variant that scientists believe is already spreading in the community.
Confirmed Omicron cases rose to 11 in England and Scotland on Monday, with scientific advisers braced for hundreds more to be detected in the next week or so.
From Tuesday, masks will be mandatory on public transport including airports and stations and in shops – including hair salons and takeaways but not pubs or restaurants – to slow the spread of Omicron, which is feared to more transmissible with the potential to evade vaccines.
The NHS is set to confirm an expansion of the vaccine programme this week after the government's advisers said all adults should be offered boosters and made the surprise recommendation of a three- rather than six-month wait after a second dose.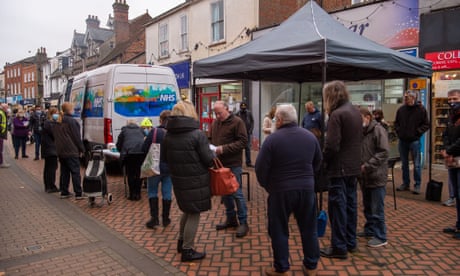 A senior government source told the Guardian ministers were aiming for a "significant acceleration" from the current 2.4m boosters a week to about 3.5m or 500,000 a day – a return to the huge national effort seen in the early days of the vaccination campaign. "That is the early plan but it won't happen overnight," they said.
Currently, boosters are restricted to over-40s more than six months since their last jab. The first new cohort of people to be offered boosters is likely to be those over-40s and the clinically vulnerable who are more than three but less than six months past their second jabs. The next tranches will be under-40s in staggered age groups from oldest to youngest. Children aged 12 to 15 will be offered second doses for the first time, and people who are severely immunosuppressed will get boosters in addition to three primary doses.
The biggest unvaccinated group remains under-12s. Dr June Raine, chief executive of the Medicines and Healthcare products Regulatory Agency (MHRA), said this was being "very carefully assessed" and the agency is likely to report before Christmas on the safety of vaccines for children aged 5-11. It would also have to be approved by the Joint Committee on Vaccination and Immunisation (JCVI) before a final decision being taken by government ministers.
As the threat of the Omicron variant prompted the JCVI to ramp up the jabs rollout, Prof Jonathan Van-Tam, the deputy chief medical officer, said people needed to "up their game" in terms of getting boosters.
But he added: "I do not want people to panic at this stage. If vaccine effectiveness is reduced [with Omicron], as seems pretty likely to some extent, the biggest effects are likely to be in preventing infections and hopefully there will be smaller effects on preventing severe disease."
Prof Wei Shen Lim, chair of the JCVI, said Moderna or Pfizer boosters would push up people's immune response and cutting the time between doses could help mitigate any drop in vaccine protection before another wave starts.
The planned extension of the booster programme means another 13m under-40s will become eligible for third jabs in the coming weeks. The NHS is currently administering 350,000 daily boosters, or about 2.4m a week, and would have to increase to 500,000 a day to hit 3.5m a week.
An NHS source said there were 2,2oo vaccination centres in operation which means that, on average, every site would have to vaccinate 70 more Britons a day to hit 3.5m boosters a week. Sources said it was easier to expand opening hours than open new centres, raising the prospect of more "round-the-clock" provision.
Boris Johnson published details on Monday of new regulations to make mask wearing compulsory on transport and in shops from 4am on Tuesday. This includes hair salons, taxis, vets, takeaway shops, driving instruction vehicles, banks and post offices, though hospitality settings are exempt.
All travellers into the UK will also have to take a PCR test on the second day after arrival and isolate until they receive a negative test. In addition, all contacts of people suspected to have Covid with the Omicron variant must isolate, even if they are double vaccinated or under 18.
Ahead of a vote on the measures in the House of Commons on Tuesday, Johnson said: "The measures taking effect today are proportionate and responsible, and will buy us time in the face of this new variant … our vaccines and boosters remain our best line of defence."
The measures will be reviewed in three weeks, but some backbench Tories are already concerned about possible extensions. Mark Harper, one of key MPs behind the Covid Recovery Group, warned measures should not be extended during parliament's recess just before Christmas. "Trust between the backbenchers and ministers isn't brilliant at the moment. The government would be wise not to make that worse," he said.
Sajid Javid, the health secretary, told parliament that if Omicron was no more dangerous than the dominant Delta variant "then we will not keep measures in place a day longer than necessary".
===============================================
Biden faces new political threat in omicron
The Hill