Federal agents reportedly examining social media history of alleged shooter Mauricio Garcia
US federal officials are looking into whether the gunman who killed eight people at a Dallas-area mall expressed an interest in white supremacist ideology, as they work to try to discern a motive for the attack, a law enforcement official has told the Associated Press.
The official cautioned that the investigation was in its early stages.
NBC News and CNN have publicly identified the alleged shooter as Mauricio Garcia. Federal agents have been reviewing social media accounts they believe he used and posts that expressed interest in white supremacist and neo-Nazi views, said the official, who could not discuss details of the investigation publicly and spoke on condition of anonymity.
Garcia also had a patch on his chest when he was killed by police that read "RWDS", an acronym for the phrase "Right Wing Death Squad", which is popular among rightwing extremists and white supremacy groups, the official said.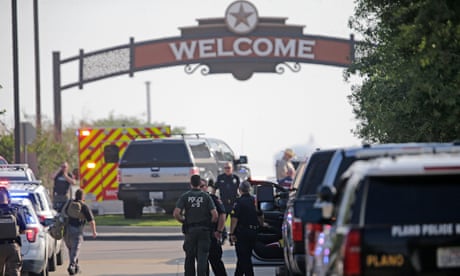 CNN reported that there was an AR-15-style assault weapon found near Garcia's body as well as another weapon. He had taken firearms proficiency training, in relation to his work as a "commissioned" security guard, CNN said.
The network said Garcia was approved to work as a security guard for four years beginning in April 2016, and had worked for three different companies.
Medical City Healthcare, which was providing treatment to several of the wounded, said the patients at their facilities ranged from ages five to 61, according to the New York Times.
The gunman opened fire at Allen Premium Outlets on Saturday afternoon before being killed by a police officer who happened to be there in connection with an unrelated call. The police chief, Brian E Harvey, did disclose that the shooter acted alone, the Times reported.
NBC News reported that authorities found Garcia had interacted with white supremacist content online, posted such material himself.
Federal law enforcement officers were seen at a Dallas home thought to be linked to Garcia, examining his electronic devices and several social media accounts associated with him, according to NBC News. Sources also told ABC News that authorities recovered the rifle used in the shooting as well as more guns in the attacker's car.
Police radio transmissions cited by ABC News provide more insight into the chronology of the shooting. "We got shots fired at the Allen Mall," the officer who went to the mall for an unrelated issue told a police dispatcher over the radio. "We got people running. I need everybody I got."
Shortly thereafter, the officer said: "I got him down." One witness told ABC News that she heard police arrive at the mall about five to 10 minutes after gunfire erupted. While officials have released few details, local politicians have provided plenty of on-record commentary, much of which has spurred criticism over the lack of meaningful gun control in the US.
Store employees and shoppers recalled chaos and terror as bullets rang out. Rama Bataineh, 20, was on her lunch break from Coach when the gunman started shooting, she told NBC News.
Unable to get into her car, Bataineh telephoned her manager, who let her into a back door. "I went inside and all the customers, all the employees, everyone was in the back sitting on the floor," she told NBC News. "Everyone was terrified."
Police brought the group outside when the gunfire stopped. "I saw a body – there was a guy in front of me," Bataineh told the network. "I didn't sleep all night. I'd wake up and throw up."
Texas Republican US senator Ted Cruz's comment on Saturday that he and his wife were "praying for the families of the victims" spurred outcry as many insist he should push for substantial gun safety reform.
Shannon Watts, who founded the gun safety group Moms Demand Action, commented on Twitter in response to Cruz: "YOU helped arm him with guns, ammo and tactical gear. He did exactly what you knew he'd do. Spare us your prayers and talk of justice for a gunman who is … dead".
Saturday's murders in Allen marked at least the 21st mass murder in the US so far this year, keeping the country on record pace, according to the Gun Violence Archive. The archive defines a mass murder as one in which four or more victims are slain.