The man on the run after killing five people in Texas was deported at least four times, US media report.
The suspect, 38-year-old Francisco Oropeza, is a Mexican national who had reportedly been deported twice in 2009, then again in 2012 and 2016.
Police say he killed five of his neighbours, including a child, after an argument about him practice-shooting with a semi-automatic weapon nearby.
A reward of $80,000 (£64,000) has been announced for information.
A man who survived the shooting in which his wife and son died has tearfully recalled the details of the tragedy at a vigil held in Texas on Sunday.
Wilson Garcia said the noise of a neighbour's gunfire made his one-month-old son cry, so he and two others asked the man to move farther away.
The suspect, Francisco Oropeza, later fired indiscriminately on Mr Garcia's home, killing five people inside, say police
Mr Garcia said he "respectfully" asked his neighbour in the small town of Cleveland, San Jacinto County, to shoot his gun farther away so his infant son could sleep.
"He told us he was on his property, and he could do what he wanted," he told Associated Press.
Mr Garcia called the police five times and was reassured each time that help was on the way. Then he saw Mr Oropeza running toward his home and reloading his weapon.
His wife, Sonia Argentina Guzman, told him to go inside because he wouldn't fire at a woman, he recalled. But she turned out to be his first victim as he shot at the house.
There were 15 people in the house at the time of the shooting – many of them reportedly there on a church retreat.
Also among the dead was Mr Garcia's son, Daniel Enrique Laso, aged nine, and two women who died while protecting Mr Garcia's infant and two-year-old daughter.
Mr Garcia said one of the women had told him to jump out a window to stay alive, in order to take care of his surviving children.
The victims were all from Honduras. The others include Diana Velazquez Alvarado, 21; Julisa Molina Rivera, 31; and Jose Jonathan Casarez, 18.
"I don't have words to describe what happened," Mr Garcia told local news. "It's like we're alive but at the same time we're not. What happened truly was horrible."
Three children present during the shooting who were injured and taken to the hospital were released on Sunday, the Houston Chronicle reported.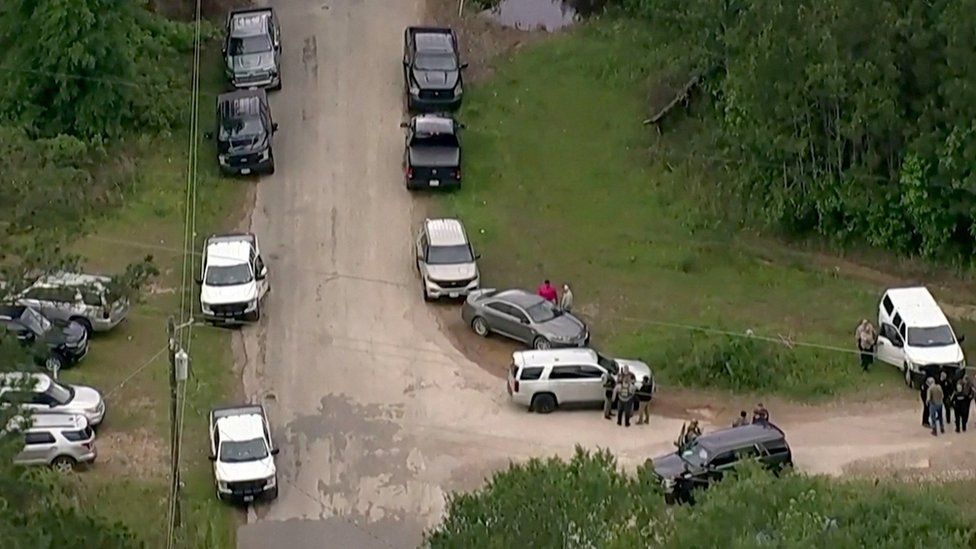 A manhunt continues for the suspect. He should be considered armed and dangerous, police said.
Authorities have announced an $80,000 (£64,000) reward for information leading to Mr Oropeza's arrest, funded by Texas Governor Gregg Abbott, the FBI and local authorities.
San Jacinto County Sheriff Greg Capers said at least three weapons were discovered inside the suspect's home, CNN reported.
"I can tell you right now, we have zero leads," FBI special agent James Smith told reporters. "We do not know where he is. We don't have any tips right now to where he may be. Right now, we're running into dead ends."
Following the shooting, more than 150 officers gathered in a wooded area near the site to search where authorities initially believed Mr Oropeza had fled on foot, finding clothes and a phone.
Tracking dogs eventually lost the suspect's scent, Mr Capers said, but the search involving over 200 officers continued on Sunday.
The FBI, the Bureau of Alcohol, Tobacco, Firearms and Explosives, and the Texas Public Safety Department are all involved in the manhunt – which has some law enforcement on horseback.
When asked about the response time to Mr Garcia's multiple calls for help, he said officers got there as quickly as possible and that he had only three officers patrolling several hundred square miles.
Honduras' foreign minister, Enrique Reina, tweeted: "We demand that the full weight of the law be applied against those who are responsible for this crime."
The incident came days after nine people were injured at a shooting during a teenagers' party in eastern Texas.
Two weeks ago, four young people were shot dead during a 16th birthday party in Alabama.
Firearm incidents are the top cause of death for US children and teenagers, according to the US Centers for Disease Control and Prevention.