If Joe Biden was looking for respite from the tricky global challenges he has faced in recent months, he may not find harmony closer to home. The leaders of US, Canada and Mexico meet on Thursday in Washington, with plenty differences to resolve.
BBC correspondents in Toronto, New York and Mexico City give their perspectives on the so-called Three Amigos summit.
Canada
By Jessica Murphy, Toronto
There may be less drama in this relationship since Mr Biden took office but it hasn't been smooth sailing and there are rough seas on the horizon.
One observer has said what was once a strategic partnership has become a "largely transactional" relationship.
A big bone of contention is Mr Biden's embrace of "Buy American" which has become central to his trade agenda.
Critics argue such protectionist policies would increase the costs of goods to consumers and potentially shut out Canadian companies from lucrative US contracts. Alarm bells are ringing "a little louder right now for me", Flavio Volpe, president of the Automotive Parts Manufacturers' Association, told the BBC.
One of his top concerns is a proposed tax credit for US-produced electric vehicles which could have implications for the burgeoning electric vehicles sector. Mr Volpe expects both Canada and Mexico to file a dispute under the USMCA trade agreement if the issue is not resolved.
Other areas of conflict include the Line 5 oil pipeline that runs between Canada and Michigan, which the US state has threatened to shut down, and an ongoing dispute over softwood lumber.
Canadian and US leaders have been so busy dealing with domestic concerns since Mr Biden came into office that the relationship has been put on the backburner, says Maryscott Greenwood of the Canadian American Business Council.
When Mr Trump was there, Canada dedicated significant time to making sure its interests were heard especially over trade.
So this summit is an opportunity for the partners to begin to re-engage more substantially, she says.
US
By Laura Trevelyan, New York correspondent
What the US really wants from Mexico is more control of migration at the southern border.
Since President Biden's inauguration, US border agents have made a record 1.3 million arrests of migrants trying to cross into America – and the American public has noticed, with Republicans accusing Democrats of pursuing a policy of open borders, and public approval of President Biden's handling of immigration underwater.
Ever since candidate Donald Trump's rallying cry of build a wall with Mexico, the US-Mexico border has been an extremely potent political issue, and one where Democrats are vulnerable. Conservative cable news coverage of the caravans of migrants from Central America heading through Mexico to the US border are a constant headache for the White Hous.
So when President Lopez Obrador meets President Biden in Washington, it's hard not to imagine Mr Biden noting with approval that the number of migrants taken into US custody along the border decreased for the third consecutive month in October. More of the same, please, Mr Biden might tell his Mexican counterpart.
Looking ahead to the first summit between these three in five years, the US Ambassador to Mexico Ken Salazar underlined its importance.
"The North American continent holds the keys to the future of the world, in terms of functioning democracies and economies. Our strategic alliances and imperatives for the US are much more closely tied to Mexico and its thriving future, and Canada and its thriving future, than they are to China."
Mexico
By Will Grant, Mexico City
After the turbulence of four years of President Trump, Mexico has welcomed a more sober tone from the Biden administration.
The unhelpful rhetoric about Mexico somehow "paying for" the border wall is gone.
Whether on trade or security, conversations are being conducted in what diplomats consider a more serious and less capricious manner. When combined with a solid ties with Canada too, the diplomatic tone is altogether calmer in North America.
But from Mexico's point of view, there was an upside to Mr Trump's fixation on immigration – President Andres Manuel Lopez Obrador found he was left largely in peace on other bilateral topics.
At the outset, the Biden administration said things would be different.
For example, Democratic senators pushed hard for higher labour standards in the re-worked North American free trade deal, USMCA. Human rights abuses by the Mexican police and military and the continued strength of Mexico's drug cartels, including inside the US, have the potential to become very thorny issues.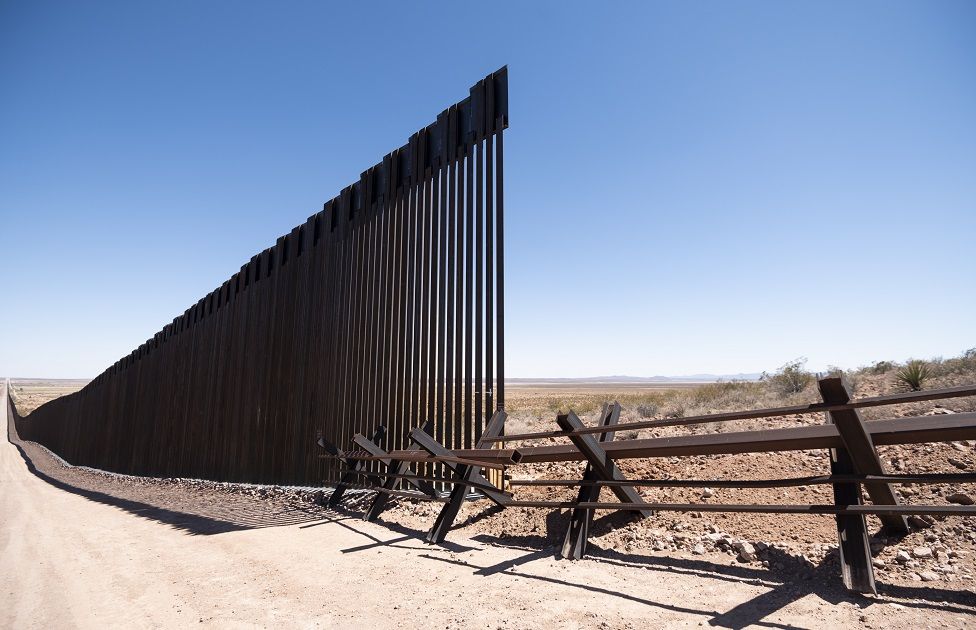 As a staunch believer in non-intervention himself, President Lopez Obrador appreciated the hands-off approach under Mr Trump and would have been happy to see it continue.
Certainly, he is not a fan of any language he considers to be "meddling" in a neighbour's affairs and wants respect for the key word – "sovereignty" – at all times.
Still, for Mexico, this is undoubtedly a chance for a reset in a more conducive environment for negotiation. And while immigration continues to supersede all other cross-border matters, the Mexican president may find he has more room to push back against Washington than he'd imagined a year ago.