Two of the four Americans kidnapped at gunpoint in Mexico last week are dead and two are alive and now back in the US, Mexican and US officials say.
Four US citizens were kidnapped by armed men on 3 March while driving into the city of Matamoros in the north-eastern state of Tamaulipas, Mexico, across the border from Texas.
They had travelled there for cosmetic surgery, relatives told US media.
One man, named only as José "N", 24, from Tamaulipas, has been arrested.
White House National Security Council spokesman John Kirby said: "We offer our deepest condolences to the friends and families of those who were killed in these attacks."
The two surviving victims were delivered to the US on Tuesday in co-operation with the US consulate in Matamoros, Tamaulipas Attorney General Irving Barrios Mojica said in a tweet.
They were brought back under armed escort by a heavily armed Mexican military convoy.
The FBI later confirmed that two Americans were found dead and that the other two have been brought to American hospitals for treatment.
"One of the surviving victims sustained serious injuries during the attack," the FBI said.
The statement added that the agency will work with international partners and other law enforcement agencies to "hold those responsible for this horrific and violent attack accountable for their crimes".
The bodies of Zindell Brown and Shaeed Woodard have been recovered and are being repatriated, US officials said.
Mexican President Andrés Manuel López Obrador said: "We are very sorry that this happened in our country and we send our condolences to the families of the victims, friends, and the United States government, and we will continue doing our work to guarantee peace and tranquillity."
The injured Americans were named by family members as Latavia "Tay" McGee, a mother of six from South Carolina, and Eric James Williams.
The four were driving through Matamoros – a city of 500,000 located directly across the border from the Texas town of Brownsville – in a white minivan with North Carolina licence plates when unidentified gunmen opened fire, the FBI said this week.
Video shows them being loaded into a pickup truck by heavily armed men. One is manhandled on to the vehicle while others appear to be unconscious and are dragged to the truck.
A Mexican woman, believed to be a 33-year-old bystander more than one block away, was killed in last Friday's incident.
At a news conference later on Tuesday, Mexican officials confirmed a 24-year-old man had been arrested and that the four Americans were discovered at a wooden shack outside Matamoros.
The victims had been transferred to various locations between the kidnapping on Friday and their discovery on Tuesday "to create confusion", officials say.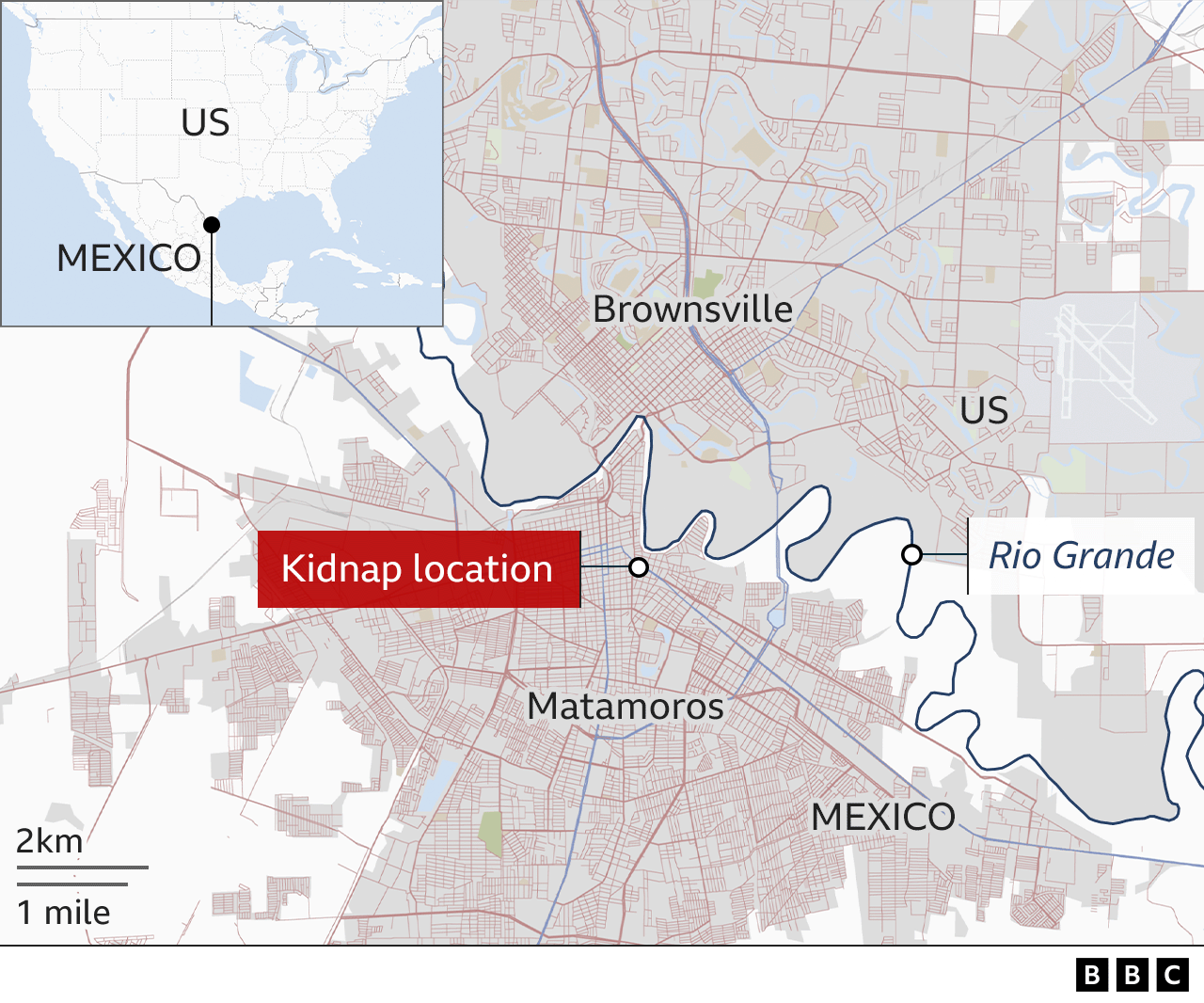 Investigators think the Gulf Cartel, one of the oldest organised crime groups in Mexico, is responsible for the attack, a US law enforcement source told CBS.
It is still unclear whether the Americans were ambushed, mistaken for competing drug traffickers, or were caught in cross-fire between warring factions.
US state department officials said on Tuesday that the investigation was still in the early stages.
Ms McGee was said to be travelling to the Mexican border town to have a tummy tuck, a cosmetic surgery procedure to remove abdominal fat.
Her mother Barbara Burgess told ABC News that she had asked her daughter not to go, but her daughter had reassured her she would be safe.
The FBI offered a $50,000 (£42,000) reward for the return of the Americans.
Matamoros is in Tamaulipas state, one of six Mexican states that the US state department advises travellers not to visit because of "crime and kidnapping".
Medical tourism is common, particularly among people living in US border states.
But Matamoros is one of the most dangerous cities in the country, as drug cartels control large swathes of the state of Tamaulipas and can hold more power than local law enforcement.