UK Covid cases continue to rise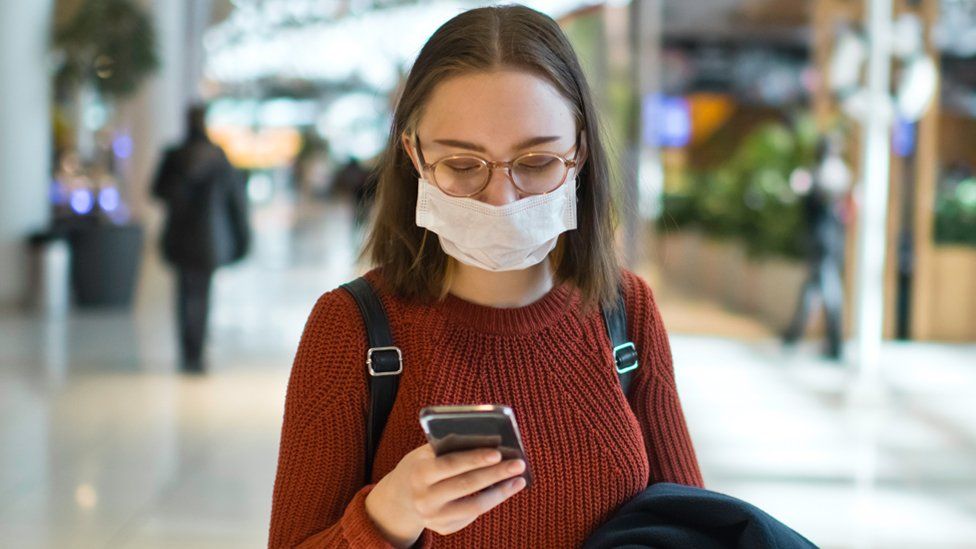 That's up by a quarter of a million – 7% – on the week before when there were 3.5m Covid infections recorded.
The number of people testing positive across the UK has been rising since the start of June but the rate of rise is showing signs of slowing down.
Other, more recent figures, hint cases may be on the way down.
The ONS data is always a couple of weeks behind the curve for new infections but this big dataset gives the most accurate overview for the UK.
Other data sources, such as the government Covid dashboard – which is more current but reflects far fewer Covid test results – suggest that for England the number of new infections may already have peaked.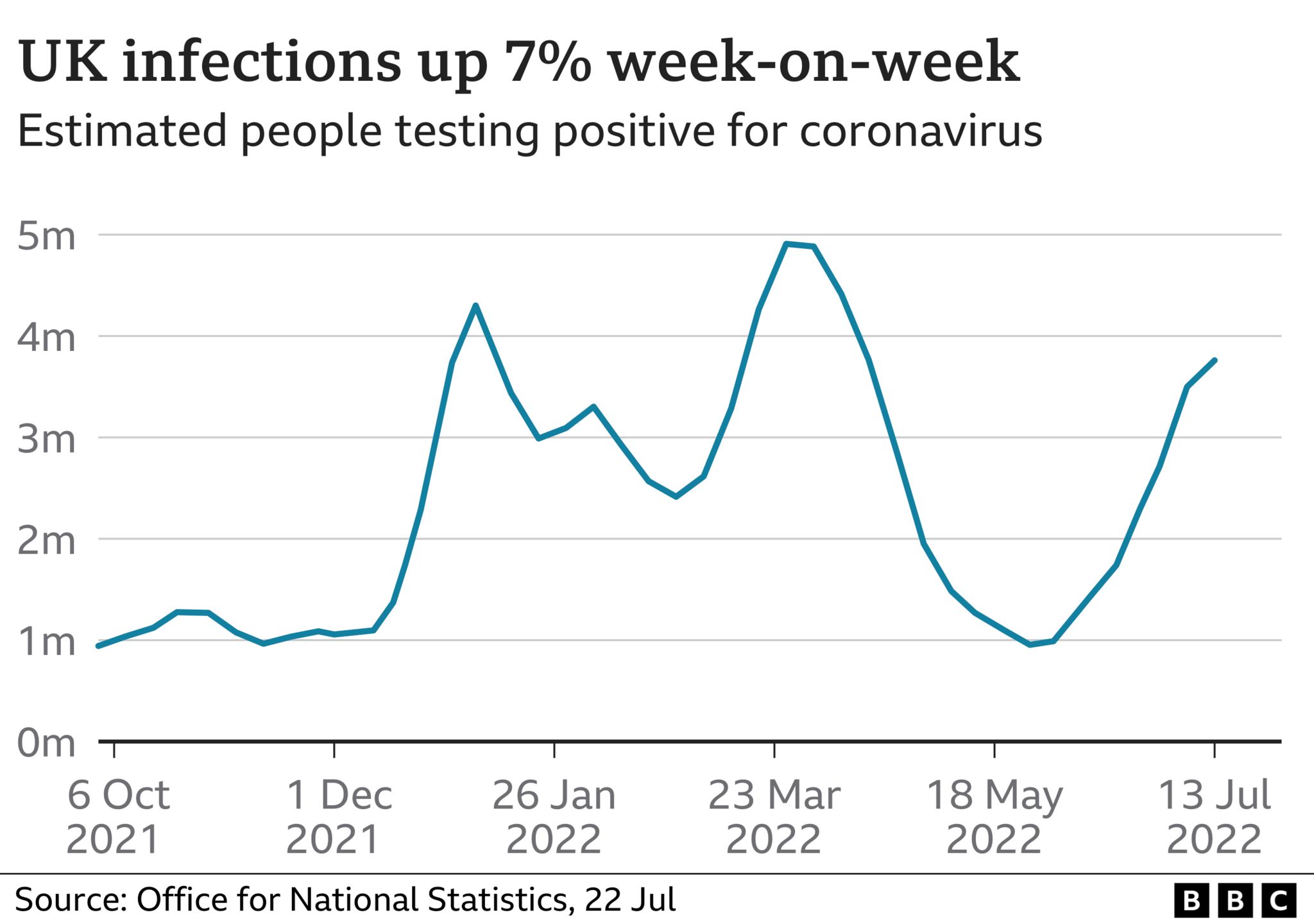 In the latest report, for the week ending 13 July, the ONS estimates Covid rates were:
One in 17 in England – up from one in 19 the week before
One in 17 in Wales – the same as the previous week
One in 20 in Northern Ireland – down from one in 17
One in 15 in Scotland – up from one in 16
Many of the recent cases have been caused by fast-spreading sub-variants of Omicron, called BA.4 and BA.5.
People are still able to catch the infection even if they have had Covid before.
But vaccines are still doing a good job of helping protect people from getting very sick with the virus.
The ONS data is collated by testing thousands of people from UK households – whether they have symptoms or not – to estimate how much virus is around.
Kara Steel, senior statistician for the Covid-19 infection survey, said there were some uncertain trends in the latest data across Scotland, Wales and Northern Ireland.
She added: "It is too early to say if this most recent wave is starting to peak, but we will continue to closely monitor the data."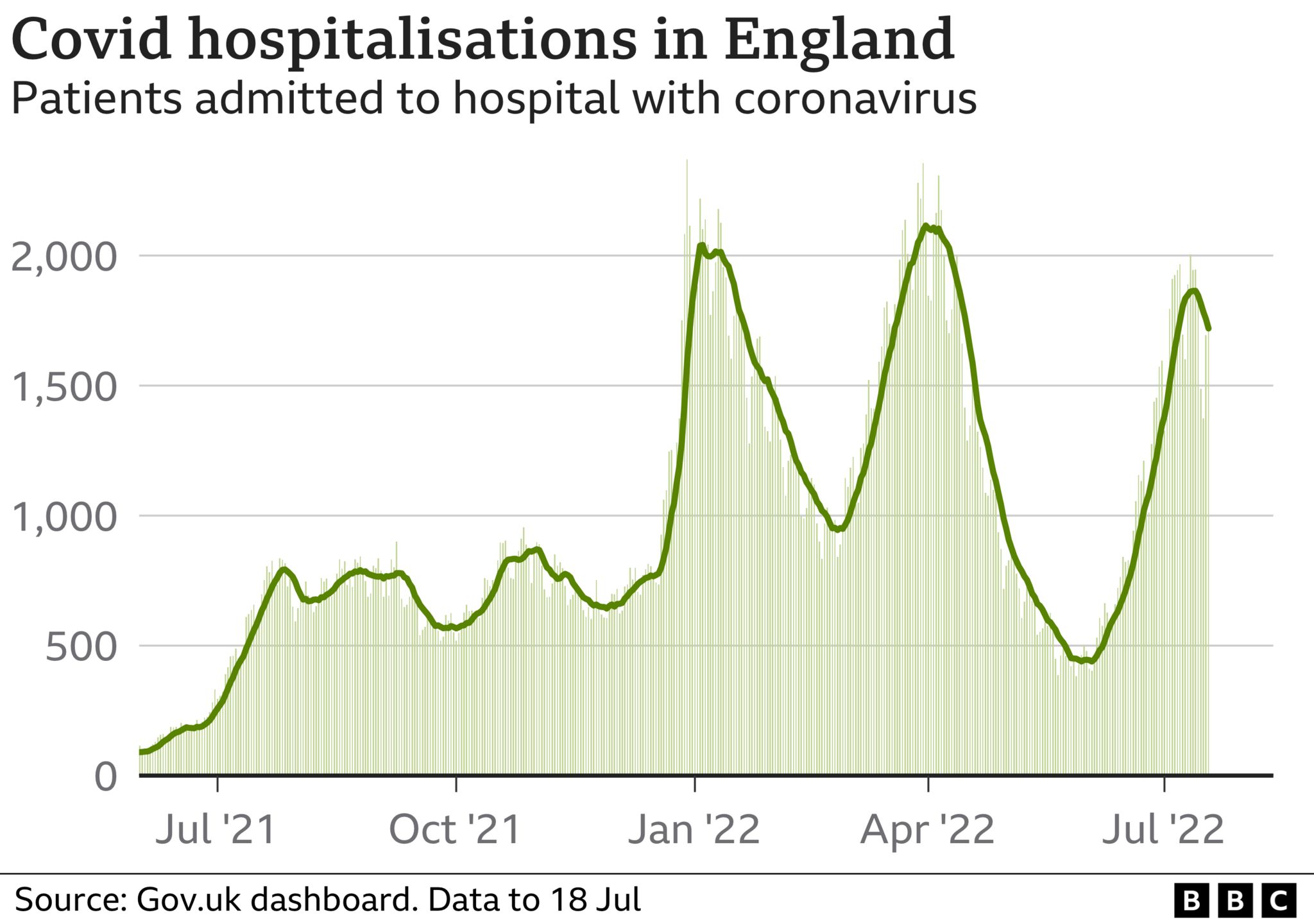 Separate data shows, on average, week on week, hospital cases have started to ease in Scotland and England.
In England on 18 July, there were, on average, about 1,720 new hospital admissions with a positive Covid test, each day.
The week before, the figure was 1,861.
================================================
Covid booster: Will be offered to all over 50s this autumn
By James Gallagher
Health and science correspondent
BBC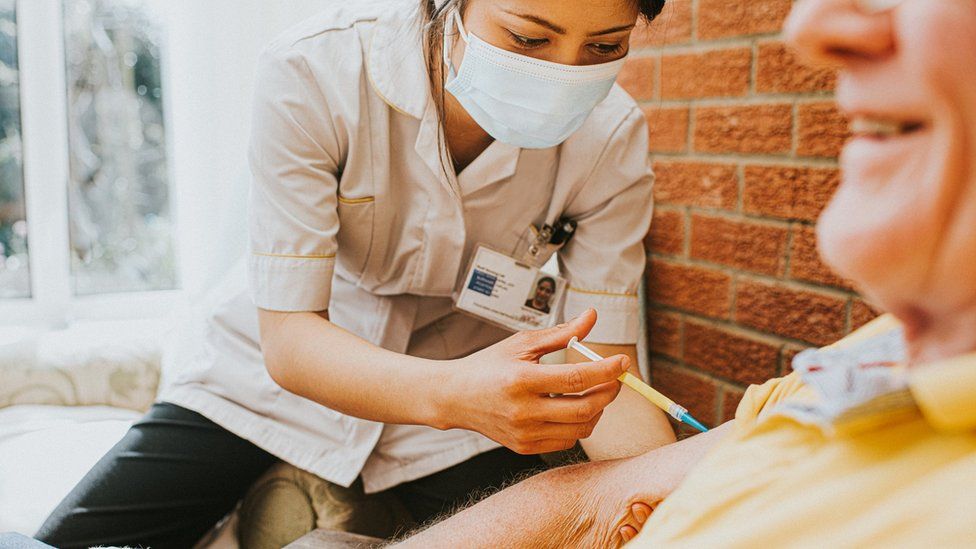 Everyone aged 50 and over will be offered a Covid booster vaccine this autumn to top up their immunity and cut their risk of becoming severely ill.
Younger people at high risk from Covid, as well as health and social care staff, will also get the booster.
Drug companies have been developing updated vaccines to tackle newer variants, however, it is still uncertain which vaccine will be used.
The original plan meant healthy people aged 50-65 would not have been jabbed.
However, the immunisation campaign has been expanded as current variants are spreading quickly, it is uncertain how the virus will mutate and it is expected we will be more social this winter than in previous years so the virus will have more chance to spread.
The updated advice comes from the Joint Committee on Vaccination and Immunisation (JCVI), which advises governments in England, Scotland, Wales and Northern Ireland.
It says the booster should be offered to:
health and social care staff
everyone aged 50 and over
carers who are over the age of 16
people over five whose health puts them at greater risk, this includes pregnant women
people over five who share a house with somebody with a weakened immune system
The details of the rollout have not been confirmed, however, it is thought immunisation will start with the oldest and most vulnerable from September.
For some people it will be their sixth dose of a Covid vaccine.
Prof Anthony Harnden, the deputy chairman of the JCVI, said: "The Covid-19 boosters are highly effective at increasing immunity and, by offering a further dose to those at higher risk of severe illness this autumn, we hope to significantly reduce the risk of hospitalisations and deaths over the winter."
The current wave of Covid – caused by the sub-variants of Omicron BA.4 and BA.5 – demonstrates the speed the virus can spread. It is the third wave of Omicron subvariants this year and one in 18 people in the UK are currently testing positive.
Prime Minister Boris Johnson said: "Today we have confirmed the next phase in our booster programme to keep our defences strong over autumn and winter.
"Vaccines were our way out of this pandemic, and now they will make sure Covid can never haunt us in the same way again."
The flu vaccine in England will also be offered to all adults aged 50 and over, the usual high-risk groups and now to schoolchildren up to Year 9 in secondary school.
The Covid restrictions have meant we have barely had a flu season since the pandemic started. However, the concern is this year could be the first time we face substantial waves of both viruses at the same time.
Dr Mary Ramsay, the head of immunisation at the UK Health Security Agency, said: "Widening the eligibility for the flu vaccine will help reduce the number of people getting seriously ill and ease pressures on the NHS, particularly during the busy winter period."
=================================================
Doctor says Biden's symptoms easing
President Biden's COVID-19 symptoms have "improved" but he ran a 99.4 degree temperature on Thursday evening, his physician Kevin O'Connor wrote in a memorandum on Friday.
O'Connor said that Biden's temperature has returned to normal after Biden took Tylenol and that the president continues to experience a runny nose, fatigue and an occasional cough.
"His voice is deeper this morning. His pulse, blood pressure, respiratory rate and oxygen saturation remain entirely normal, on room air," O'Connor wrote.
The physician said that Biden is tolerating the antiviral Paxlovid "well" and that he would continue the course as planned.
O'Connor said Biden would continue to drink water, take Tylenol and use his inhaler as needed.
The letter is the first update from Biden's physician since Thursday morning, when he wrote a letter detailing the president's symptoms and treatment after he tested positive for COVID-19.
The national security angle: White House national security spokesman John Kirby told reporters Friday that Biden's COVID-19 diagnosis has had "no impact whatsoever" on the national security decision-making process, noting that the president joined a regular call with his national security team on Friday morning.
===================================================
WORLD COVID STATS
Highlighted in green
= all cases have recovered from the infection