Covid: Doctors call for Covid Plan B to start in England
By Hazel Shearing & Joseph Lee
BBC News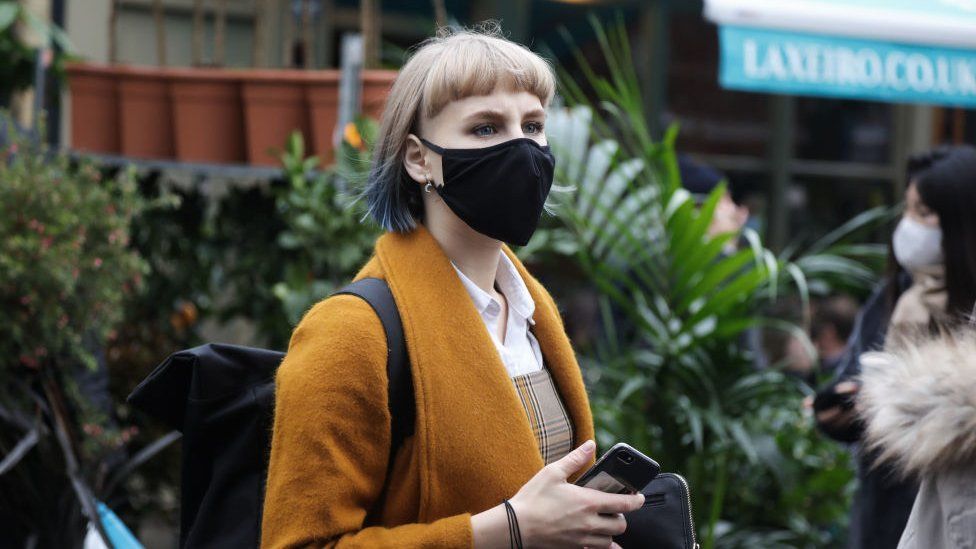 An "unacceptable" level of Covid cases means ministers should trigger their Plan B for the pandemic in England, doctors say.
The British Medical Association accused the government of being "wilfully negligent" for not reimposing Covid rules such as mandatory face masks.
Daily UK infections have been above 40,000 for eight days in a row.
Health Minister Edward Argar said the NHS is not under "unsustainable pressure" to justify restrictions.
He told BBC Breakfast there were about 95,000 beds in NHS hospitals, with 7,000 occupied by Covid patients and 6,000 currently empty.
"We know how those numbers can rise swiftly, which is why we're looking at that day by day, hour by hour. But at the moment we do have the ability to manage," he said.
The health secretary has warned daily cases could soon rise to 100,000 but is rejecting fresh restrictions right now.
Speaking at a Downing Street news conference on Wednesday, Sajid Javid said that "at this point" the government would not bring in its Plan B measures – which include compulsory face coverings and Covid passports for entry to nightclubs and large events, as well recommending working from home
But he warned insufficient vaccine uptake would make restrictions in England more likely.
Over the last seven days, the number of Covid patients admitted has risen by 11% and the number of deaths has increased by 21%, compared to the previous week, although they remain far below their peak in January.
Under the government's plan for tackling Covid in England over the winter, the strategy currently in operation is Plan A.
It involves offering booster jabs to about 30 million people and offering a single vaccine dose to healthy 12 to 15-year-olds, as well as encouraging ventilation for indoor gatherings, hand-washing and face masks in crowded places.
Restrictions included in Plan B will only be reintroduced if the NHS comes under "unsustainable pressure".
Dr Chaand Nagpaul, the BMA's chairman, said doctors "can categorically say that time is now".
He stressed that case numbers were comparable to March, when England was in lockdown, and were "unheard of in similar European nations".
"It is therefore incredibly concerning that [Mr Javid] is not willing to take immediate action to save lives and to protect the NHS," he said.
Dr Nagpaul said the government had "taken its foot off the brake, giving the impression that the pandemic is behind us and that life has returned to normal".
He said: "It is wilfully negligent of the Westminster government not to be taking any further action to reduce the spread of infection", adding that compulsory face coverings, physical distancing and ventilation requirements in "high-risk settings" were "the norm in many other nations".
And they came as Prof Sir Mark Walport, the government's former chief scientific adviser, said "the current measures are probably not holding things" when it came to the spread of the virus.
"Am I worried? Yes. It's very, very delicately poised," he told BBC Newsnight.
"Winter is coming, flu is probably coming. It's not a good place to be."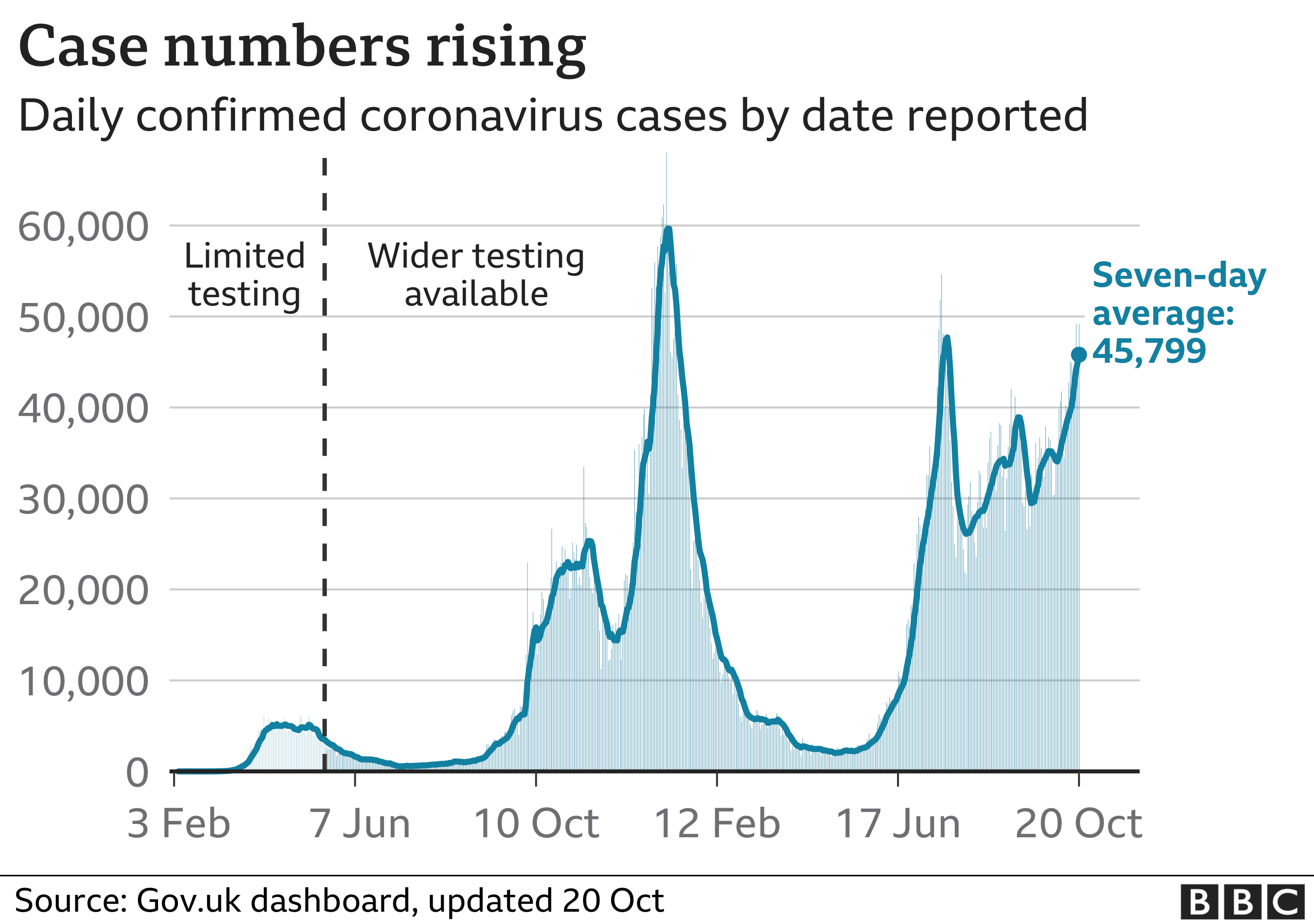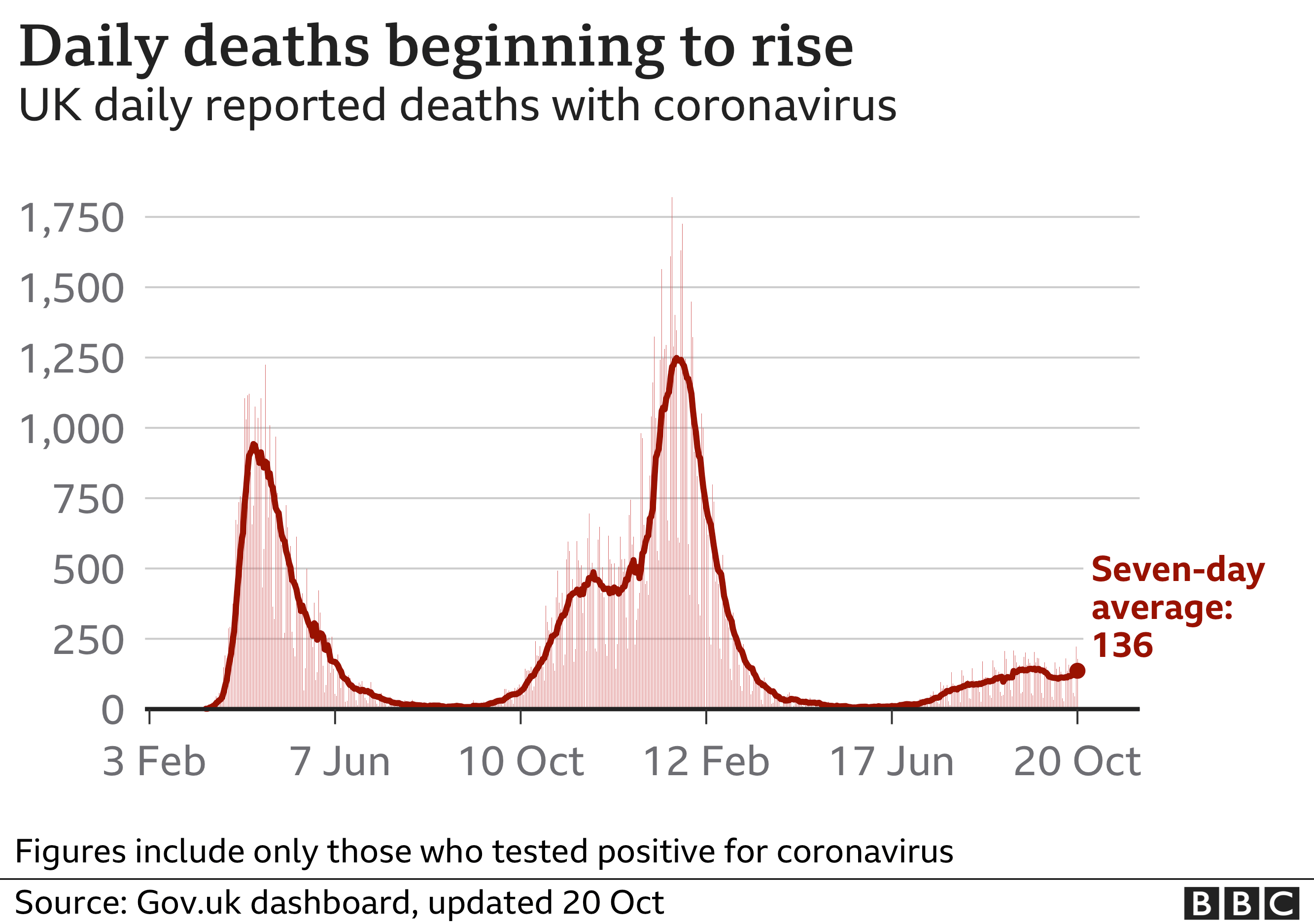 In his Downing Street briefing, Mr Javid urged people to get booster vaccines and wear face coverings in crowded places with people they did not know.
Otherwise, he said, "it's going to hit us all" – "and it would of course make it more likely we're going to have more restrictions".
However, No 10 said there were no plans for another lockdown in England.
Implementing Plan B would bring England effectively in line with restrictions still in place in Scotland, Wales and Northern Ireland.
In Scotland, face coverings are still compulsory on public transport and in places such as shops; people are asked to continue working from home where possible; and people attending nightlife venues and large events must prove their vaccination status.
Similar rules apply in Wales' current winter planning scenario, dubbed Covid Stable.
As well as an existing requirement for face masks indoors and a focus on working from home, Northern Ireland has plans to introduce Covid passports and mandatory social distancing if hospital pressures become unsustainable.
Around 14% of people in the UK aged 12 and over remain unvaccinated.
Shadow health secretary Jonathan Ashworth accused Mr Javid of complacency, telling the BBC: "The simple truth is that the so-called wall of defence we've built up with vaccination is now crumbling."
He said it was disappointing the health secretary did not give details on "how he is going to grip this and drive up the vaccinations we need".
If approved by the UK's medicines regulator, the Department of Health said thousands of patients would be able to access the treatments this winter.
=========================
FDA greenlights mix-and-match booster doses
The Food and Drug Administration (FDA) amended its emergency use authorization for all COVID-19 vaccines on Wednesday to allow for mix-and-match boosters for patients who initially received a different vaccine.
US: Plans to Vax kids 5 to 11