Why So Many COVID Cases When Most UK People are Vaccinated?
By Philippa Roxby
Health reporter
The Antigua and Barbuda government has given a September 20 deadline for all unvaccinated public sector workers to show proof of having been vaccinated against the coronavirus (COVID-19) pandemic.
A policy document released on Wednesday night also outlines similar measures for persons operating public transport, the trade union movement, private sector employees as well as arriving passengers into the country.
In the policy statement, the Gaston Browne government said that the measure regarding vaccinations will include workers in the Public Service, statutory corporations and companies in which the government owns majority shares.
It said that with effect from October 1, all unvaccinated public sector employees, inclusive of Statutory Corporations and companies of which the government holds majority shares shall be required to remain at home until proof of COVID-19 vaccination.
In addition, those workers "shall be paid a salary or wage for the period of non-compliance with the current policy" and that all officers and support staff of the Royal Police Force of Antigua and Barbuda and the Antigua and Barbuda Defence Force are required to be vaccinated, effective October 1st.
The government said that trade unions and employee associations shall be permitted to conduct educational awareness sessions via virtual and face-to-face engagements and that all COVID-19 protocols shall be strictly observed.
"All eligible students and teachers shall be required to be vaccinated against COVID-19 to return to face to face classes; All pre-school and primary school teachers shall be required to be fully vaccinated before returning to face-to-face classes; All caregivers and support staff are required to be fully vaccinated to provide services at elderly care facilities," according to the policy.
It noted also that all arriving passengers including returning nationals and residents are required to have received at least the first dose of a vaccine approved by the appropriate authorities in Antigua and Barbuda.
The government also said that informal and or public gatherings will be restricted to members of the same household and that beaches are to be closed between 12:00 noon and 5:00 am (local time) daily commencing September, 20.
"Bus drivers, conductors and taxi drivers are required to be vaccinated effective October,1 this year and that failure to comply with the current policy will result in restrictions to operate;
"All pleasure craft fetes, parties and entertainment events and excursions around the coastal waters and offshore islands are suspended with effect from 18th September until 29th September 2021. Thereafter, only authorized excursion will be permitted by the appropriate authorities."
The government said that all Vendors, merchants and service providers and staff operating at the ports of entry are required to be vaccinated.
But the authorities said that persons may be exempted upon submitting a medical certificate approved by the Chief Medical Officer or Medical Board or a request approved on religious grounds.
It said that all persons exempted under this policy are required to produce a negative COVID-19 test twice monthly.
Children under the age of 18 years, arriving at a port of entry in Antigua and Barbuda are exempt from this policy for this period;
"The Cabinet of Antigua and Barbuda recognizes the extreme hardship caused by the effects of the COVID-19 pandemic along with the pain and anguish of families due to untimely and unnecessary loss of loved ones. It has caused tremendous economic dislocations, social disruptions and psychological trauma.
"The government acknowledges the enormous commitment and sacrifices made the nation's healthcare professionals and by extension all workers who lock arms daily in a colossal effort and determination to defeat the COVID-19 virus and help to restore this country to some form of normalcy," the statement said.
It added that COVID-19 represents an existential threat and the government calls on the entire nation, private sector and public sector and civil society to lend support in this endeavor by adopting policies and promoting policies to arrest the effects of this deadly virus.
Antigua and Barbuda has recorded 48 deaths and 2, 304 infections from the virus since March last year.
CMC
================================================
Changes to the rules on international travel are expected to be announced by the UK government later.
BBC- Ministers are considering scrapping the requirement for double-jabbed people returning to the UK to take PCR tests.
The traffic light system could also be simplified, with the amber list removed entirely.
Any changes would apply to England initially, as the UK's devolved administrations are in charge of their own travel rules.
Meanwhile, the Guardian and the Times have reported that dozens of countries will be removed from the red list – the highest level of alert for international travel which means returning travellers must spend 11 nights in hotel quarantine at a cost of £2,285.
Currently, travellers who are not fully vaccinated are required to quarantine upon returning to the UK from an amber list destination.
By removing the amber category, only passengers arriving from red list countries would have to quarantine in a government-approved hotel.
Ministers have also been under pressure to reconsider the testing requirements for travellers.
Under current rules, people arriving from green list countries must take a PCR test shortly before their return and another on their second day back in the UK.
Simon Calder, travel editor of the independent, said holidaymakers would be hoping that the pre-flight test requirement would be removed – as it might give them greater confidence about booking trips, particularly with the October half-term school holiday coming up.
Tim Alderslade, chief executive of Airlines UK told the BBC that testing requirements were preventing the UK travel industry from competing with European rivals.
He also warned that thousands of jobs could be at stake if restrictions remain while furlough support ends.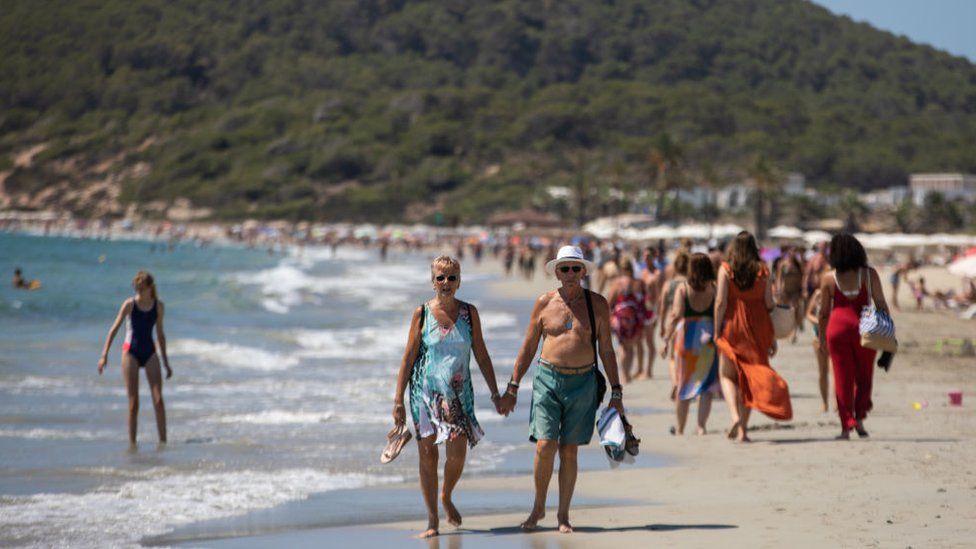 Huw Merriman, Conservative chairman of the Commons Transport Select Committee, said PCR tests were expensive and "putting people off travel" while the rapid lateral flow tests were "just as safe". The NHS charges £68 for a lab-processed PCR test.
Fully vaccinated people should only need a PCR test as confirmation if their lateral flow test came back positive, he said.
One justification for requiring PCR tests is that they can be used for gene sequencing and tracking coronavirus variants.
But Mr Merriman said just 5% of positive tests were sequenced in July, adding that people were being "ripped off".
Alan McNally, professor of Microbial Evolutionary Genomics at the University of Birmingham, said lateral flow testing would be "sufficient" for travellers given the UK's high Covid rate, but argued it was "vitally important" that genome-level surveillance of travel-related Covid cases continued.
He told BBC Radio 4's Today programme: "I would really hope that there will be very strong mandate that any [lateral flow] tests from travel have to get a confirmatory PCR test."
He said past experiences and the emergence of the Delta variant showed that travel-related Covid cases were a "very high risk" to the UK and could cause "big trouble" if they were not being monitored.
With countries such as those in the EU, there is a greater degree of confidence that variants are being reported and vaccination records are accurate, he said. But he said in others it may be less certain.
A Department for Transport spokesman said: "Our top priority is to protect public health – decisions on our traffic light system are kept under regular review and are informed by the latest risk assessment from the Joint Biosecurity Centre and wider public health factors."
===================================================
WORLD STATS
Highlighted in green
= all cases have recovered from the infection
Highlighted in grey
= all cases have had an outcome (there are no active cases)
Latest News
September 17 (GMT)