Thursday, May 13 marked the deadliest day for COVID-19 in Trinidad and Tobago since the pandemic began, with 21 deaths recorded.
The latest deaths, reported by the county's Ministry of Health, took the toll to 256. With 87 of those occurring this month, May is now also the month in which the most deaths have been recorded.
The Ministry said the 21 latest deaths include six elderly females – five of them with comorbidities; six middle-aged women – half of them with comorbidities; five elderly men – four of them with comorbidities; three middle-aged males – one with comorbidities; and a young man without comorbidities.
The number of active cases is now 4,814. Since March 2020 when the first case of COVID-19 was recorded in twin-island republic, there have been 14,814 cases.
The Ministry also reported in its update on Thursday that 342 patients currently are hospitalized and being treated for COVID-19, while 103 persons are in step-down facilities, recovering from the virus.
============================================
CDC Says Fully Vax People Can Go Maskless
The Hill
People who are fully vaccinated against COVID-19 can safely resume life without any restrictions, according to long-awaited federal guidance released Thursday.
The Centers for Disease Control and Prevention (CDC) says if you are fully vaccinated — two weeks past the last required COVID-19 vaccine dose — you don't need to wear masks indoors or outside, and you don't need to maintain physical distance.
The change is a monumental shift in how the agency has communicated about the risks of the coronavirus and the benefits of vaccines, and is a major step towards reopening America in time for the July 4th holiday.
Essentially, for vaccinated people, life can begin to return to normal.
"Anyone who is fully vaccinated, can participate in indoor and outdoor activities, large or small, without wearing a mask or physical distancing," CDC Director Rochelle Walensky said during a White House briefing. "If you are fully vaccinated, you can start doing the things that you had stopped doing because of the pandemic. We have all longed for this moment, when we can get back to some sense of normalcy."
The new guidelines do not apply to health care settings, correctional facilities or homeless shelters, the agency said. People will also need to follow local business and workplace guidances, so masks are likely to continue to be required in private businesses.
In addition, CDC emphasized fully vaccinated people should still wear well-fitted masks where required by laws, rules and regulations, including on airplanes, trains and public transportation.
It also urged those who are immune-compromised to speak with their doctors before giving up their masks.
The update comes as the agency has been criticized for being too slow to react to changing science, overly cautious and even contradictory in its recommendations to the public.
More than 117 million Americans are now fully vaccinated, which is about 35 percent of the population. New cases are down by a third over the last two weeks, and daily deaths have dropped to the lowest point since April 2020.
But the announcement puts even more pressure on businesses and local governments. There is no way to know who is vaccinated and who is not, and the idea of some kind of "vaccine passport" or digital identifier has become a partisan flashpoint vehemently opposed by Republicans.
States across the country have been easing restrictions and reopening businesses as local vaccination rates increase, despite the CDC and federal health officials who continued to urge caution.
Health experts said they feared the agency's overly conservative approach could result in fewer people getting shots, if they failed to show the benefits of being vaccinated.
The agency relaxed some of its rules for fully vaccinated people last month, but still advised wearing masks indoors in most public settings, and in many outdoor places.
That guidance included an elaborate color-coded chart for various activities that was widely mocked for being confusing and contradictory.
The agency's recent guidance on summer camps was also panned as being overly restrictive.
The CDC had said masks should be worn at all times, even outdoors, by everyone, including vaccinated adults and children as young as 2 years old.
Walensky denied that the changes were being made because of the criticism, or as an incentive to get more people vaccinated.
"We follow the science here," Walensky said. "While this may serve as an incentive for some people to get vaccinated, that is not the purpose."
She said additional data in the past few weeks has shown the effectiveness of the vaccines in the real world, the vaccines work against variants, and vaccinated people are unlikely to transmit the virus.
But as recently as Wednesday evening, the message hadn't changed.
During an interview with CNBC's Shepard Smith, Walensky said that masks were still advised for people indoors, even if they were fully vaccinated because the science wasn't clear if the vaccine worked against COVID-19 variants or whether vaccinated people could be asymptomatic carriers.
=================================================
Delay in giving second jabs of Pfizer vaccine improves immunity
Study finds antibodies against Sars-CoV-2 three-and-a-half times higher in people vaccinated again after 12 weeks rather than three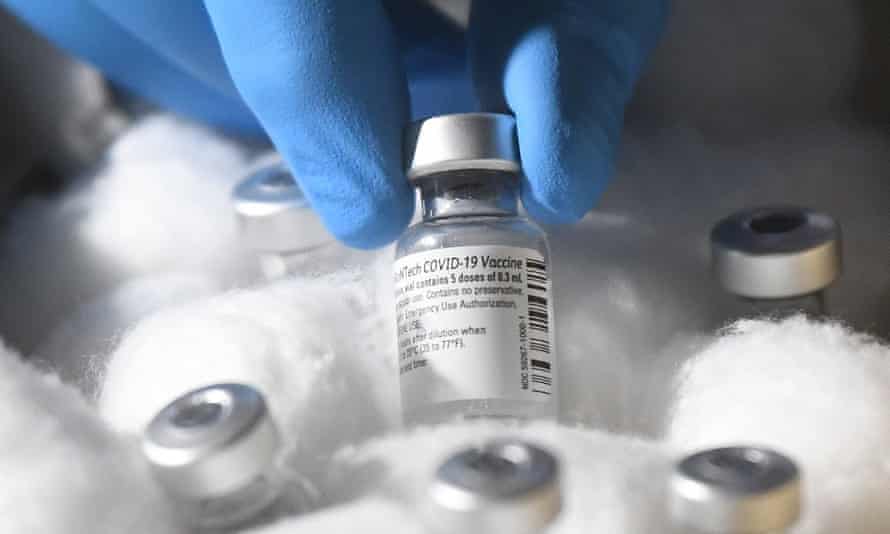 The UK's decision to delay second doses of coronavirus vaccines has received fresh support from research on the over-80s which found that giving the Pfizer/BioNTech booster after 12 weeks rather than three produced a much stronger antibody response.
A study led by the University of Birmingham in collaboration with Public Health England found that antibodies against the virus were three-and-a-half times higher in those who had the second shot after 12 weeks compared with those who had it after a three-week interval.
Most people who have both shots of the vaccine will be well protected regardless of the timing, but the stronger response from the extra delay might prolong protection because antibody levels naturally wane over time.
Dr Helen Parry, a senior author on the study at Birmingham, said: "We've shown that peak antibody responses after the second Pfizer vaccination are really strongly boosted in older people when this is delayed to 11 to 12 weeks. There is a marked difference between these two schedules in terms of antibody responses we see."
In the first weeks of the vaccine programme the UK took the bold decision to delay administering booster shots so that more elderly and vulnerable people could more quickly receive their first shots.
The move was controversial because medicines regulators approved both the Pfizer/BioNTech and Oxford/AstraZeneca vaccines on the basis of clinical trials that spaced out the doses by only three or four weeks.
Researchers from Oxford University showed in February that antibody responses were more than twice as strong when boosters of their vaccine were delayed for 12 weeks. But the latest study is the first to compare immune responses after different timings with the Pfizer/BioNTech jab.
The scientists analysed blood samples from 175 over-80s after their first vaccine and again two to three weeks after the booster. Among the participants 99 had the second shot after three weeks, while 73 waited 12 weeks. After the second dose, all had antibodies against the virus's spike protein, but the level was 3.5 times higher in the 12-week group.
The researchers then looked at another arm of the immune system, the T cells that destroy infected cells. They found that T cell responses were weaker when the booster was delayed, but settled down to similar levels when people were tested more than three months after the first shot. Details are published in pre-print form and have yet to be peer reviewed.
"This study further supports the growing body of evidence that the approach taken in the UK of delaying that second dose has really paid off," said Dr Gayatri Amirthalingam, consultant epidemiologist at Public Health England.
"Individuals need to really complete their second dose when it's offered to them because it not only provides additional protection but potentially longer lasting protection against Covid-19."
The findings come as new data from Public Health England suggested that the vaccination programme had prevented 11,700 deaths by the end of April 2021 in those aged 60 and over, and at least 33,000 hospitalisations in those aged 65 and over in the same period.
"Overall, these data add considerable support to the policy of delaying the second dose of Covid-19 vaccine when vaccine availability is limited and the at-risk population is large," said Eleanor Riley, professor of immunology and infectious disease at the University of Edinburgh.
"Longer term follow-up of this cohort will help us to understand which vaccine interval will be optimal in the future, once the immediate crisis is over."
==================================================
Taiwan reports another record rise in domestic Covid-19 cases
Taiwan reported another record rise in domestic Covid-19 cases with 29 new cases, as community transmissions in part of central Taipei spread and the government called for people to be tested.
While Taiwan has reported just 1,291 cases, mostly imported from abroad, out of a population of some 24 million, a recent small rise in domestic infections has spooked Taiwan's people and the stock market, long used to the island's relative safety.
Health Minister Chen Shih-chung told a news conference that of the 29 new domestic infections many were connected with an outbreak in Taipei's Wanhua district, an often gritty area that mixes old temples with trendy shops and hostess bars.
Chen called on people who think they may have had contact with the infected patients or symptoms to come to rapid testing stations the government is setting up around Wanhua.
"The sooner testing happens the sooner the chain of transmission can be broken," he added.
The coronavirus-related news is quite lively this morning in the UK. As well as urging people to holiday in Wales this year, Welsh first minster Mark Drakeford has used another media appearance to say that officials "decided to hold back" on relaxing some lockdown restrictions in Wales on Monday due to concerns about the Indian variant.
Wales will move to alert level two on Monday with the reopening of indoor hospitality and entertainment venues. PA report that Drakeford was asked if the Indian variant gives him any pause for thought, and he told BBC Radio 4's Today Programme: "Yes, it certainly does. There were 17 cases of the Indian variant in Wales yesterday and over 700 in England. There's quite a concentration of that in the north-west of England and there's a lot of traffic between the north-east of Wales and the north-west of England so we were considering a small number of further easements from Monday but have decided to hold back on those."
Asked if he would be prepared to delay further steps in his road map if advice from Sage – the UK's Scientific Advisory Group for Emergencies – suggests that it is necessary, Mr Drakeford said: "Yes, we would. We tried our best to follow the scientific advice at every step and if the advice were to be that we should hold back on some further easements because the risks in doing so would be too great then certainly that is what we would do."
Just to add to the confusion this morning about whether travel from England to Portugal will be allowed from Monday, PA report Portuguese MP Cristovao Norte has said a decision should be taken "immediately"
Norte, who is MP for the Algarve, told BBC Breakfast on Friday he did not know whether Britons will be allowed to visit the country from Monday.
He said: "We are today going to make an urgent inquiry asking the (Portuguese) government whether or not the English travel can come to Portugal next Monday because we are three days ahead from 17th and no one is sure what is going to happen.
Mr Norte added: "Our vaccination process is going steadily and it is important a decision is taken immediately.
"The message is clear, there are no reasons, nor political or scientific reasons to maintain restrictions for travel from the UK to Portugal."
Asked if the decision could change between now and Monday, he said: "It's possible but I'm not sure what's going to happen. Yesterday there was a council of ministers and the minister responsible told the press they didn't have a definitive decision."
Almost half the Australians booked on India repatriation flight barred after Covid tests
While people in England seem desperate to get abroad as soon as restrictions lift, the situation is very different for those in India trying to get home to Australia, as Paul Karp and Elias Visontay report for us:
Almost half the Australians due to fly home on the first post-pause repatriation flight out of India have been thrown off the passenger list after they either tested positive to Covid-19 or were deemed close contacts of cases.
Guardian Australia has confirmed that of the 150 vulnerable Australians booked to take the first repatriation flight home from India when the travel ban expires, more than 40 have tested positive to Covid-19. The number who will be unable to fly rises to more than 70 when you factor in the close contacts of those who have tested positive.
The flight is due to leave Delhi after midnight and travel to the Northern Territory where repatriated Australians will quarantine at the Howard Springs facility.
These numbers come from the first Covid test, which is administered 48 hours before flying. There is a second test administered eight hours before flying, meaning it's possible that more than 70 people will be barred from the flight. Other Australians will not be substituted onto the flight because of the strict processes to prepare for the repatriation flights.
About 10,000 Australian citizens and permanent residents have registered with the government as wanting to return from India. About 1,000 of these people have been deemed vulnerable.
Read more here: Almost half the Australians booked on India repatriation flight barred after Covid tests
The UK vaccines minister, Nadhim Zahawi, has been on Sky News in the UK, saying England will push ahead with its plan to lift the Covid-19 restrictions gradually, because even though it is worried about the emergence of a variant first detected in India it believes the vaccines are working.
Reuters report that Zahawi said there were concerns about the presence of the Indian variant in some parts of England but that there was no evidence that the B.1.617.2 variant had a more severe impact on people or was able to escape the vaccines.
"The roadmap from Monday remains in place because the vaccines are delivering, vaccines are keeping people out of hospital and away from severe infection," he said.
Updated