Covid variants: how much protection do the different vaccines offer?
While restrictions in England could lift soon, impact of Delta variant on vaccination programme is uncertain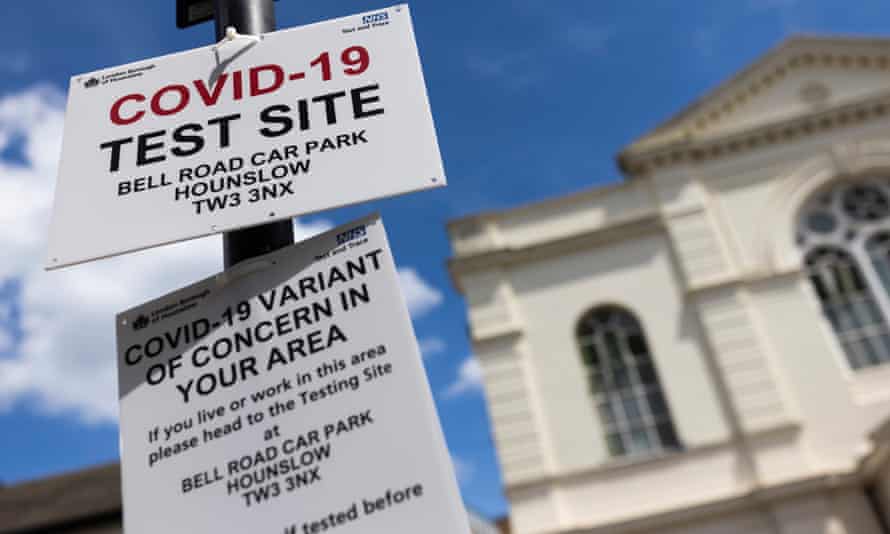 What does vaccine effectiveness mean?
Vaccine effectiveness is given as a percentage and refers to how well a vaccine works in the real world, as opposed to the term efficacy, which relates to vaccines' performance in trials. The figures are often given with respect to symptomatic disease, although other outcomes, such as infection, hospitalisation or death, can be used.
If a Covid-19 vaccine is "90% effective" against symptomatic disease that means the risk of becoming ill is 90% lower among vaccinated people than among those who have not been vaccinated. For every 100 unvaccinated people who ended up with symptomatic Covid, for instance, only 10 would have been expected to have fallen ill had they received the jab.
What is vaccine failure?
The term is often used to refer to cases where people develop an infection or disease despite being vaccinated against it. This can relate to a problem with the vaccine itself, but can also refer to some people having a weaker immune response to the vaccine.
Using symptomatic disease as the outcome, a Covid vaccine that is "90% effective" could be said to have a 10% failure rate (ignoring changes in effectiveness over time). However, someone who is not protected against symptoms could still be protected against severe disease or death.
Deborah Dunn-Walters, a professor of immunology at the University of Surrey, says: "If you think of the population having a whole range of different levels of immunity, then where you set the bar in the range will determine the percentage protection figures."
How effective are the vaccines against the Delta variant, B.1.617.2, compared with the Alpha variant, B.1.1.7?
Some studies, including lab-based work and analysis of real-world data, have suggested current Covid vaccines are somewhat less effective against the Delta variant than the Alpha variant.
According to Technical Briefing 13 from Public Health England, an analysis involving 7,673 symptomatic cases identified as B.1.1.7 and 2,934 cases identified as B.1.617.2 revealed that after a single dose of the Pfizer/BioNTech or Oxford/AstraZeneca Covid vaccines "there was a 17% absolute reduction in vaccine effectiveness against symptomatic disease with B.1.617.2 compared to B.1.1.7, but only a modest reduction in vaccine effectiveness after two doses".
The take-home message, says Dunn-Walters, is that "vaccines protect, and a second dose is very important against the Delta variant".
What does 17% reduction mean?
The 17% reduction in vaccine effectiveness relates to symptomatic disease after one dose. But it does not tell us about disease severity. That matters because if the vaccines offer lower protection against severe disease from the Delta variant, the burden on hospitals as cases rise will be greater than otherwise.
Prof Adam Finn of Bristol University, who is a member of the Joint Committee on Vaccination and Immunisation, says: "We don't have certainty [over] the impact on vaccine effectiveness, especially regarding protection versus severe disease after one dose and after two doses." It is also unclear how much more infectious the Delta variant is, he says.
In general Covid jabs are most effective against the most severe outcomes, such as death, and less effective against less severe ones, such as asymptomatic infection.
What could this mean for a third wave?
Finn says: "A more infectious virus which is able to escape vaccine induced immunity more often will cause a faster rise in cases as people mix more. But if the vaccines retain their ability to prevent severe disease then hospitalisations will not rise as fast as they have previously."
Experts have said it is a "realistic possibility" that the Delta variant is as much as 50% more transmissible than the Alpha variant, while modelling suggests a variant that is 40% more transmissible than the Alpha variant could lead to daily hospitalisations exceeding those recorded over the winter. That is assuming the planned relaxation of Covid social restrictions goes ahead in June – and without taking into account any resistance of the variant to the vaccines.
When we will know more?
The picture is likely to take time to become clearer not least because while cases are rising numbers remain low, meaning a longer period is needed to compare outcomes for hospitalisation and other measures among vaccinated, partially vaccinated and unvaccinated people.
"We may not get good answers for a matter of weeks, or even months," said Dr Peter English, a retired consultant in communicable disease control.
==================================================
No urgency on Covid booster shots for healthy adults, says UK scientist
Exclusive: head of key research into third dose says it may be better to prioritise vulnerable first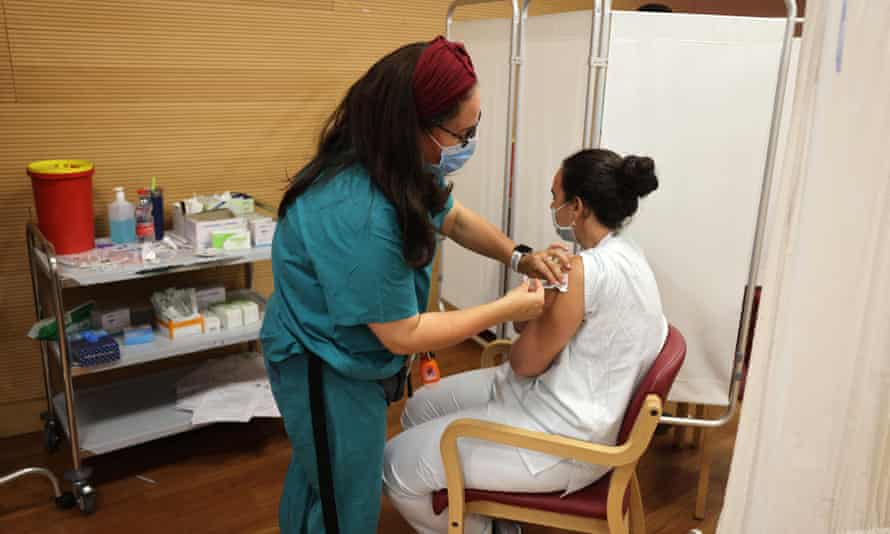 There is "almost certainly no urgency" to press ahead with booster shots for healthy adults and it may be better to see how the pandemic pans out before a decision is made, the scientist leading key research into third shots has said.
Prof Saul Faust, chief investigator of the Cov-Boost study whose data next week is expected to help inform a decision on the rollout of boosters across the UK, told the Guardian that for now it may be preferable to prioritise only the vulnerable, including those with compromised immune systems.
Meanwhile, some scientists said booster shots may be useful for routine use even among highly vaccinated populations to reduce Covid transmission, especially given the prevalence of the Delta variant. On Thursday, scientists including Prof Neil Ferguson suggested that even if evidence did not yet show waning protection in the double-vaccinated against serious illness and death, booster shots could help reduce the spread of cases.
On the recommendation of the Joint Committee on Vaccination and Immunisation (JCVI), it was announced on Wednesday that half a million people aged 12 and over with severely weakened immune systems are to be offered third Covid vaccine shots.
A decision on whether to offer boosters for all healthy adults was expected to be announced next week at the earliest, the Guardian understands, although it could take longer.
The Cov-Boost study – which is designed to assess the use of one of seven different vaccines when given as a third dose, on top of the two doses of either the Pfizer/BioNTech or Oxford/AstraZeneca vaccines – is understood to be a key piece of research to inform the JCVI decision.
Faust said the study would help answer which vaccines were most effective as a third shot, depending on what jabs were given as the initial two shots, rather than which populations should receive a third dose. The committee will have access to early study findings some time next week, he added.
Last week, there were an average of more than 33,750 daily cases across the UK compared to less than 1,400 at the same time last year – before the rise of the highly infectious Delta variant and before all restrictions were eased – and 61,000 at the peak in January. But with nearly 80% of UK adults having received two vaccine doses, hospitalisations and deaths are far lower than at their peak.
High numbers of cases increase the risk to unvaccinated or otherwise vulnerable people, and could lead to the emergence of new variants.
Many rich countries with strong vaccine coverage have announced the routine rollout of third shots amid concerns about waning immunity.
Preliminary data shows that people experience a fall in antibody levels weeks and months after getting their jabs, but so far the fall does not appear to have reduced protection against severe disease and death. In general, there is little scientific consensus on what level of antibodies and other tools in the immune system's armament confer protective immunity.
However, boosters might work to prevent more infections and transmission, suggested Helen Petousis-Harris, a vaccinologist from the University of Auckland. "Because in order to prevent that infection, we really need the presence of these antibodies, and if they've waned, that might make establishing an infection easier."
UK data suggests somebody who is double-vaccinated is about half as likely to be infected as someone who is unvaccinated, and although the double-vaccinated person is far less likely to develop severe disease, they can still infect others.
"The other thing is, boosters could help improve immunity to variants, and people who might not have responded so well at the beginning to the primary doses might also benefit from a booster," Petousis-Harris added. "It's likely that these things will contribute to the overall community immunity."
Israel, for instance, has already kicked off its booster programme. "I think in Israel, they actually want to suppress transmission … If you have even 10% of your population unvaccinated, then one way of reducing risk to them is by boosting the immunity of everyone else," said Ferguson, an epidemiologist at Imperial College London.
"I think the UK is adopting a much more incremental approach – so at the moment our joint committee on vaccination is only recommending boosters [third shots] for clinically extremely vulnerable people, which is only about 1% of the population."
====================================
WORLD STATS
Coronavirus Cases:
220,010,773
Highlighted in green
= all cases have recovered from the infection
Highlighted in grey
= all cases have had an outcome (there are no active cases)
Latest News
September 3 (GMT)