BBC- A UN fact-finding mission has found that Venezuela's justice system has played "a significant role" in the state's repression of government critics.
Venezuela's judiciary lacked independence and had allowed serious human rights violations to go unchecked, its report concluded.
Public officials have been able to commit crimes with impunity, it adds.
The Venezuelan government has not yet commented on the report.
The team conducted 177 interviews and analysed 183 detentions of people who are, or whom the government perceives to be, opponents.
It found that detainees had been subjected to torture, including sexual violence, and that some had been "arbitrarily deprived of life".
No high-level officials have been investigated or prosecuted in these cases, the report added.
One of those cases is that of student Juan Pablo Pernalete, who died after being hit with a teargas canister shot at close range by the National Guard during an anti-government protest in 2017.
In May 2021, Attorney General Tarek William Saab announced that 12 members of the National Guard had been arrested and charged with "complicity in an involuntary homicide".
The government, including Mr Saab, had for years falsely maintained that fellow protesters had killed Juan Pablo Pernalete with a bolt gun.
Mr Saab's announcement caused surprise but the parents of Juan Pablo Pernalete have pointed out that none of the accused were detained.
They have also said that the charge of "complicity in an involuntary homicide" does not reflect the serious nature of their son's killing.
The report published by the UN fact-finding mission on Thursday echoed the parents' concerns, saying there were indications that the proceedings in the case were not conducted independently.
Juan Pablo Pernalete's mother, Elvira Llovera, told the BBC that the report underscored what many of the relatives of victims of repression had been saying: that the justice system was not impartial.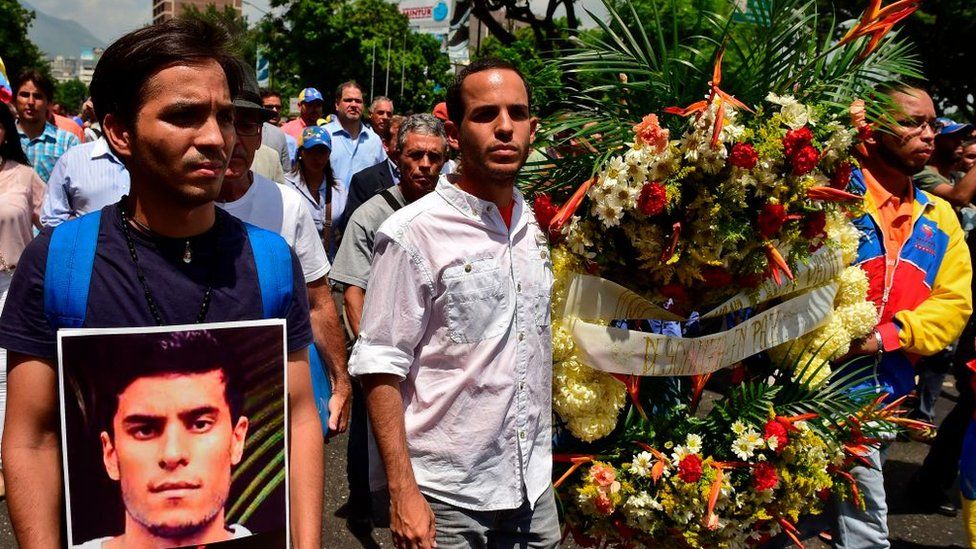 According to the report, the Pernalete case is not an isolated one.
The mission's chairwoman, Marta Valiñas, said that "the independence of the judiciary has become deeply eroded, jeopardising its role in imparting justice and safeguarding individual rights".
Sources from within the judiciary told the mission that judges routinely received orders from the Maduro government on how to decide judgements.
Ms Valiñas added that the investigation found "reasonable grounds to believe that instead of providing protection to victims of human rights violations and crimes, the Venezuelan justice system has played a significant role in the state's repression of governmental opponents".
The result, she said, was that public officials, including some at a high level, had been able to commit rights violations and crimes with impunity.
The mission said it had also found that judges had admitted information extracted under torture as evidence against defendants.
It added that judges had also returned torture victims to the very jails were they had been abused, which meant that some were subjected to more torture.