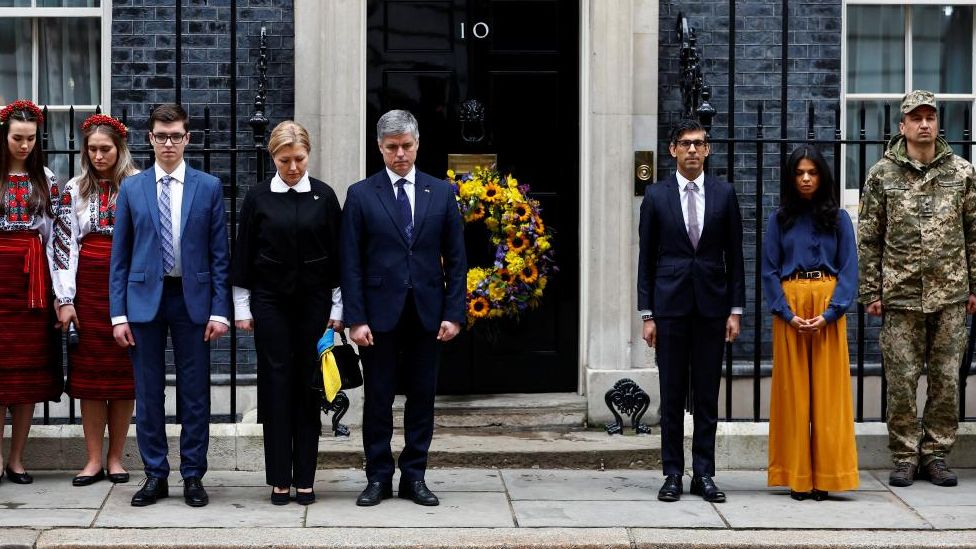 King Charles says "the people of Ukraine have suffered unimaginably" in a message marking the first anniversary of Russia's invasion.
He also praised the "remarkable courage and resilience" of the Ukrainian people after thousands have been killed and injured in the conflict.
A minute's silence was held in the UK at 11:00 GMT.
Prime Minister Rishi Sunak will also urge allies to "move faster" in arming Ukraine, at a meeting of the G7 later.
Ukrainian troops who are being trained in the UK took part in the minute's silence outside No 10 Downing Street.
Mr Sunak was also joined by his wife Akshata Murthy and Kyiv's ambassador to Britain, Vadym Prystaiko.
After the moment of commemoration the Ukrainian national anthem was sung.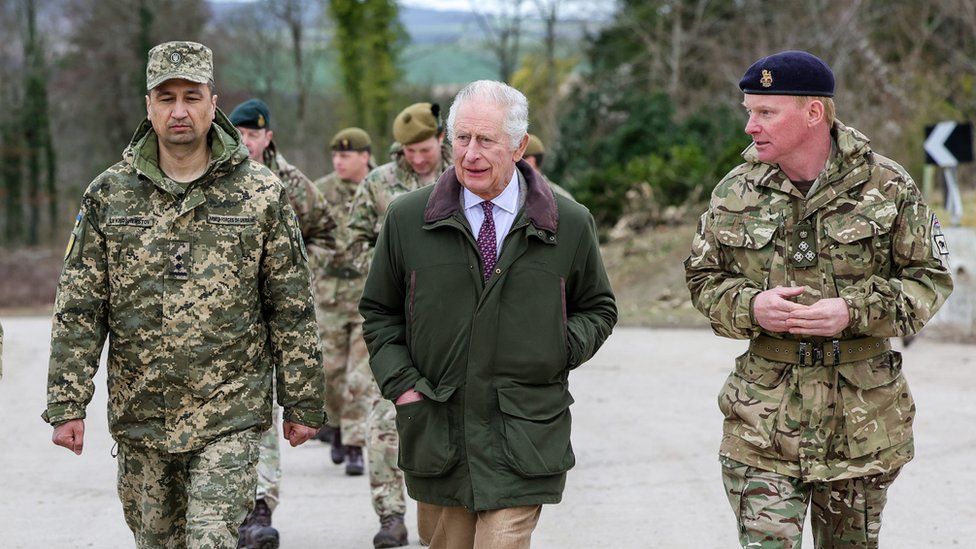 In his message, King Charles acknowledged the solidarity of the UK and allies towards Ukraine over the year, saying it was "heartening" to see they were "doing everything possible to help at this most difficult time".
He said: "The world has watched in horror at all the unnecessary suffering inflicted upon Ukrainians, many of whom I have had the great pleasure of meeting here in the UK and, indeed, across the world, from Romania to Canada."
King Charles, who met Ukraine President Volodymyr Zelensky at Buckingham Palace this month, added: "I can only hope the outpouring of solidarity from across the globe may bring not only practical aid, but also strength from the knowledge that, together, we stand united.
"It has now been a year that the people of Ukraine have suffered unimaginably from an unprovoked full-scale attack on their nation."
At a vigil on Thursday evening, a crowd listened to an emotional reading of the Ukrainian poem Take Only What Is Most Important by actress Dame Helen Mirren – who was visibly moved to tears.
And Defence Secretary Ben Wallace paid tribute to Ukrainian soldiers as the "bravest of the brave".
The conflict, which began when Russia invaded on 24 February 2022, has seen at least 100,000 of each side's soldiers killed or injured, according to the US military.
Thousands of civilians have also died, with more than 13 million people made refugees or displaced within Ukraine.
Rita and her four children were among those who fled in the early stages of the conflict. They are now living in the UK with Rita's British partner, Andy.
She told BBC Two's Newsnight programme she would "never forget" the "horrible sound, that panic, that fear" when Russian troops invaded.
Rita said her heart was "aching" after witnessing how parts of Ukraine had changed after 12 months of conflict.
"The country is in pain," she said. "I know how my country is and how it can be, I know how beautiful it is. Now it's different [but] it can come back to that beautiful place.
"I can see summer time – it is going to be warm, it's going to be green. That's how I see Ukraine – with lots of green trees with lots of flowers… with lots of smiles on people's face and with tears from happiness."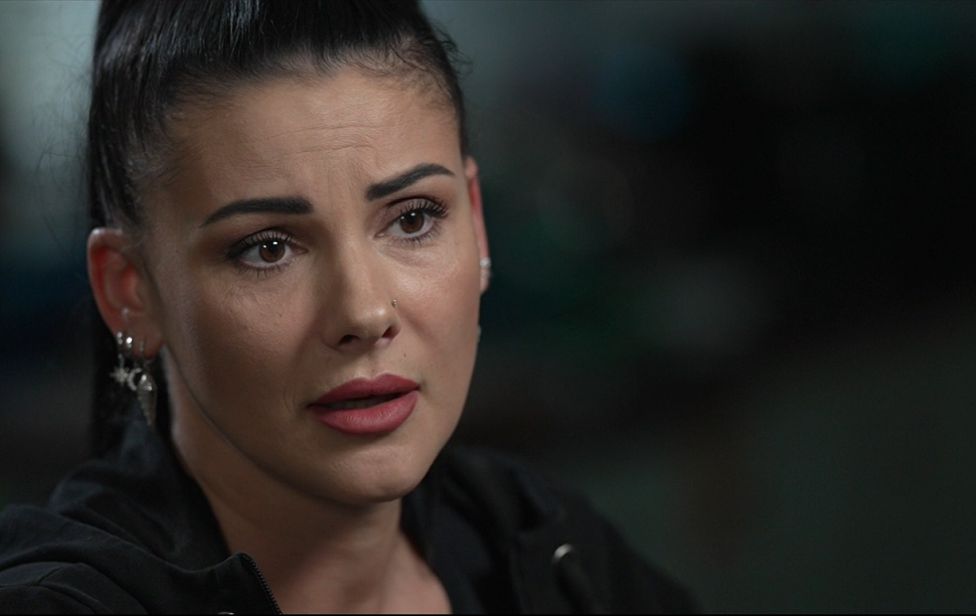 The Archbishop of Canterbury called for peace between Russia and Ukraine as he reflected on the anniversary.
Speaking on BBC Radio 4's Thought of the Day segment, Justin Welby said: "There must be a future with a just and stable peace – a free and secure Ukraine – and the beginning of a generation's long process of healing and reconciliation."
The British Ambassador to Ukraine, Dame Melinda Simmons, has recalled how the outbreak of the war last February was "such a traumatic time" for her and her colleagues, due to the uncertainty of what was ahead.
She went on to describe how her role became different, saying it stopped being a job and became "a life because war isn't just a five day thing".
Dame Melinda told BBC Radio 4's Woman's Hour programme: "We often talk about how sirens can make your hand shake, heart beat faster, even sounds that aren't sounds like motorbikes on the road can make you start, but none of us talk about it as an active fear… we factor it in to our daily work and we are deliberate in keeping calm and carrying on."
Meanwhile, the Foreign, Commonwealth and Development Office has announced fresh export bans on goods that could be used by the Russian military.
Foreign Secretary James Cleverly said sanctions have been extended to more products, including aircraft parts, radio equipment and electronic components.
Senior executives at the Russian state-owned nuclear power company Rosatom, as well as bosses at Russia's two largest defence companies and four banks will also face sanctions.
Ukraine has been urging its Western backers to increase support, as Russia mobilises ahead of an expected spring offensive.
During a recent tour of Europe, President Zelensky increased his calls for Western nations to supply modern fighter jets.
The UK is to start training Ukrainian forces to fly Nato-standard aircraft. But like other Western nations, it has so far not supplied jets, saying it remains a long-term option.
Defence Secretary Ben Wallace said the UK would be "very happy" to supply fighter jets to eastern European allies so they could release their Soviet-era planes to Ukraine. He said they were already being used by Kyiv and it would be a faster way of boosting Ukraine defences than suppling British Typhoons.
He told BBC Radio 4's Today programme: "That is definitely on offer, let's put it that way. If a country approaches us and says they would like us to do that, then the UK would be very happy to either backfill or indeed cover with things like extra deployment of our aircraft to cover for policing and extra protection."
"That's already been happening for the last eight or nine months in other countries across Europe," Mr Wallace added.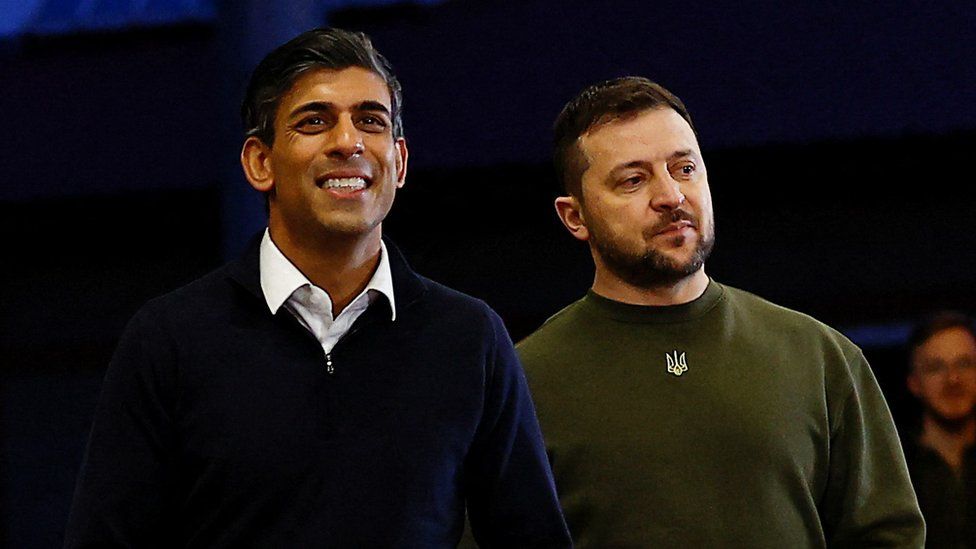 During a virtual meeting of leaders from the G7 group of advanced economies, Mr Sunak is expected to say an acceleration in support for Ukraine is "what it will take to shift Putin's mindset".
"This must be our priority now," he will add. "Instead of an incremental approach, we need to move faster on artillery, armour, and air defence."
He is expected to make the argument for supplying Ukraine with "longer-range weapons" to disrupt Russia's ability to target Ukraine's infrastructure, something to which he committed the UK earlier this month.
Other senior UK politicians have sent messages to Ukraine on the anniversary of the war:
Labour's Sir Keir Starmer called for the UK to "double down" on support for Ukraine
Former Prime Minister Boris Johnson, who was in office when Russia invaded, repeated his call to give Ukrainian President Volodymyr Zelensky weapons "to finish the job"
Liberal Democrat leader Sir Ed Davey paid tribute to the "amazing acts of heroism in Ukraine" and said the UK would "stand in solidarity with Ukraine until they achieve victory"
SNP leader and Scottish First Minister Nicola Sturgeon wished a "speedy victory for Ukraine" in a letter to Ukrainians in Scotland to mark the anniversary
Additional reporting by Paul Seddon.