Residents of the congressman's New York district say they're fed up with a system that enables his behavior
Residents of the congressman's New York district say they're fed up with a system that enables his behavior
"It's like we're living in madness," said Danielle Gentile at a Brazilian restaurant in Long Island's Westbury, one of a cluster of towns close to the eastern border of the fabulist Republican congressman George Santos's third congressional district.
"I know politicians lie all the time, but you've got to at least try to keep up," Gentile added. "But what's he going to say? I didn't mean to lie? He's like the Brian Williams of politics."
The hostess's comments came just hours after Santos was hit with 13 criminal counts in federal court. The 34-year-old politician, flanked by just one defense lawyer, was pitted against five attorneys wielding the power of the government.
But Santos did not appear overly fazed, later boasting that he had surrendered earlier in the day to authorities so that his entrance to the imposing criminal justice complex would not happen "under the noses" of the media.
He pleaded not guilty to charges alleging financial fraud at the center of a political campaign built on a résumé touting his personal wealth and business success that began to unravel six weeks after he won office.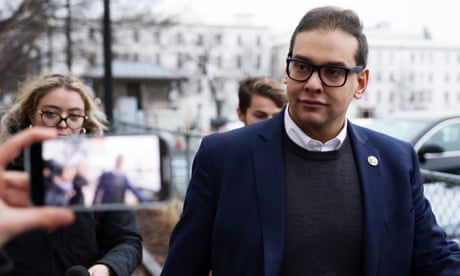 Outside the court, Santos appeared almost to relish the attention of a large number of media that gathered. He refused to answer questions until a podium was produced, and then called the investigation and the charges that followed a "witch-hunt". He was asked if he would resign (he wouldn't), and if he would campaign for re-election next year (he would).
But within the third congressional district, a typically Democratic suburban district north-east of New York City, the first-generation Brazilian American, who ran as a member of a "new generation of Republican leadership", is received as a deeply oddball figure.
The first five people approached by the Guardian – in a diner and a burger joint – professed to be unfamiliar with Santos or his alleged crimes. "Never heard of him, I'm not into politics," said one woman crossing the street.
A sixth approach – to Jerry Spitzkoff, a gas station manager – elicited a response. "He's a liar and a thief, and he should go to prison," Spitzkoff, 70, said. "But I blame both parties and the media. No one looked into him. He's not the first politician to lie, but this is a beauty: he lied about everything."
Santos's fabrications were the stuff of a committed fantasist. He had not, in fact, worked at Citigroup or Goldman Sachs, graduated from a New York college, or run a pet rescue charity, and his mother had not been in the 9/11 attacks as he claimed. Nor had he been a producer on the Broadway Spider-Man musical. He had, though, perhaps been a Brazilian drag queen called Kitara Ravache.
Not surprisingly, Santos's tall tales made him a laughingstock and fodder for late-night comics.
Life-story embellishments do not produce criminal charges, but material wrongdoing can. On Wednesday, the government charged Santos with crimes ranging from duping donors and stealing campaign funds to lying to Congress and illegally collecting unemployment benefits. He was released on a $500,000 bond about five hours after he surrendered to authorities.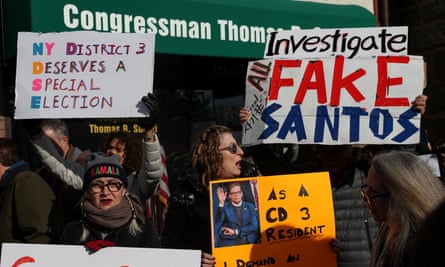 "It's absolutely crazy, but for whatever reason George was able to get through all the traditional checkpoints," said Joshua Sauberman, who ran for Congress in the district on a Democratic ticket in 2018. "There was no vetting and you had the Democratic candidate saying she couldn't afford it because they needed to run TV ads. Voters did not have the proper information."
Many in his district maintained a broader distaste for politics of which Santos was a symptom, but not the cause of a political system that has produced two roughly octogenarian presidential frontrunners for 2024.
"I wouldn't trust one word from a politician ever again," said a tow-truck driver who said his name didn't matter because he had no intention of getting involved in the business of politics. "I think their job has become to demoralize us. If you listen to them, you just be upset. They bring you down."
But others said Santos's alleged dishonesty did matter and he would be held accountable for it.
"They took his word for it and didn't check him out because they didn't think he'd win," said Rafael Joseph at a restaurant in Mineola. "But nobody knows who he is, and I think they're going to get rid of him."
On Wednesday evening, the House speaker, Kevin McCarthy, said he would not support Santos in his re-election bid. "No, I'm not going to support him," he told CNN. "I think he has other things to focus on in his life other than running for re-election."
But Santos said he was determined to fight. "I appreciate everyone's patience with my presence in Congress and allowing this process to play out. I believe in innocence until proven guilty, and I have my right to prove my innocence just as the government has a right to try to find me guilty."
However this plays out in the coming days, there was little question that voter anger lies with the system, and not necessarily Santos, whom one local voter described as self-starring in a fictitious remake of the 2022 con artist film Catch Me If You Can.
Meanwhile, back at the Brazilian restaurant, Gentile was beginning to seat diners.
"He's a little crazy," she said. "There's nothing wrong with wearing drag but it seems a little hypocritical to wear it and support a party that opposes it. Everything about him is lie. At least be who you are."