By James Gregory
BBC News
A statue paying tribute to the Windrush generation is being unveiled in one of London's largest train stations on June 22…Windrush  Day.

The national monument pays tribute to the thousands of people who arrived in the UK from Caribbean countries between 1948 and 1971.
It depicts a man, woman and child standing on top of suitcases and is being revealed at Waterloo Station on Wednesday to mark Windrush Day.
The government gave £1m to fund the statue, designed by Basil Watson.
They said it would "create a permanent place of reflection and inspiration and be a visible statement of our shared history and heritage".
Windrush Day marks the arrival of Caribbean immigrants to the shores of Britain on 22 June each year – the day HMT Empire Windrush arrived at Tilbury Docks in 1948.
High-profile names, including actor Lenny Henry and poet Benjamin Zephaniah, have called for next year's Windrush Day to be a "major national moment" to mark the 75th anniversary.
More than 100 leaders across different sectors have signed a joint letter, published in The Times, starting the one-year countdown to the milestone.
The letter reads: "This is not only black history – it is British history. It should be something we all know and commemorate.
"We call on the government and all UK institutions, from politics to civil society, faith, culture, business and sport, to step up and fully play their part next year."
Patrick Vernon, convenor of the Windrush 75 network, which is co-ordinating efforts over the next 12 months, said: "It's something we should commemorate as a major event and a piece of our history that every child should learn about at school.
"It is something every institution should be marking in a significant way."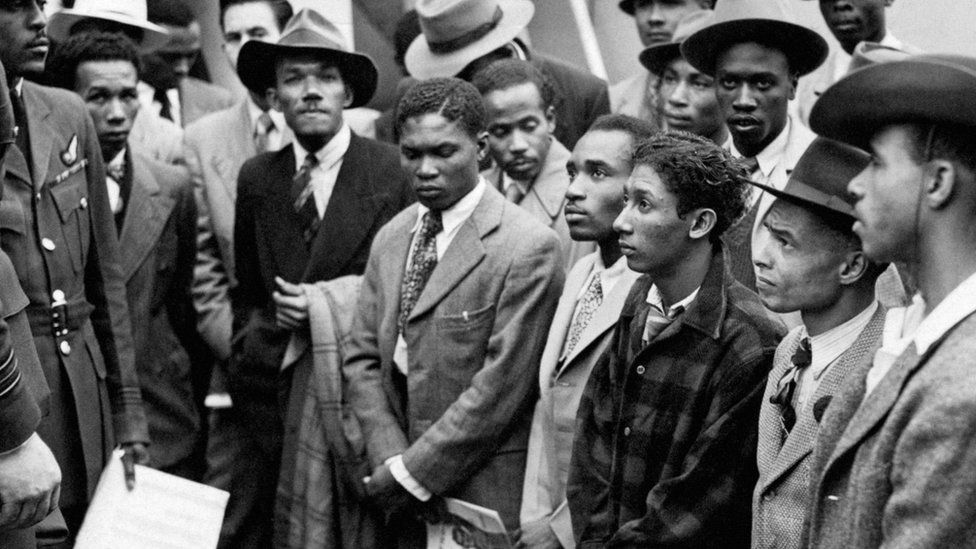 Thousands of people arrived in the UK as children in the first wave of Commonwealth immigration.
They are known as the Windrush generation, in reference to the ship which carried workers the UK to fill labour shortages.
Under the 1971 Immigration Act, all Commonwealth citizens already living in the UK were given indefinite leave to remain.
But due to a lack of official documentation, many were told they were in the UK illegally, despite living and working in the country for decades.